Students and staff receive the COVID-19 virus vaccine at UNCW clinic
This week, UNC Wilmington (UNCW) students, faculty and staff started to get their coronavirus (COVID-19) vaccinations at the newly opened vaccine clinic on campus. Appointments were opened on March 24 and 25 and those who fell under Groups 1-4 were eligible to receive the vaccine.
This week UNCW received 300 doses of the one-shot Johnson & Johnson COVID-19 virus vaccine. Appointments filled up quickly after the announcement email was sent out on March 23. Some of the lucky students and staff included William Balloon, Jacobi Loyd and Alfredo Espinal. 
Balloon, who works in Dub's Café, said he had been trying to get a vaccine appointment for the past two weeks and this was definitely the easiest and quickest sign-up.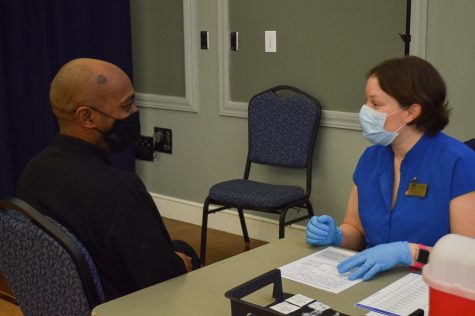 Loyd and Espinal shared similar comments about the ease of the registration process, thanks in part to where they work within the university. Loyd is a resident assistant (RA) in Schwartz Hall and Espinal is an RA in Pelican Hall. 
"I don't think I was really nervous," said Loyd. "I trust the people who made the vaccines, the doctors and the scientists have been working hard. I feel as if they wouldn't roll out, if there was reason to have that much concern. Of course anybody's gonna be nervous or have some anxiety."
Now that Loyd has it, he says he plans to continue following the guidelines as his job still requires him to encounter a lot of people. 
"Mentally, I feel good about it, I feel a little more comfortable," said Loyd. "I'm not gonna change anything I'm doing currently, I'm going to operate the same. I don't know what the effects would be one thing, but also I don't think that much has changed. I mean, I don't know who has it or doesn't have it. I'm not going to be out there taking risks, just because I have some immunity."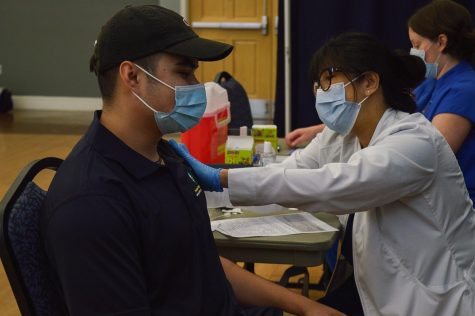 Additionally, Espinal added that he wanted to get the vaccine to help do his part.
"I'm doing it because I wanted to do my part. Essentially, I believe everybody should have the availability and the options to," said Espinal. "If they feel safe with the vaccine I feel like they should get it and would help us to go back to a normal society."
All the participants said they were grateful to have been able to get the vaccine. 
"I would like to thank UNCW and HRL for giving us the opportunity for RA's to get the shot and be one of the first to get the shots here at UNCW," said Espinal.