A look into the SGA presidential campaign of Robby Fensom and Thomas Wilson
Serah Culler, Contributing Writer
March 13, 2021
It is election season at UNC Wilmington (UNCW) and there are several candidates in the running. 
This year, there are two teams running for student body president and vice president. Volunteering for this office is a commitment that four of our 17,000+ students have chosen to make. Two of the candidates, Robby Fensom for president and Thomas Wilson for vice president, shared some of their reasons for running and how they hope to improve campus life for all students.  
Fensom and Wilson are both in their third year and have been involved in the Student Government Association (SGA) prior to their candidacy. Fensom, who is currently the SGA chief of staff, is a communication studies and philosophy double major with minors in economics and leadership studies.  
He is also working through the professional writing program and hopes to work in civil liberty litigation in the future.   
Wilson, the academic affairs chair, is a double major in Spanish and public health with a concentration in community health. He plans to give back to his community by working for a non-profit healthcare administration.  
Community involvement is something both are passionate about and is a big part of why they are running.   
"Thomas and I combined have worked in or engaged in every single student-focused department on campus," Fensom said.   
They want to be advocates for all students, with Fensom focusing on issues like food insecurity and making sure all students have the support they need to succeed during college. Meanwhile, Wilson has a passion for social justice, equity advocacy and healthcare, especially for those in marginalized communities.  
Both candidates have sought to make UNCW a more diverse campus. Wilson has been working with both faculty and SGA members to establish a cultural competency program that would increase the visibility of voices that are not always heard on campus. 
Both candidates have also been very involved in SGA—Fensom joined during his freshman year, and Wilson joined last year.  
"I think that we are the two most qualified [candidates] right now," Wilson said. "I know that in my past experience that, though this is my first year in SGA, it's also a time when I stepped up to the plate… before I even started my position as a College of Health and Human Services senator, I was appointed to be the academic affairs committee chair. I feel as though I have really thrived in the position."  
Fensom served in the position before Wilson and helped him to fully utilize the role. Both candidates hope to continue that teamwork if they are elected.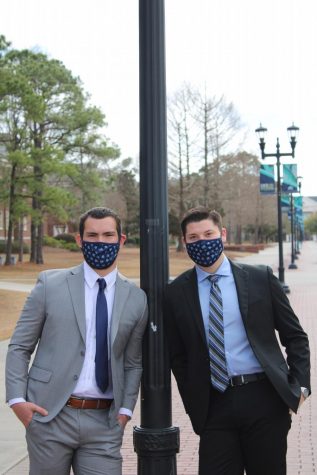 Their platform focuses on three points: inclusion, innovation and recovery.  
For inclusion, they hope to work on making website content more accessible for all regardless of age or disability by working towards a universal design.  
"I firmly believe that we need to have our governing documents in an accessible format. As they currently stand, it's about 80 pages of condensed text… on PDFs that are not accessible to readers," Fensom said. "What that means is that students who maybe have visual impairments [are] not able to see our texts in an accessible format."  
They also believe it is key that SGA becomes more diverse.  
"[As for diversity advocation], I am saying that it could be done better. There is always room for improvement, and I think advocating for the appointment, election and running of a more diverse student population for student government positions is going to more adequately represent our student body," Wilson said.   
Fensom added, "[A student came to me and said that] without looking at people's titles, they can pinpoint who the director of diversity and inclusion is because it's the one person of color on [the SGA executive] board. This is our promise to the student body: that is not going to be the case under our administration."  
Regarding innovation, they hope to focus on three things: new approaches to sustainability, combating food insecurity and carbon neutrality. They are hoping to take a more nuanced approach to sustainability by trying new initiatives and working with the various student organizations that are experts in the field.
An example of this would be collaborating with the director of sustainability on the executive board, which is a position that was created this year.  
"We have so many registered student organizations who are sustainability-focused," said Fensom. "Thomas and I are very excited to empower these organizations to take the charge and support them the whole time through."  
They also hope to bring more awareness to programs like the commuter parking pass, which helps to limit the carbon output of students.   
Fensom mentioned that food insecurity is also a huge issue on campus and a problem that he is particularly passionate about.  
"[A survey done by the office of student engagement] found that 14% of our students experienced food insecurity here at UNCW which is just shocking and unacceptable," said Fensom.  
He hopes to combat that by focusing on the Swipes for Seahawks program which helps students in need. 
Hurricanes Florence and Dorian as well as the coronavirus pandemic have been very damaging to campus cohesiveness; Wilson spoke of opportunities to emphasize the recovery of the UNCW campus and community.  
"We have thousands of first-year students who have not had that first-year experience," Wilson said. "In some ways, [that includes] Robby and I, because our first year was Hurricane Florence… it's always one thing after another. I think that one thing we can all agree on though, is that UNCW students are some of the most resilient students. We have a resilient campus life and student body that knows that things happen, adverse things come up and we are always willing to fight. [We] come back to reclaim our traditions, to reclaim what it means to be a Seahawk."  
Wilson hopes that we can continue to prioritize safety while implementing in-person measures to better enable student interactions.  
"We can't help but acknowledge that [recruitment] for our registered student organizations is at an all-time low and just overall morale and motivation to get involved on campus is hard," Wilson said. "If elected, Robby and I are going to work directly with those student organizations; we're going to push for anything that [we can safely do] so that we can reclaim some of those traditions that we have had in the past while also creating new ones." 
While both candidates acknowledge that there are many ways that UNCW can be improved, they also believe that there is plenty to love about our campus.  
Fensom mentioned that "The first thing that comes to mind [for me] is the culture. One of the coolest things about UNCW is that you go from rigorous academic courses, and then you and your friends can go to the beach later that same day and enjoy the beautiful weather."  
Wilson appreciates the high level of attention that UNCW puts on helping students now and in the future as they transition into their careers.   
"This university was always very, very high on my list because of its world languages and cultures department as well as the amazing Career Center and links that we have available to get students internships, externships and careers after college," Wilson said. "After graduation, there's nothing that I want more than to be able to have a career and being supported by UNCW after that sounded really, really nice whenever I was in 12th grade as a senior in high school." 
To Wilson, "UNCW is a campus that is not brick-and-mortar; we're a campus that's alive. We constantly grow, we constantly change, we are constantly overcoming adversity… we're all still Seahawks, we're all still working together assisting each other, and I don't think that that is a campus culture that you can find in a lot of places." 
Fensom agreed. "One of my favorite memories as a freshman [was during Hurricane Florence]. I was back in Fayetteville, my hometown, and I saw a car that had a UNCW bumper sticker. I leaned out my window and went, 'Wings up!' and they did the same thing at me. It was hilarious to me, and it was a little bit comforting… in that moment, it [was like] this is just a cool place to be." 
Both Fensom and Wilson put a high degree of importance on being accessible to students. You can reach them through their emails —Fensom, [email protected] and Wilson, [email protected] — and through their Instagram page, @fensomwilson21. They will be holding an Instagram Live on Sunday, March 14 to answer any questions students may have before voting opens on Monday morning.