Meal plans get an update for the 2021-2022 year
On-campus students will have different meal plan options beginning with the fall 2021 semester.  
Students living in required housing (Sandpiper, Pelican, Terrapin, Loggerhead, Belk, Graham, Hewlett, Schwartz, Cornerstone, Keystone and, Innovation) will be required to purchase an All Access Plan. There will be three options, as opposed to the current two.  
The default plan will be the All Access 3 ($2,225.67 per semester), but students will have the option of upgrading to the All Access 6 ($2,460.82 per semester) or downgrading to the All Access ($1,972.50 per semester). 
Comparing the largest options, the All Access 6 will cost $160.70 more than the current All Access 7 while offering one less teal meal and 50 more food dollars. However, students looking for the cheapest required option will spend $31.71 less than the current All Access 5 while losing the five weekly teal meals and gaining 25 food dollars.  
The University Suites will have a bit more choice. Its residents' default plan is the All Access 3 with the option to upgrade to the All Access 6 or downgrade to the All Access or Block 125. The cheapest option, Block 125, costs $1,496.55. This is $1.56 cheaper than the previously required option, the Block 110.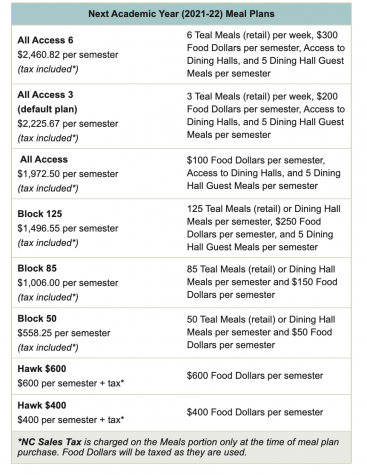 Under the university's new two-year residency requirement going into effect the same semester, the suites will be reserved as a "sophomore experience hall" along with Loggerhead and Terrapin halls, which notably require a higher-priced meal plan than the suites.  
Off-campus students and residents of Seahawk Landing, Village, and Crossing will still have the option to purchase a meal plan. The Block plans will increase in quantity and price but the Hawk $600 and $400 options will stay the same.