Construction efforts continue to expand campus
The UNC Wilmington (UNCW) campus continues to grow as several construction projects are near completion, while ground is being broken on new ones. The UNCW campus community  can look forward to new residence halls, a dining facility, academic buildings and more changes to the campus landscape coming this year.
"For the fall of 2021 we have three major projects that are going to be wrapping up," said Rachel Patrick, director of architectural and construction services for UNCW. "We will be completing the final two buildings for the student housing village, which will be Terrapin and Loggerhead Halls."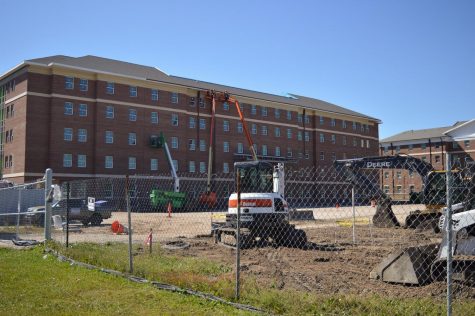 "We have a new dining facility that is very close to the student village, right next to the Student Recreation Center, that will be open in the fall of 2021. Finally, there will be the new Coastal Engineering Building, over off Randall Dr. We will also be finishing construction on the Film Studies building this semester which is nearly complete and undergoing final site work right now," said Patrick.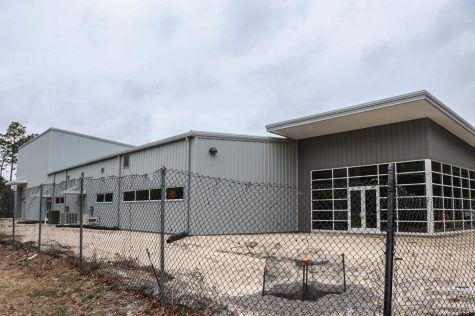 Terrapin and Loggerhead Halls will round off the completion of the student housing village, which currently includes Graham-Hewlett, Galloway, Belk, Pelican and Sandpiper Halls. The new additions will both be five stories tall, and are being marketed towards UNCW's sophomore population, being described on the housing and residence life website as "Sophomore Experience Halls," alongside the University Suites apartments.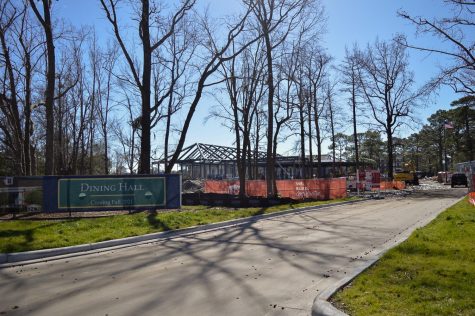 The new dining hall is being constructed with residents of the student housing village in mind, providing a convenient location. A sign at the construction site refers to the new dining hall as the Southwest Dining Facility.
The Seahawk tried to reach out to campus dining to get further details regarding the new dining hall but had not heard anything back by deadline.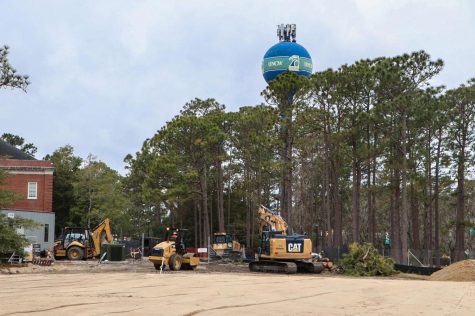 Construction on the Coastal Engineering building is currently in its infancy, with ground just being broken on the building's future site. Located between the Cultural Arts Building and Friday Hall, the building will be the home of one of the newest degrees offered by UNCW, a Bachelor's of Science in Coastal Engineering, as part of the Department of Physics and Physical Oceanography. 
The focus on this new degree makes it clear of the university's plan to lean into its reputation as North Carolina's coastal university. The building is expected to be completed in time for the fall 2021 semester.
Also, very early plans are in the works for a renovation and 40,000 square foot expansion of Randall Library. According to the office of facilities on the university website, this will be a project costing around $61.8 million, consisting of new study spaces, offices, classrooms and food service space. 
"We do have a design effort going on right now, but we don't have funding through design, we don't have construction money," said Patrick. "We really don't know when this will come. It would be to the west of the existing building, and then also some renovation to the existing structure to make that a bit nicer for our students."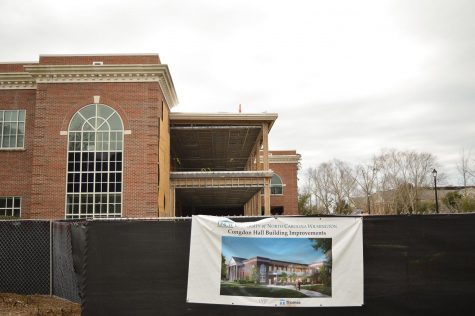 A care for sustainable practices in construction is reflected in several of the smaller projects being undertaken on campus. In the near feature we will be seeing the construction of electric car charging stations in parking lots across campus, a new greenspace storm water feature near Schwartz Hall and updates to DeLoach Hall's geological gardens. 
These projects were announced in a Jan.15 message from Chancellor Jose V. Sartarelli, but details have been scarce since then.
"Myself and all the project managers in architectural and construction services consider ourselves stewards of the environment. Being here in Wilmington on the coast, we know it is a value deeply held by UNCW and the community," said Patrick. With all the new projects we try to make it very walkable, pedestrian and bike friendly. We use lots of greenspace with native plantings, treat storm water and really take a holistic approach to sustainability."