Baking for Beginners: Monkey Bread
Emma Smith, Contributing Writer
February 24, 2021
Baking can be intimidating for those who lack experience or can't figure out how to work an oven. But fear not, I have discovered a simple recipe here that can make any person, with or without experience, an accomplished baker. Bread baking is  a comforting hobby for students, especially popular during the COVID-19 pandemic, and this is an easy starting point to bread baking.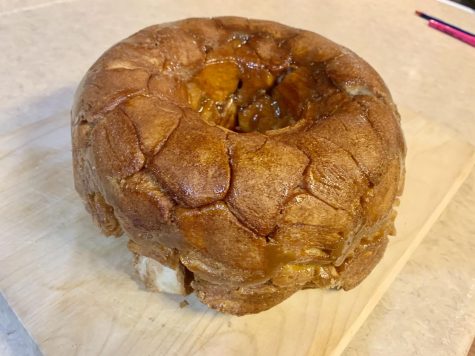 Ingredients
3 cans refrigerated biscuits (Pillsbury, off brand, or homemade)

The canned biscuits save time with this recipe, but if you prefer to make biscuits from scratch, that will also work. 

 1 cup sugar

1 tablespoon cinnamon

½ cup unsalted butter (1 stick)

1 cup brown sugar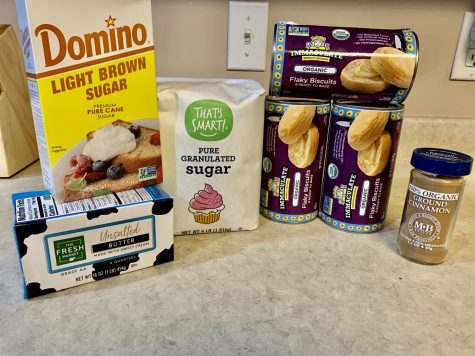 Directions
Preheat your oven to 350 degrees
You will need to prep the ingredients, by the time you are finished (which is about 10 minutes) the oven should be at 350 degrees.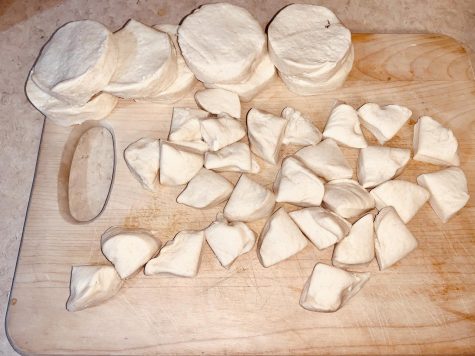 Open your biscuits and cut them into quarters. 
The quarters do not have to be perfect, they are just smaller so you can fit them together like makeshift puzzle pieces.
After cutting your biscuits, combine the sugar and cinnamon in a bowl and roll the biscuits into the mixture. Then place the rolled biscuits into a well-greased Bundt pan.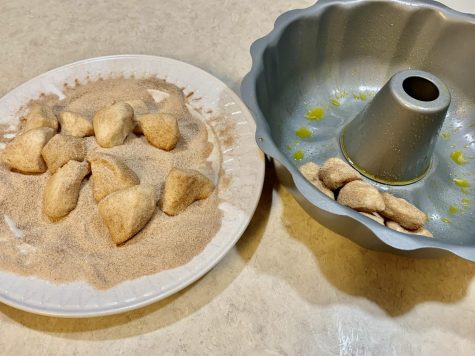 Be sure to coat the biscuits well with the cinnamon and sugar mixture. You don't have to arrange the biscuits in a perfect way, you can just drop them in wherever. 
In a saucepan combine butter and brown sugar. Bring to a boil and remove from heat. Pour over the biscuits.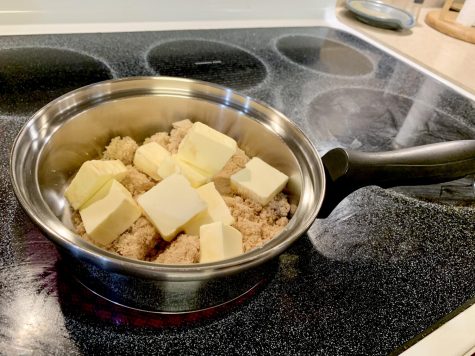 If you are using sticks of butter, I would suggest cutting it into squares. It helps the mixture melt faster. 
After you add the glaze to the biscuits, put the bread in the oven for 35-40 minutes.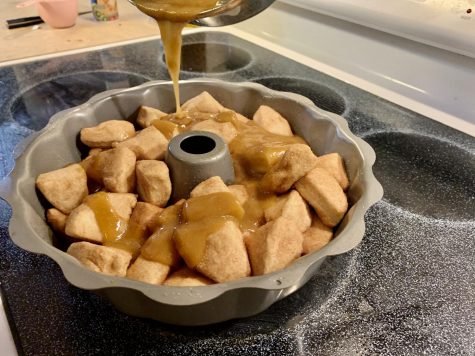 As the monkey bread bakes, the delicious aroma of cinnamon will fill your home and make your belly growl! 
This will be your end result. Enjoy!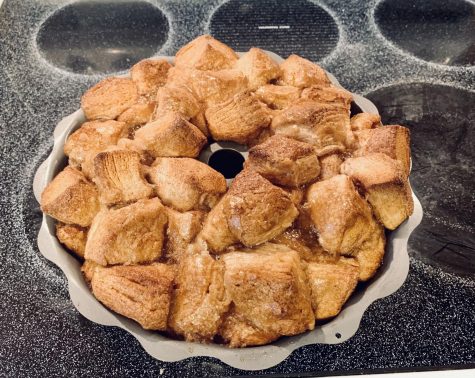 Monkey bread is an easy and delicious recipe for a beginner baker. Not only is the cook/prep time short, but the bread itself is meant to be fun to eat. As you pick apart the cake to the very bottom, this treat will fill your kitchen with the aroma of cinnamon. I suggest to accompany this delicious treat with a glass of cold milk of choice to balance out the sweetness. If you try this recipe at home or your residence on campus, tag us or leave a comment on the Seahawk's Instagram @ theseahawknews.