REVIEW: 'Malcom & Marie' is a lovers' quarrel that's hard to love
Written and directed by Sam Levinson, creator of HBO's "Euphoria," the Netflix original film "Malcolm & Marie" stands out as one of the few films to have been produced and finished during the COVID-19 pandemic last summer. As larger productions like "Euphoria" were still on hiatus, Levinson opted for a smaller project in the form of "Malcolm & Marie." The isolational nature of the pandemic offered Levinson the opportunity to create a film with a small cast and a single setting. The minimalist nature of the film allows for a stronger focus on its performances, its black-and-white visual aesthetic and writing. 
"Malcolm & Marie" follows a filmmaker (John David Washington) and his girlfriend's (Zendaya) night after returning home from his film premiere. Over the course of the night, the two engage in heated arguments and attack each other's insecurities and flaws as they contemplate the chaotic nature of their relationship. In addition, the dialogue provides explosive social commentary on film and its critical nature in the public eye. 
The film's dialogue-driven screenplay allows for a spotlight to be shown on the two leads' acting prowess. Malcolm is Washington's most powerful and noteworthy role yet as it allows him to showcase the much-needed emotional range that felt absent from his previous lead roles in  "Tenet" and "BlacKkKlansman." Washington brings a certain level of charisma to Malcolm that makes him compelling and electric when he's at his best, as well as downright brutal and unforgiving when he's at his most narcissistic. 
While "Euphoria" proves that Zendaya has immense talent and moved beyond her Disney fame, her role as Marie feels like an elevation of her acting prowess. Zendaya portrays Marie with a strong confidence and will that emits empathy and attention from viewers as she airs her grievances about Malcolm. Despite the significant age gap between the two, which many fans were initially concerned about upon the film's announcement, Zendaya and Washington provide equal strength to their characters and play off each other extremely well in both the film's loudest and quieter moments. One can say that Zendaya provides a stronger performance however, as viewers are bound to have an easier time empathizing with Marie.
Due to the script's confined nature, the story never actually feels like it's progressing anywhere beyond development confrontations. The "show-don't-tell" model of storytelling doesn't feel present because of how the film hand-feeds character backgrounds and info to viewers through monologues that begin to feel more and more forced as the movie progresses. The film's over-reliance on monologues to move along gives it an unnatural feeling that comes off pretentious at some points, and predictably repetitive at others. 
Whereas "Euphoria" has a good ensemble of characters that audiences can easily come to love or hate through their development, it's hard to find any redeeming qualities in either Malcolm or Marie. The lack of likability from the characters makes it hard for viewers to even care about their relationship at all or root for one of them when they come off as obnoxious. The script doesn't feel as deep or meaningful and just comes off as an excuse to flex Zendaya's and Washington's acting chops, as though it were an extended audition process.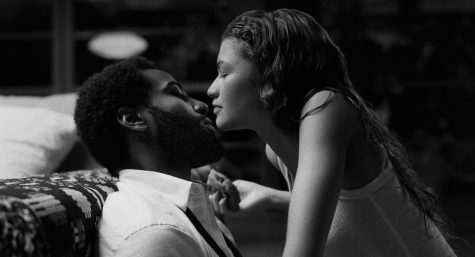 Shot on black-and-white film, the movie is visually stunning and carries a style that's reminiscent of the romantic dramas directed by John Cassavetes and Ingmar Bergman. The architectural design of the house allows for intricate framing that calls attention to the characters and emphasizes their emotions and the camerawork is exceptional when it adopts a handheld style that places viewers alongside the couple in their uncomfortable quarrels. The house setting emits a claustrophobic cabin fever-type feeling that immerses viewers into the heated tension of the dialogue—though, viewers eventually become a bit numb to this tension,since the film offers little breathing room and little time to contemplate what's been said. 
The screenplay leaves a lot to be desired in terms of character development and innovation. On the other hand, the film should be commended for the electric performances of its two leads, the solid direction and visual flair, as well as its concept and production under the circumstances of the COVID-19 virus. Despite its powerful performances and stylish visual aesthetic, "Malcolm & Marie" feels like another misfire in Netflix's catalog of original content but still worth a watch for fans of Zendaya or John David Washington.