Jeff Jackson announces run for U.S. Senate
On Jan. 26, Jeff Jackson, four-term North Carolina State Senator, announced he would be running for U.S. Senate to replace outgoing Senator Richard Burr after he announced that he would not seek re-election. After considering a run in 2020 and ultimately sitting out, Jackson has hit the ground running, entering the race early and promising a "100 county campaign," attempting to build off of Senate Democrats last year who neglected in-person campaigning. 
Jackson, 38, became the second-youngest senator in the North Carolina General Assembly in 2014. That same year he went viral for being the only senator to show up to work on a snow day, jokingly promising to fix the state with a slew of legislation tweeting, "This is going to be like 'Night at the Museum' only at the end we'll have a stronger middle class." 
Before entering the Senate, Jackson, a UNC-Chapel Hill law school alumni, served as the assistant district attorney in Gaston County.
Jackson entered the National Guard after the attacks on Sept. 11 and trained at Fort Bragg. He served a year-long deployment in Afghanistan and continues to serve in the Army National Guard as a Captain. Notably, Jackson had his wife Marisa run the campaign in the final three weeks of his reelection campaign last year because he was training.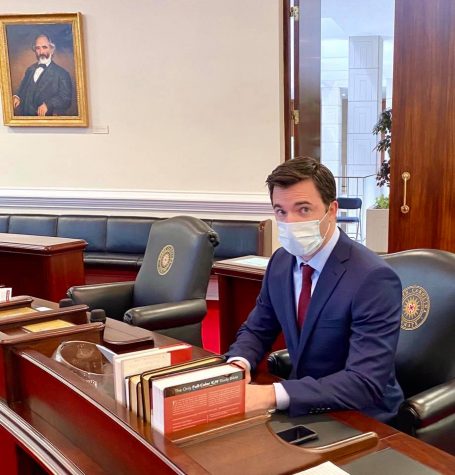 "In office, he has helped lead the fight against gerrymandering and break the state's GOP supermajority, stood against discriminatory legislation like HB2, supported investments in early childhood education, repeatedly called for raising teacher pay and expanding Medicaid and fought for reforms for our criminal justice system," as written in a press release.
Jackson will face former state senator Erica Smith, who ran in last year's Senate race, in the Democratic primary, in addition to a field of rumored and speculated candidates. If Jackson were to win the Democratic primary, he is likely to face a number of unique candidates that will compete in the Republican primary. 
The most prominent entry thus is former U.S. Representative Mark Walker who is the most prominent Republican thus far to officially enter the race. However former governor Pat McCrory is rumored to toss his hat into the ring as well as Lara Trump, Wilmington native and daughter-in-law of former President Donald J. Trump. 
Shortly after Jackson announced his candidacy, the campaign raised $500,000 in 48 hours, a strong start in what is sure to be another expensive Senate race if last year's election was any indication. More than $280 million was spent by campaigns and outside groups, making 2020's race the most expensive in the state's history. And with 2022 being another competitive election year for both parties, this race may be crucial to determining who controls Congress. 
For his part, Jackson is appealing to the tumultuous nature of last year's election.  
"I'm ready to run a campaign that raises your expectations and makes you proud to be from North Carolina," said Jackson. "We have to go everywhere and talk to everyone: rural, urban, red, blue. We're going to campaign from the heart, and I want you to be a part of it."