Roy Cooper extends N.C. modified stay-at-home order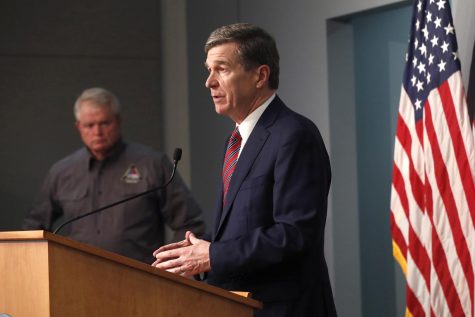 Roy Cooper, North Carolina's Governor, announced on Jan. 27 that he is extending the modified stay-at-home order that was set to expire Jan. 29. The extended stay-at-home order goes into effect at 5 p.m. on Jan. 27 and will remain in effect through Feb. 28.
Under this executive order, North Carolinian residents must still remain at home between 10 p.m. and 5 a.m., and businesses must close by 10 p.m. to the public. However, there is an exception for professional and college-level sports that have already been scheduled during this period. 
The mask mandate and limits on gatherings still remain from previous executive orders. In addition, the North Carolina Department of Health and Human Services (NCDHHS) secretarial directive also remains in effect. This directive asks people to not gather with people outside of their home and to stay at home unless doing an essential activity like grocery shopping, seeking medical care, or going to school or work.
Cooper also extended the ban on evictions while the stay-at-home orders are still in place. In addition, restaurants will now be able to offer to-go and delivery on mixed alcohol until March 31, but onsite consumption sales must end by 9 p.m.
"With more than 3,300 people in the hospital, and the percent of positive tests in double digits, we know this virus is still spreading," said Cooper in a press release. "And with at least one new contagious variant of [the] COVID-19 [virus] in our state, we still have work to do.  We cannot let our guard down, especially in these cold winter months."
The new COVID-19 virus variant B.1.1.7, first reported in the U.K., has been reported in North Carolina. It was first reported on Jan. 23, and this variant is thought to be more contagious. The NCDHHS is still pushing the 3 Ws: wear a face covering, wait 6 feet apart and wash your hands to help curb the spread of this more contagious variant. 
As of Jan. 27, North Carolina has administered 99.8% of the first round of vaccines the state was sent, with over 800,000 doses having been given. The state expects shipments of the vaccine to increase by 16% in the coming weeks following a call between the Biden administration and other state governors where this commitment was made. 
To find out when you are eligible to receive your COVID-19 virus vaccine you can visit  Find My Vaccine Group. 
"With these additional actions, we hope to get our numbers down," said Cooper. "Our top priority is, and must be, saving lives and keeping our healthcare system from being overwhelmed. This is truly a matter of life or death."