Board of trustees members accuse The Seahawk and Port City Daily of political bias
Some of UNC Wilmington's board of trustees members have publicly responded on social media to an article published by the Port City Daily. 
The article outlined an issue that Dennis Burgard, a BOT member, had with tweets The Seahawk tweeted back in October during election season.
The tweets were sponsored content paid for by the Progressive Caucus of the North Carolina Democratic Party. The tweets adhered to The Seahawk's Code of Advertising Ethics.
Vote Democratic for better healthcare access. More at https://t.co/XdppHHZarw #ncpol #sponsored Paid for by @Ncdpprogcaucus

— The Seahawk (@TheSeahawk) October 14, 2020
Vote Democratic to protect our environment and fight climate change. More at https://t.co/sGHppFSFHE #ncpol #sponsored Paid for by @ncdpprogcaucus

— The Seahawk (@TheSeahawk) October 20, 2020
Following the article's publication on Jan. 21, Woody White, another BOT member, took to Facebook, in a post that has since been deleted, to defend Burgard's action saying that the Port City Daily's writer, Preston Lennon, was attacking Burgard for being a conservative.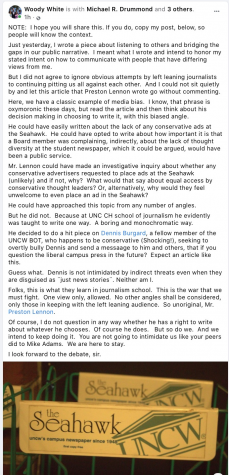 "Here, we have a classic example of media bias. I know that phrase is oxymoronic these days, but read the article and then think about his [Lennon's] decision making in choosing to write it, with this biased angle," wrote White in his post. 
"He decided to do a hit piece on Dennis Burgard, a fellow member of the UNCW BOT, who happens to be a conservative (Shocking!), seeking to overtly bully Dennis and send a message to him and others, that if you question the liberal campus press in the future? Expect an article like this."
White also wrote and argued in his post that Lennon should have instead focused his article on the lack of converative advertisements The Seahawk has run. He suggested an investigation into if conservative advertisers have requested or not to run advertisements with the newspaper and why. He then stressed the importance of Burgard complaining about the lack of diverse thought at The Seahawk. 
He ended his post writing that "You are not going to intimidate us like your peers did to Mike Adams. We are here to stay. I look forward to the debate, sir."
Adams was a criminology professor for the university that was accused of racism and targeted bigotry towards his students and colleagues since the early 2000s. After a resurfacing of controversy in June 2020, Adams announced his retirement from the university. Adams committed suicide on July 23, 2020.
Lennon commented on White's post defending his article. Lennon wrote that his story was not an attack on Burgard, but instead a piece about the laws that protect the government from "singling out speech on college campuses."
"College papers around the country are going bankrupt every year, which is rough because sometimes they're the only local outlets in the area. Being probed at by Boards puts them in a tougher spot," said Lennon.
White appeared to not buy Lennon's defense writing his justification was "BS."