House votes to impeach Trump for the second time
On Jan. 13, a week after the insurrection at the Capitol, the House of Representatives met to vote on whether to impeach President Donald Trump. Many members of Congress including top Democrats and Republicans voiced their disdain towards Trump and the role he played in the events that took place on Jan. 6 in D.C. 
Following several hours of debate from House democrats and Republicans, the House voted to impeach President Trump for a second time, making this a first in U.S. history. 
With 232 yes votes and 197 no votes, the House formally charged Trump with impeachment for inciting violence against the United States and the role he played in the Jan. 6 events. Of those, 222 democrats voted yes, zero democrats voted no, 10 Republicans voted yes and 197 Republicans voted no. 
Following Vice President Mike Pence's decision to not invoke the 25 amendment, the House of Representatives moved forward with their decision to debate and vote on impeaching the President. Nancy Pelosi, Speaker of the House and democrat, had said this move was in the works since last week following the events at the Capitol.
Next, the House of Representatives will pass on the article of impeachment to the Senate where a trial and vote will then be held. However, the Senate is currently adjourned and will not meet to decide the fate of this and Trump's political future until Jan 19, one day before Joe Biden and Kamala Harris's inauguration. 
Mitch McConnell, Senate majority leader and Republican, has since applauded the efforts by the House to impeach Trump. This is a turn from the previous charges of impeachment against Trump last year, where McConnell made it known early he would vote against the articles.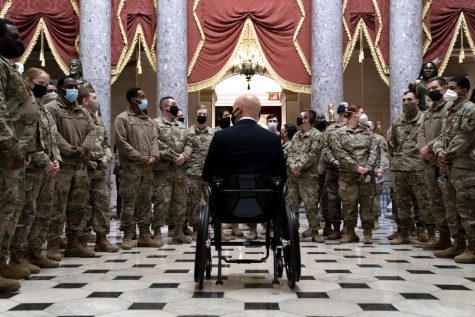 McConnell has yet to provide a comment on how he will vote once the Senate meets to decide Trump's fate. 
Following the trial in the Senate, they will move to a vote on whether or not to convict Trump. If at least two-thirds or more senators vote yes, Trump will be convicted and symbolically removed from office since the vote will likely take place after Biden's inauguration. 
In addition, Trump would lose the right to run for a second term which he has alluded to since losing the 2020 Presidential election. If less than two-thirds of senators vote yes then Trump will be impeached but not removed from office.