The best things from 2020, according to our staff
The decade is coming to an end and The Seahawk's staff is here to recount their favorites bits of 2020. We all sat down and came up with our favorite pieces of media and moments from this year, recommended to you so maybe you can catch up with the best of 2020 before the spring semester starts.
Favorite Movie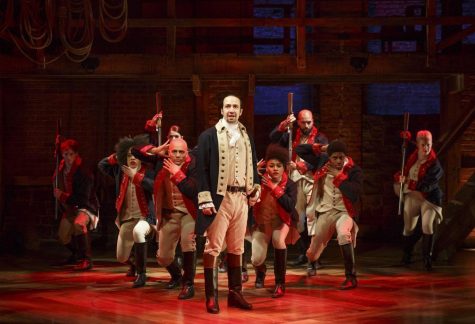 Brenna Flanagan, Editor-in-Chief: "Shirley." Starring the phenomenal Elisabeth Moss, this film is about the real Shirley Jackson, author of horror fiction like "The Lottery" and sufferer of depression and agoraphobia. Moss plays Jackson with so much depth, and the woman-directed film by Josephine Decker shows the complexity of women's minds and social standing in such a surreal and interesting way. 
Lauren Wessell, Managing Editor: "David Attenborough: A Life On Our Planet." This documentary should be on everyone's must-watch list this year. It was incredibly moving and emphasized the importance of protecting our planet. Attenborough refers to the documentary as his "witness statement" and walks the audience through the disasters that await us in the future if we do not take steps towards sustainable living.  
Emma Sheeran, Opinion Editor: "An American Pickle." This is a feel-good comedy starring Seth Rogan. The story is about a man who was preserved in pickle brine for 100 years. He awakens in the present day and embarks on a mission to find his family and rebuild the pickle empire. I recommend this movie to everyone because you are guaranteed to laugh and feel better! It's a silly story that's perfect for a rainy day.
Sunshine Angulo, Humans of the Dub Editor: "Hamilton"! I first saw "Hamilton" live last December and fell in love. Finding out that Disney+ was putting out a filmed version made quarantine a whole lot more bearable. This is a much watch for any history buff.  
Jenna Tripp, Copy Editor: "Palm Springs." I watched this movie five times in the past year, and it gets better with every watch. Andy Samberg and Cristin Milotti play two wedding guests stuck in a time loop living the same day over and over again. That's really all the information you need, and the rest will follow in a refreshing sci-fi twist on a classic concept. This will probably go down as one of my favorite movies of all time.
Ryan Moody, Marketing Manager: "The True History of the Kelly Gang." I'm gonna level with you here. This movie ain't for everyone, and you're probably going to want to read the book it's based on before you watch it. However, if you get that far this punk rock, anarchic movie is a work of art. George MacKay (of "1917" fame) has a bright future ahead of him and his role as the infamous Australian outlaw Ned Kelly proves it. Beautiful story, cinematography, and characters wrapped up in a story about throwing off the yoke of one's oppressors. The kind of anti-British colonialism we Americans should, in principle, approve of.
Stephen Lambros, Staff Writer: "The Twentieth Century." An independent Canadian comedy shown at the Cucalorus Film Festival in 2019, this film pastiches filmmaking styles from the early 1900s, employing crude humor not only to provide commentary on the divide between English and French Canada but also to tell a cautionary tale about ambition and power that many viewers will appreciate. The Twentieth Century is unlike any film made in modern times and does more than enough to earn my recommendation.
Hannah Horowitz, Staff Writer: "The Trial of the Chicago 7." It really resonated with me in terms of what the country is currently experiencing and the acting was amazing. I highly recommend to anyone who wants to better understand the political climate and its influence.  
Hannah McDonnell, Staff Writer: "The Invisible Man." This movie follows Cecilia who is married to an abusive scientist, Adrian, and how she escapes from his grips only to be stalked by him. Only thing is, he is invisible. I first watched this movie at a drive-in movie theater and it did not disappoint. I am a huge fan of psychological thrillers and this is now on my list of favorite movies. The way that the actors portrayed physical and emotional abuse was amazing; how they showed Adrian literally separating Cecilia from her friends and family made me scream at the screen because I just wanted them to believe her. 
Nicolas Ziccardi, Staff Writer: "All In: The Fight for Democracy." I'm a sucker for documentaries, but none became more prolific as the year went on as Stacey Abrams's "All In: The Fight for Democracy." The film examines voter suppression and activism in the state of Georgia, framed around Stacey Abrams's closely fought gubernatorial election in 2018 and its subsequent fallout. Now, with Democrats taking the state for the first time in decades, this film showed the power of voter outreach and the lengths politicians across the board go to deny us our unalienable rights. 
Favorite TV Show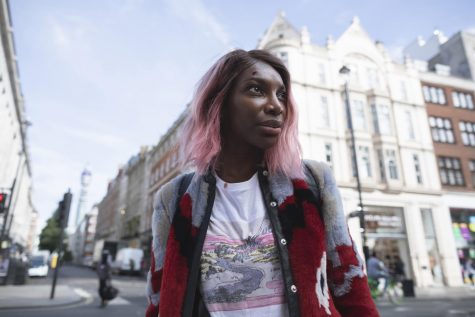 Flanagan: "I May Destroy You." I don't know if there are good enough words to describe this show and my feelings about it. Based on the creator Michaela Coel's experience with sexual assault, it's a heavy watch but it rejects being defined by anything. What is left is a truly remarkable, unsettling piece of art, one everyone should witness. 
Wernicke: "Space Force" on Netflix. I love anything with Steve Carell, and this has to be the funniest and best thing he has been in since "The Office." The whole show features a great lineup of cast members that help make the show hilarious.  
Cierra Noffke, Culture Editor: "The Great" on Hulu. I was surprised at how much I loved this series. It's an anti-historical, satirical, and darkly comedic portrayal of Catherine the Great's rise to power—via a coup d'état overturning her husband's reign. It's definitely a graphic series, but the soundtrack, the costumes, the plotline and dialogue is chaotically perfect. If you love Russian history, stories of undervalued intelligent women outsmarting entire nations and Elle Fanning, you should watch. 
Sheeran: "The Queen's Gambit." This is one of my favorite shows of all time. "The Queen's Gambit" follows the life of Beth Harmon, a chess prodigy. I love the storyline of the show because it shows the progression of a young girl overcoming her dependency on various substances to excel in the male-dominated field of chess. It's an addictive story filled with bittersweet moments.  
Kaylin Damico, Photography Editor: "Criminal Minds." This will always be one of my comfort shows. I have watched it all the way through on Netflix at least three times already; I really wish they would add the last three seasons.
Tripp: "Schitt's Creek." The show encapsulates the Rose family's experience of going completely broke and owning the town of Schitt's Creek as the asset left to their name. The way this show navigates their relationship as a family, as well as their significant others, is different than any other show I've ever watched. From the comedic aspects to their growth as people, this show is pretty unbeatable. 
Samantha Stemmer, Assistant Marketing Manager: "Grey's Anatomy." Just when I thought this show was getting stale, the new season, tackling the COVID-19 pandemic, blew me away. Ellen Pompeo is just the best and I don't think many can argue with that.  
Lambros: "Ozark." The third season of Netflix's brooding cartel thriller starring Jason Bateman and Laura Linney introduces new characters and adds more to the overarching world of the story, cementing it as one of the most engaging television shows of the current moment. Don't sleep on this one.
Ziccardi: "The Mandalorian." While some of the stories may be derivative, and the narrative is far from enlightening, getting what amounts to a new "Star Wars" film every week makes my inner eight-year-old overjoyed. What can I say?
Favorite Album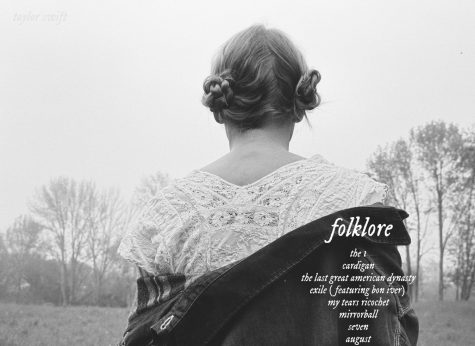 Wessell: "Folklore" by Taylor Swift. Not to be dramatic, but this album was so good and arguably her best work ever. It is her eighth album but her first folk album full of beautiful, soothing, and heartbreaking storytelling. 
Wernicke:  "No One Else Can Wear Your Crown" by Oh Wonder. This album came out early in the pandemic and helped keep me sane throughout it. Their third indie/synth-pop album is one of my favorites and is a great mix of sad and happy songs, all of which are relatable or make you think. Anthony (insert last name) and Josephine's (insert last name) voices fit so perfectly together and draw you in.
Angulo: "Positions" by Ariana Grande. It's super basic, but I was so excited for this album to come out. I listened to a lot of Ariana Grande whenever I would get ready to go out pre-pandemic, so her new album comforted me with a sense of normalcy during the pandemic.
Tripp: "Songs for the General Public" by the Lemon Twigs. Although their previous albums have my heart, I have to say that this album is my top pick because it is by my favorite band. Their sound is a mix of old rock and odd futuristic sounds with an incredible amount of creativity with their lyrics.
Moody: "purple moonlight pages" by R.A.P. Ferreira. The ignoble peon poet from nowhere, R.A.P. Ferreira has been one of the most consistently inconsistent underground hip-hop artists of the past decade, who has finally settled into a jazzy niche for now. I won't mince words here; this album is highly abstract and difficult to comprehend even if you've been following his growth for years like me. It's like trying to read Beowulf in Old English. That being said, if you are into hip-hop at all, this album is required listening. Each track delivers a sermon filled with scattered ideas, suggestions, and points of view which all coalesce into an ethos modeled after one of the most transformational decades in hip hop history.
Stemmer: "Fine Line" by Harry Styles. This was basically 2020 and one of the only things that helped me get through this year. There are so many amazing songs on this album and my Spotify Wrapped reflected that. 
Lambros: "Punisher" by Phoebe Bridgers. At once poetic and pulse-pounding, "Punisher" stuns listeners with Bridgers's unique blend of indie sensibilities and haunting American-roots ballads. One of the best albums of the year.
Horowitz: "Circles" by Mac Miller. I was so happy to hear that this album was coming out- but it was kind of sad, especially since it was the unfinished product of two different albums. It was very nostalgic to hear and was a reminder of the talent that we lost. 
Favorite Song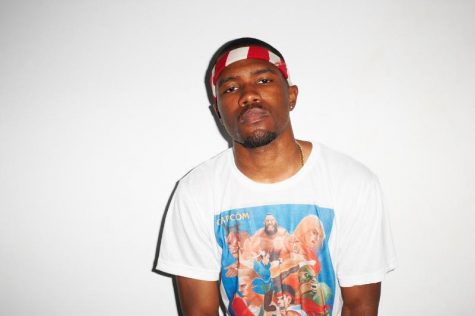 Flanagan: "Lost in Yesterday" by Tame Impala. Just a bop.
Wessell: "Tangerine Dream" by Maya Delilah. This dreamy love song found a place in the top 10 of my Spotify Wrapped, probably because I listened to it daily. It reminds me of dancing in the rain during summertime. 
Wernicke: "Natural" by THE DRIVER ERA. This song was my number one on my Spotify Wrapped for a reason. This is definitely the sexiest song of 2020 with its great base line and I want to bop along to it every time I hear it.  
Noffke: "Orange Tree" by Billie Marten. Something sweet & soothing for quarantine blues. 
Kilby: "My List" by Toby Keith. Reminds you of the important things in life when things get busy and hectic. Also, anything by Toby Keith is great. 
Angulo: "Cayendo" by Frank Ocean. Late-night beach trip. Hot salty air. Need I say more?
Damico: "Daisy" by Ashnikko. I found a lot of songs I like from TikTok. What else was I going to do over quarantine? 
Tripp: "Black Qualls" by Thundercat. I love Thundercat by himself, but this track adds Steve Lacy, Steve Arrington and Childish Gambino. This is one of the songs that got me through quarantine because it just took me somewhere else for just a moment with its funky style and lovely voices.
Moody: "Corsican Mastiff Stride" by The Mountain Goats. For an album that deals a lot with haunted places, both physical and spiritual, it's opening track is infinitely danceable. An ode to cutting ties and going your own way, John Darnielle's percussive lyrics and soulful timbre blow it out of the water as always.
Horowitz: "Giants" by Dermot Kennedy. Dermot Kennedy is one of my favorite singers because of the pure, raw emotion that he puts into his music. His voice reflects the pain and loss that he has experienced in his life but also his process of healing.
Favorite Book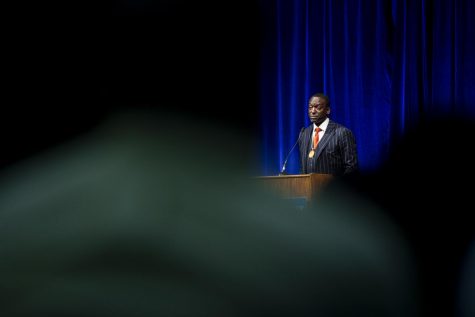 Flanagan: "Chosen Ones" by Veronica Roth. Roth is the same author of the "Divergent" series, so I thought I knew what to expect with her new novel. However, her new work is really interesting and more nuanced for adult readers; I could not put it down. 
Wernicke: "Clanlands: Whisky, Warfare, and a Scottish Adventure Like No Other" by Graham McTavish and Sam Heughan. I have not read this book yet, but I am excited to start reading it. Written by two of the actors from Starz's "Outlander" this book details a road trip between McTavish and Heughan through the Scottish Highlands.
Sheeran: "Dessert Person" by Claire Saffitz. This is a cookbook written by one of my favorite culinary editors from Bon Appetit. As a pastry chef myself, I found this cookbook to be a great resource for developing new product ideas and recipes.  
Lambros: "The World That We Knew" by Alice Hoffman. In all honesty, Hoffman's latest novel was released in September of 2019—but I read it during 2020. The book's application of Jewish mythology to its Holocaust narrative makes for an unforgettable story with characters and moments that will stick with you for a lifetime.
Horowitz: "Punching the Air" by Dr. Yusef Salaam. Salaam was one of the Central Park Five (now the Exonerated Five), a group of young boys who were wrongly convicted in a case that became highly politicized. The book is written in a poetic style and speaks volumes regarding past and current racial injustices in the criminal justice system. 
Ziccardi: "Trust" by Pete Buttigieg. What amounts to an autobiographical work illuminates the virtue of trust in our political systems, and how much of our faith in our institutions and politicians relies on the trust, or lack thereof, we have accumulated through the years. A critical and surprisingly nonpartisan take from a former presidential candidate that instilled both fear and hope. 
Favorite Podcast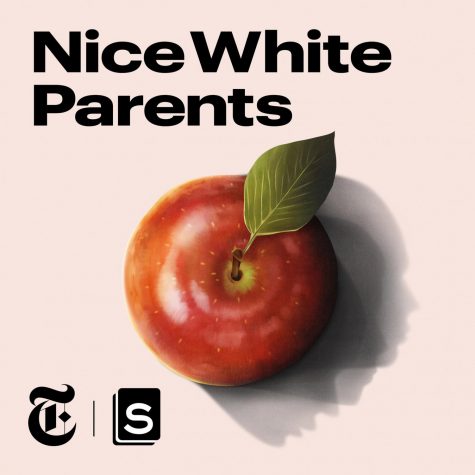 Noffke: "On Being." This is a podcast that's hosted by journalist Krista Tippett, designed to probe into deep questions about religious, spiritual, and moral questions of life. All of the speakers invited for a conversational episode hold some kind of standing in their communities—whether they're poets, astronomers, priests, or biologists. The conversations are genuine and there's probably a fair amount of people you've heard of who's been invited onto the show (Mary Oliver, America Ferrera, Ruby Sales etc.). 
Sheeran: "How I Built This." It's a podcast about innovators and entrepreneurs and how they built their businesses. I find this podcast not only interesting but also very helpful since I own a small business. The episodes are filled with tips for business owners or those considering opening a business. 
Damico: "The Orange Tree." This is a great limited series for true crime fans. I think I finished it in one day. 
Moody: "Making It." If you've discovered a distinct lack of old guys talking about building stuff in your life this year, look no further. Three old guys share their experiences as they talk about design, creativity, lifelong learning, and, yes, building stuff. As a college student with no budget and no space in my tiny apartment, this satiates my passion for making things with my hands.
Tripp: "Dissect." Cole Cushna takes an album and dissects it down to the key changes and melodies to really understand and appreciate everything that's put into making a song. Each episode is about one song, and they all come out to around an hour each. It's a good listen to people who are really into music.
Stemmer: "NPR News Now." I know this is not super interesting, but it's news in five minutes and I love it. 
Horowitz: "Nice White Parents." This podcast discusses inequities within America's public-school systems and who the forces behind these inequities are. It is super compelling, and Chana Joffe-Walt tells it as it is.
McDonnell: "Morbid: A True Crime Podcast" by Alaina and Ash. These siblings cover true crime, creepy history, and so many other spooky things. Not only do they talk about high profile cases like Ted Bundy, Lizzie Borden and the Salem Witch Trials but they also talk about lesser-known cases. They also make it lighthearted despite the dark content with sarcasm and jokes.
Ziccardi: "Conan O'Brien Needs a Friend." Every week late-night host Conan O'Brien speaks to celebrities of varying intrigue for them to become his friend. A weekly source of laughs from a deceptively brilliant comedic force, this podcast was one of the many things getting me through this year.
Favorite Person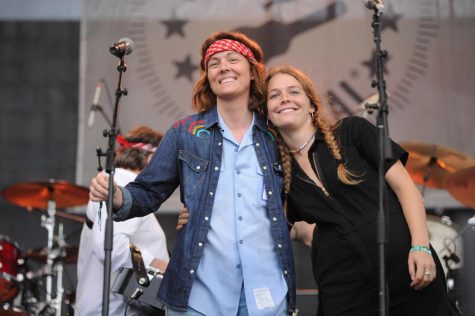 Flanagan: Ibram X. Kendi. I read his book "How to be an Anti-Racist" this summer and it fundamentally changed the way I view race in this country and throughout history. I then attended his discussion that UNCW hosted and was even more in admiration of his intelligence. I recommend his writing to everyone.
Wessell: Harry Styles. No need to explain. 
Wernicke: Timothée Chalamet. Chalamet is a king, an icon and I have loved everything about him since I first saw him on screen in "Call Me by Your Name" in 2017. 
Noffke: Maggie Rogers—she's just a beautiful being. 
Kilby: Riley Green. Check out his music; he's by far my favorite artist right now. Also, he's someone that I would just like to sit down and have a beer with. I think we were raised very similarly and have a lot in common.
Sheeran: My favorite people of 2020 are those working on the frontline in healthcare facilities. Without these people, the death rate of COVID-19 would be much higher. I have the utmost respect for healthcare workers providing care to those in high-risk environments. 
Damico: Chris Evans- This man loves his dog. Respect. 
Tripp: John Mulaney.
Moody: Everyone needs a ride-or-die like Jill Biden. Exhibit A, Exhibit B, Exhibit C. I rest my case.
Stemmer: Reese Witherspoon. She was amazing in her role in "Little Fires Everywhere" and she's just so cute. Her TikToks always make me smile and I'm not going to lie I wish she was my mom. 
Lambros: Katie Porter is the United States representative who, back in March, secured a commitment from the current CDC chief that COVID-19 testing would be made free for all Americans. Free testing was an important benchmark for preventing the extraneous spread of the coronavirus, and Porter deserves to be mentioned for ensuring it. 
Ziccardi: Kermit the Frog, for personal reasons.
Favorite Purchase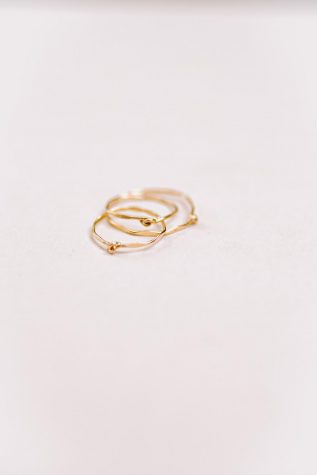 Flanagan: This Casaluna bedspread from Target. I needed a new bedspread when I moved, and this one is so nice and cozy without being too heavy or obtrusive. 
Wessell: I love jewelry, especially rings, so this kindred ring was a great purchase. Wind Blown Jewelry is a local brand based out of Wake Forrest creating simple and classic pieces with intention and meaning. 
Wernicke: Baby Yoda ColourPop eyeshadow pallet. I am not the biggest makeup person; however, I love anything, and everything related to Baby Yoda, and this small eyeshadow pallet has a great set of colors for someone like me with brown hair and eyes. 
Sheeran: A pair of blue-light blocking glasses. Due to the semester being completely online, my eyes were beginning to get strained. These glasses have helped tremendously with eye strain and headaches. I highly recommend investing in a quality pair! 
Damico: This Revlon round hair dryer brush. I love styling my hair with this hairdryer, it lets me get smooth and voluminous curls and it's cheaper than a lot of similar hair tools.
Moody: Let's not kid around here, you've been in your bed more often than not in 2020. Don't worry, me too. That's why I invested in a weighted blanket. They're designed to help with anxiety but I've found that this thing takes no prisoners when it comes to insomnia. It's like a warm, heavy straightjacket that puts me to sleep in 30 minutes after I swaddle myself in it. 
Stemmer: Skincare has been all the rage in 2020, and I decided to splurge on the Drunk Elephant Protini Polypeptide Cream. This has to be the best moisturizer to exist and worth every penny.
McDonnell: A Polaroid camera. I have been able to capture so many memories with my retro camera and being able to look back on them is just not the same as scrolling through your camera roll. It is like reading an actual book instead of reading an eBook, there is just so much nostalgia that comes with it. 
Favorite Moment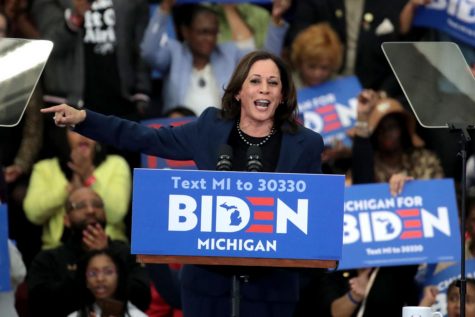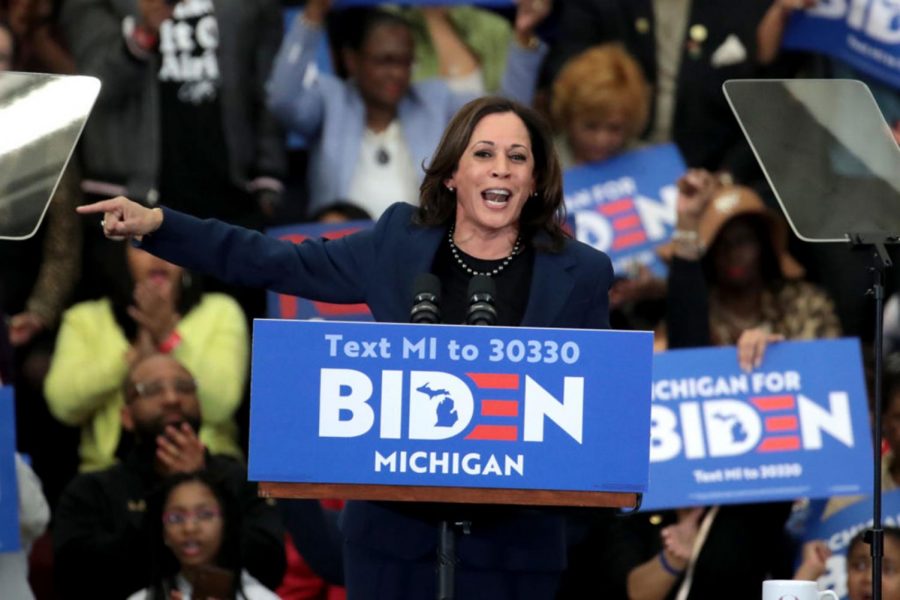 Flanagan: Zendaya becoming the youngest best actress winner at the Emmys. I would consume anything Zendaya put out and she absolutely deserved this win for her performance in "Euphoria." This moment was so inspirational for young women, especially black women, and showed some progress for young people in award recognitions. 
Wessell:  Global renewable energy saw record growth in 2020 and the Internation Energy Agency announced it is expected to surpass fossil fuels by 2025. 
Wernicke: Kamala Harris becoming the first female Vice President. As a woman, it was so exciting to finally see a fellow woman take the second-highest office in the United States. It felt great knowing our nation is finally putting more women where they belong… in charge.  
Noffke: Just before the pandemic escalated in the U.S. a close friend and I took a trip to Pilot Mt. and Hanging Rock State Park. We stayed in an Airbnb adjoined to a yoga studio and spent days crawling over mountain streams and steep hillsides. It was absolutely lovely.  
Kilby: Shooting basketball at Chapel Hill with the players before a game. 
Sheeran: News breaking that L.A. is building the world's largest wildlife bridge to help reduce the number of animal deaths by vehicles. 
Angulo: My mom's boyfriend proposing. Let's face it, 2020 has been less than stellar so I'm ecstatic that my family can find pockets of happiness amongst all the chaos. Congrats mom!
Damico: Bringing home a new golden retriever puppy.
Tripp: Every night for most of the early quarantine, I would hang out and play cards and binge watch TV shows with the people I love. I was so lucky to be able to find the happiness in the bad times and to have them in my life.
Stemmer: Finally, being able to see my family again for Thanksgiving after being separated for almost a year! And Trump losing.
Lambros: The four-Oscar sweep accomplished by "Parasite" is a major stepping stone toward adding more films of varying backgrounds to the overall awards discussion, and the acceptance speeches coming from those wins were priceless.
Horowitz: Seconding Kamala Harris becoming the first woman vice president! It was a reminder that representation is crucial and can no longer be overlooked, and that a woman can hold any office that they wish to. In a world where women are called many different things, Madam Vice President is a wonderful addition to that list.