OPINION: UNCW is not doing enough to improve inclusivity of minority groups
Hannah Horowitz, Staff Writer
November 30, 2020
Editor's Note: This article was edited on Dec. 16, 2020, to amend an error of clarity. The art exhibit put in place by the Office of the Arts was planned separately from the removal of the banners across campus. The Office of the Arts was not in charge of the removal.
Before I even set foot on UNCW's campus, I was aware of the lack of diversity within the student body. On one of my first visits to the school, my parents commented on it, to which another student responded that there was a running joke that the "W" at the end of UNCW stands for white.  
There are always reasons why a university may lack diversity amongst its students. According to UNCW's website, ethnic diversity makes up about 16% of the student body. CollegeSimply gave UNCW a "low" rating in terms of racial and ethnic diversity. That leaves the question of why UNCW lacks diversity and what the administration plans to do about it.   
We have all seen the advertisements that seem to strategically place students of all ethnicities, races and backgrounds into a single photograph. We have gotten used to laughing at those types of campus advertisements without really thinking about the greater issue behind it all. Students are expected to assimilate into campus culture as easily as the advertisements make it look.  
From my view, UNCW seems to be trying. Unfortunately, "trying" is not good enough for a university that claims diversity as one of its six core values. "Trying" is also not good enough when the country is experiencing a reckoning with racial injustice, something that has gotten misconstrued and tossed aside due to "uncomfortable" rhetoric.  
The simple fact is that we are in the year 2020. Universities should no longer get praise for having minority student organizations or holding minority student panels. The existence of the Upperman African American Cultural Center, Centro Hispano and the LGBTQIA+ Resource Office should be obvious and important parts of campus, not talking points.   
The UNCW Student Government Organization (SGA) sponsored the display of Black Lives Matter banners around campus earlier this year. In response, the administration wanted to remove them. The banners were then placed into an art exhibit instead, which was already gathering pieces for its virtual gallery. The banners were taken down as if this reckoning is something that we are finished with and instead prefer to see it distanced from us.  
The removal of the BLM banners affirms the fact that UNCW is not doing enough to support the inclusivity of minority groups. It is incredible that the statement "Black Lives Matter" can be considered an attack on the existence of someone else. It is frustrating that it is seen in tandem with a political movement when it is clearly just a statement of affirmation.  
The removal of the banners was not only disrespectful to the student body but actively goes against the values of the Seahawk Respect Compact.  
"In the pursuit of excellence, UNC Wilmington actively fosters, encourages and promotes inclusiveness, mutual respect, acceptance and open-mindedness among students, faculty, staff, and the broader community." 
If those words carried as much weight as they should, displaying the BLM banners across campus should not have been an issue.  
Another topic to highlight is the lack of diversity within student organizations, particularly in Greek Life. Historically, Greek Life excluded those of different races or cultural backgrounds, leaving it to be an "honor" for white men and women to participate. In response, all-Black fraternities and sororities were established, as well as Jewish and Latino organizations. However, the Greek Life culture at UNCW is still mainly white, given the origin and the demographics of the university itself. Some colleges have banned the existence of Greek organizations on their campuses because it promotes an "elitist and exclusionary" environment.  
As someone who is of the Jewish faith, I can say that there are very few opportunities for other Jewish students to connect with one another. This is the same sentiment across many other minority religious groups. In contrast, there are quite a few organizations for those who identify as Christian. I am constantly receiving information on how to join various church groups and I do not feel as if I must look far for information. For those of us in minority faith groups, it is often quite a search to find organizations that reflect our religious affiliations. In my past year and a half as a student at UNCW, I have not found nor received information on how to join any type of Jewish faith group.  
Diversity amongst faculty is a crucial aspect to improving diversity on campus. When students do not see themselves reflected in positions of leadership or authority, there is likely to be a disconnect. Representation is important and is often an overlooked factor in terms of improving diversity.  
According to a report from the National Center for Educational Statistics, the overwhelming majority of full-time faculty are white, and the majority are still male. A Huffington Post article reminded us that college students are like temporary visitors, while faculty have "the long-term ability to shape the campus culture and make it more in sync with the rest of the real world."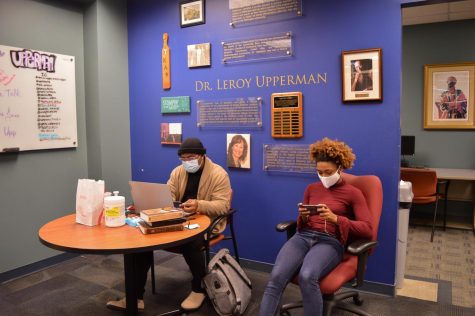 Christopher Neal and Asia Adams sit and work inside the Upperman African American Cultural Center. (Kaylin Damico)
Another way to potentially increase diversity on campus in terms of race, ethnicity, and socio-economic status is to remove the standardized test requirement for admissions. Historically, students who have resources to prepare (such a study materials, tutors, or group reviews) tend to do better on these types of exams. That creates a significant gap between students who may have the luxury to spend months studying after school, while other students may have to work or take care of younger siblings instead. To combat this, some universities have gotten rid of the standardized test requirement altogether.  
It sometimes feels as if universities are putting out diversity initiatives for show and then fail to follow through with them. When the time came for UNCW to show that they truly stand by their minority student population, they failed to do so. If UNCW really wants to improve diversity on their campus, they can start by making sure there is representation in the faculty, abolishing the standardized test scores and ensuring that those of all backgrounds, races, religions and sexual orientations feel respected and heard on their campus. Only then will the university on the path to putting diversity and inclusion on the top of their list of priorities.