Becoming vegan: a beginner's guide to veganism, with a Wilmington twist
Switching to a vegan lifestyle can seem intimidating at first, but between its numerous health, environmental, and animal welfare benefits, it's becoming more and more popular. If you're new to veganism but want to know more, read this guide. I have been a vegan for over 7 years and I'm excited to share my recipes, tips and recommendations.
In this ultimate beginner's guide to veganism with a Wilmington twist, you'll find grocery stores, restaurants and brand recommendations as well as my favorite vegan breakfast, lunch and dinner recipes.
The best places to buy vegan foods in Wilmington
When you first go vegan, figuring out what to eat can be intimidating. In some grocery stores, it can be hard to find anything that's vegan, much less anything that tastes good. You may be wondering where to go to find the best vegan foods. Don't worry! There are lots of options right here in Wilmington for you to check out. These places carry a wide variety of vegan alternatives to make vegan cooking and snacking easy.
My favorite place to grab vegan snacks is Tidal Creek Co-Op. It's the best place for vegan desserts that are made right there in Tidal Creek.
Whole Foods has a wide selection of vegan options. It has everything you need, really.
Harris Teeter is a good place to go if you want to save money. It has a surprising amount of vegan options to choose from.
Lovey's Market is a little store near Mayfair with a ton of vegan products to choose from.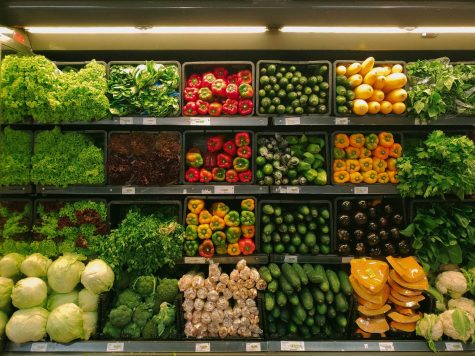 Best vegan restaurants in Wilmington
If you are a vegan for long, you will encounter the problem of being out to eat with friends or family and having no options on the menu, except for maybe French fries and a salad. I have left many a restaurant still feeling hungry because as much as I would love to live off of French fries, they are just not that filling. Take it from me who has been on the search for years for restaurants with vegan options that are actually good, – These are the best restaurants I have found, definitely must-tries for a vegan newbie.
Panacea Brewing Company – The whole menu is vegan and the kombucha is great too!
Hell's Kitchen – This downtown restaurant has a lot of vegan options from vegan wings to a hefty Impossible Burger.
Sealevel City Vegan Diner – The whole menu here is vegan too and it is one of my favorites in Wilmington. Not too expensive with amazing food and a cozy atmosphere.
Slice of Life – Best vegan pizza in Wilmington in my humble opinion.
Boombalatti's – Always has vegan ice cream flavors available. I'm not usually a fan of ice cream but I crave this ice cream all the time.
Wake N' Bake – Vegan donuts! Need I say more?
The Peppered Cupcake – If you like cupcakes, look no further. This bakery has several vegan options.
Tips for beginners to veganism.
Switching suddenly to a vegan lifestyle is difficult. The change in your diet is one starting point—learning how to conserve energy, planning your meals and restaurant visits, and staying consistent in this journey is another. If you are struggling with committing to a full-on vegan lifestyle, consider easing into a plant-based died by first becoming vegetarian.  
Don't fall into only eating French fries and pasta and whatever is easiest. There are great, tasty vegan options that are actually healthy for you. Getting all of the proper nutrients can be difficult when eating a vegan diet. Consider taking vitamins like B-12, which vegans can have a deficiency in. Prioritize protein. Try protein shakes or protein bars for a little added protein. There are plenty of dairy-free options. My go-to is Vega.
Also, make sure to get in your fruits and veggies. The fresh produce section of the grocery store has so much possibility if you give it a chance. It's cheaper than buying all vegan alternatives and is healthier for you.
Quick note – On your next trip to the coffee shop, TRY OAT MILK IN YOUR COFFEE INSTEAD OF ALMOND MILK. That was loud, but I'm not kidding. So much creamier.
Lastly, find people who share your beliefs and lifestyle. It makes the transition easier. Consider joining the Vegan Student Association or reaching out to vegans or vegetarians you know.
Best brands for vegan alternatives
Cooking vegan does not have to be hard. What I like to do is simply veganize normal recipes. This is easy with all of the vegan substitutes available today. Look for them on your next grocery trip.
Daiya – Good for dairy alternatives – cheese, pizza, yogurt, salad dressing
Gardein – Good meat alternatives – a wide range of options
Morning Star – Good meat alternatives – just make sure what you pick up is vegan, not all Morning Star products are
Tofutti – Good for sour cream and Tofutti, less expensive than other options and my preference
Tofurky – good for sandwich meats or to add to salads
JUST – makes a yummy egg substitute and mayo substitute
So Delicious – ice cream
Ben and Jerry's have a lot of vegan ice cream options as well
My favorite vegan recipes I make every week
I am definitely a creature of habit; I make the same recipes often. Between class and work and just life in general, trying new recipes every night is simply not always possible. These recipes are super easy, don't take much time to make, and are pretty tasty if you don't mind me bragging. Try them out if you have no idea what to make or want to change up your usual meal schedule.
BREAKFAST
JUST Egg and avocado on toast
JUST Egg is an easy to make egg substitute. It's actually quite tasty and pairs well with avocado on toast or just by itself! I top it with salt, black pepper and red pepper.
Chocolate Chip Cookie Oatmeal
Make your oatmeal with almond milk and it's an easy, wholesome vegan breakfast. If you're feeling sweet, add vegan dark chocolate chips, peanut butter and cinnamon – it tastes like a chocolate chip oatmeal cookie! Or add some fresh fruit for a healthy choice.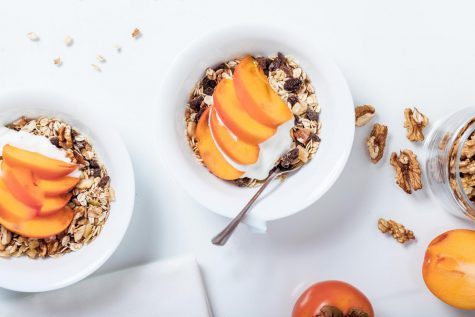 Fruit Parfait Bowl
This is my absolute favorite breakfast. I use coconut milk vanilla yogurt. Any brand is fine, but I use So Delicious. Add sliced strawberries, blueberries, granola of your choice, mini dark chocolate chips, and coconut shreds. Mix it all together for a sweet, yummy breakfast.
LUNCH
Beyond burger
You can purchase a beyond burger at several of the recommended stores.
Cook in a pan over medium heat
Add whatever toppings you like!
Try adding BBQ sauce and slaw to your beyond burger for a fun twist!
Pair with some French fries or chips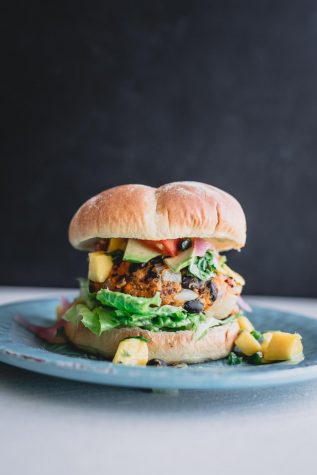 Vegan Quesadillas
What you'll need:
I use Siete tortillas
Vegan cheddar cheese shreds
Diced soy nuggets – I add buffalo sauce to mine for a little extra kick
Pico de Gallo
Dairy free sour cream
Any other fillings or toppings you like
Instructions
Melt about ¼ of a tablespoon of plant-based butter over medium heat in a medium-sized pan
Add the tortilla to the pan
Sprinkle shreds onto the tortilla and let melt
DINNER
Easy Burrito Bowl
What you'll need:
Spanish Rice – whatever brand you prefer
Black beans (I season mine with garlic powder, onion powder and cumin)
Shredded lettuce
Pico de Gallo (you can make your own or buy some from the grocery store)
Vegan sour cream (I like Tofutti Sour Cream, but any brand works)
Vegan cheddar cheese shreds
Avocado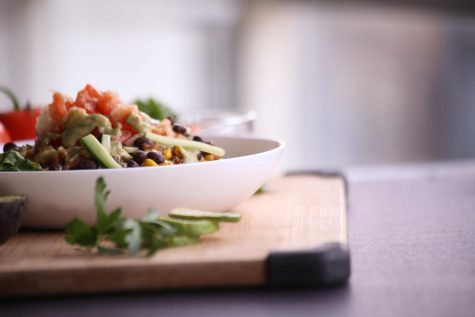 Vegetable Stir Fry
What you'll need:
Broccoli
Mushrooms
Green Beans
You can add vegan meat substitutes of your choice
Edamame
Carrots
Spinach
Teriyaki
Any sauce you like
White jasmine rice
Instructions:
Sauté vegetables in a pan with plant-based butter and garlic.
When cooked thoroughly add teriyaki sauce and simmer until the desired doneness.
Pair with white rice or vegetable fried rice.
Pesto Pizza and Pasta – made with Trader Joes Vegan Pesto
It is easy to make a homemade pizza or pasta. Just buy some premade dough or pasta and top with pesto or marinara along with your favorite toppings. I like Roma tomatoes, red onion, green pepper, garlic, Beyond Italian sausage and a sprinkle of vegan mozzarella cheese.