The Seahawk Staff share how they've managed stress during COVID-19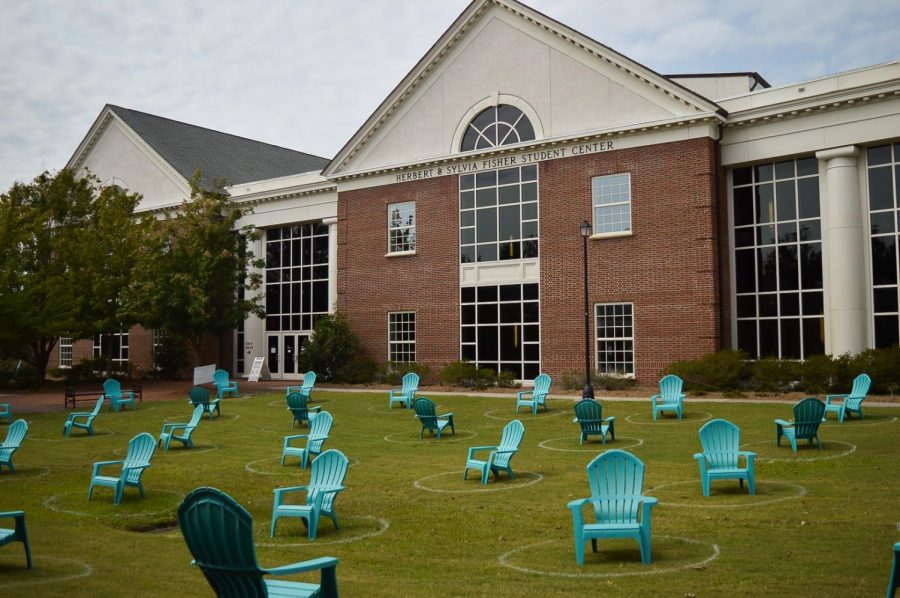 It's two months into the fall semester of 2020-21, which means we've all had to acclimate to working remotely without brick-and-mortar classes. 
Although quarantining at home is far preferred to congregating in swarms on campus, it's easy to feel isolated and disorganized. Working remotely means no one is going to enforce whether you wake up early or not or whether you even show up to your ZOOM classes with your camera turned on, presentably clothed. Students must voluntarily organize their many conflicting schedules from home, and because of the stressful nature of the COVID-19 pandemic and online classes in general, college students are very, very stressed out right now. Though, this may not be news to you. 
I asked the editorial board of The Seahawk how each of them has personally handled remote learning and stress during the past few months. Each answer is unique, honest and has something to learn from. The bottom line for every response and self-care, in general, is to be kind to yourself. Even you deserve a break. 
The first three come from our newest editors at The Seahawk. 
Emma Sheeran, Opinion Editor
Sheeran is a junior at UNCW majoring in English with a professional writing concentration, who loves baking and even worked as a pastry chef for a couple of years. 
"I manage my stress by setting time aside every day for myself. I use this time to do yoga, meditate, or practice self-care. I find it very helpful to dedicate some time just for myself each day because it gives me the time to reset and take a breather. I definitely think it's harder to make time for it with online classes. Even though I have more alone time with online classes, it still is hard to balance true time to myself with school." 
Kaylin Damico, Photography Editor
Damico is a junior majoring in Film Studies, double minoring in Creative Writing and Psychology. She is obsessed with Dunkin' coffee, true crime and Rihanna's music (back when she actually made music). 
"To manage my schedule I try to stay up to date on what assignments I have that week and create a to-do list. Then I can put a check next to the things I have completed. Stress relievers for me are usually some kind of creative outlet. I like to color or edit some photos in Lightroom. I also really enjoy turning on some music and dancing around. I think as students we might feel a constant pressure to stay productive all the time, but it is so important for our mental health to take time to relax. I think it's okay to reward yourself for working hard even if that just means watching Netflix and taking a nap." 
Ryan Moody, Marketing Manager
Moody is a senior from Eden, NC and is majoring in Communication Studies with a minor in History. He is also a descendant of James Bowie, the folk hero who died at the Alamo. 
"I'm usually really bad at managing my schedule and it took me a long time at the beginning of the semester to make a routine, and I'm still working on sticking to it all the time. What works best for me is to block out certain parts of my room and apartment for work/relaxation/exercise/hobbies so that I'm always in a different physical space for certain activities. For example, I'm always at my desk when I'm working, but when it's time for a break, I move to the couch to watch Netflix instead of doing it at my desk or on my bed. 
"For stress relief, I like to listen to a lot of music, and I'm always looking for new stuff to listen to. Listening to a new album lets me tune everything else out for a little bit and also works out the creative part of my brain. I also like to exercise, I make it a habit to do calisthenics every other day and while it was hard for the first couple of weeks, now I get in a bad mood when I miss a day. When I'm exercising, I just focus on what my body is doing at that moment and there's no room in my mind for anything else." 
Jenna Tripp, Copy Editor
"I'm not going to lie to you right now, it is really hard to manage stress in these times. Everything is from home (which is usually how I would manage my stress: laying down with a snack and watching a show at the end of a day), so I try to make the most of what I'm given. I usually make a list of things I need to do for the week and split them into different days to give myself some sort of schedule. I try to get my work done during that day so I can have time to myself in the evening. That keeps me going because I split my day into two parts. I like to take breaks and go on walks to give myself some time to reset when I get annoyed, and I love to paint at night to wind down and do something that I like. It is so easy to get caught up in work and forget to stop, and it's also easy to ignore all the work for the day because the location never changes." 
Sunshine Angulo, Humans of the Dub Editor
"I'm managing stress right now by taking breaks whenever I can. I have really bad anxiety so I'm not exactly the best person to go to for stress management. What has worked for me over the years would be taking a break, talking to people I love and a good cry every once in a while. It seems a little down, but I found that detaching myself from the situation and letting my emotions run wild is a good way to destress. I think it's important to accept and validate your emotions rather than push them down further. I go to my boyfriend a lot whenever I'm stressed or freaking out. I ask him to tell me about our best memories and that helps to keep me grounded." 
Zach Kilby, Sports Editor 
"I like keeping a planner to write all my things out for the week since everything is online now. I find it helps motivate me to do my work and keeps me from forgetting anything that I have to do. Earlier on in the semester, I was going to the beach almost every day in the afternoon to go swim and watch the sunset with friends. It helped me realize how truly blessed I am and how there is always a reason to be happy in life. It made me feel closer with God and ultimately that's what I want in life. I think having a good routine, in general, is important. Especially during a time like this though because it gives you a sense of normalcy and keeps you busy which for me takes my mind off other things."
Veronica Wernicke, News Editor 
"I would say I do not typically live a stressful life or become stressed very easily. At an early age, I learned things that would usually cause my peers to become stressed like school, relationships, etc… were not really worth it, especially in the grand scheme of life. That being said I do get stressed from time to time, but I have found several ways to ease my stress when it occurs. 
For instance, I will turn on my diffuser and use a calming scent, play a soft instrumental music Spotify playlist, lay or sit with my eyes closed for a few moments and breath. Or I will reach out to my dad, sister, boyfriend or other friends to talk through what I am feeling or distract myself. 
Something that helps me focus is setting a routine, not a super strict one, but one that allows me to have an idea of what I need to do for the day. I also like to physically write down the things I need to accomplish and either erase or strike through them once completed. This gives me a sense of ease and accomplishment in my work."
Lauren Wessell, Managing Editor 
"Honestly, I do a pretty poor job of managing stress and I know that's something I need to work on. I do find it helpful to move around to different locations when I'm doing online work. The weather has been so nice lately so I've worked outside a lot. Sometimes I'll go for a drive to get a snack or just clear my head if I have too much going on at a time. This semester is definitely a challenge for everyone and finding ways to manage is so important. Having a routine and schedule is so helpful! I don't thrive in online classes where I have to make my own schedule. It's hard for me to stay motivated in this environment. But I am working on it and the weeks where I have a routine are much more productive!"
Brenna Flanagan, Editor-in-chief
"My planner is my best friend. If I didn't write everything down that I needed to do, I would forget it all. I especially like planners that have time slots in them; that's helped me keep a routine during this weird time. I would say that trying to keep a routine is the best thing I can do right now; however, I don't beat myself up about missing things or skipping out on things I had planned. I think we should all be compassionate to ourselves during this time and listen to what our bodies and minds need instead of ignoring signs that we need rest. 
I also make sure whatever space I am working in at home I am comfortable in and actually want to be in. So for me, that looks like putting on a candle, playing some non-distracting jazz music, and having a coffee by my side. Anything you can do to make your work environment somewhere you enjoy is helpful. I also tend to put on "real clothes" and fix my hair even if I'm staying at home just so I can have a sense of normalcy and separate sweatpants and relaxing time from work time in my head. Also, now is the perfect time to find an outside table somewhere to get some fresh air while getting work done. I find that being outside on a nice day really improves my mood. 
As far as destressing, for me, it's really just about making time to do something I want to do that isn't viewed as "productive." I know I especially feel like I have to be doing something productive all the time, and that really gets in the way of real rest. My therapist likes to remind me that rest is productive, so I will destress by setting aside time just to rest or do something that I enjoy that isn't "productive." Also random dance parties. Those are great ways to expel negative or anxious energy in a fun way."