Humans of the Dub: Meet the Staff! Brenna Flanagan, Editor-in-Chief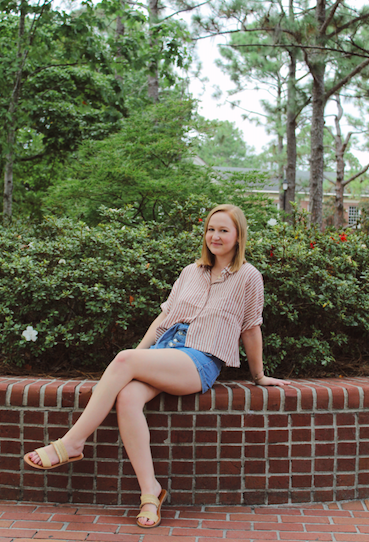 Sunshine Angulo, Humans of the Dub - Head Editor
August 24, 2020
What about The Seahawk drew you in to start writing for them?
"I've always been a writer and drawn to writing. Growing up, I would write short stories in class instead of paying attention. It wasn't until my yearbook class in high school that I started to become more interested in journalistic-style writing. Coming in as a freshman [at UNCW], I wanted to start writing for the newspaper. I attended a meeting and started writing immediately. I knew I wanted to write for them and build that student organization on my resume. As a freshman, I quickly signed up for an Introduction to Journalism class. Writing has always been something that I've wanted to do."
As the Editor-in-Chief of The Seahawk, what are your duties and responsibilities? Give us a look into your day-to-day life. 
"As the Editor-in-Chief, I oversee all content that comes out from The Seahawk. My day-to-day routine looks like communication with my head editors about what they're working on and helping them in any way that I can. Sometimes I write articles on my own for a section that has been backed up. It's overlooking and overseeing the content that has been produced and the patterns of these articles. I find it helpful to look at different college newspapers all over the state and the nation to see what they're covering. It helps to stay on the pulse of news and pitching new ideas to my staff."
Due to the COVID-19 pandemic and social distancing guidelines, how are you keeping your staff engaged?
"We're fortunate that The Seahawk has moved fully online, so we can work virtually the best we can. It is great to see everyone's faces. I miss having everyone in person and having a full room of people. We are fortunate that we can run online through Zoom and other online platforms. One of the challenges is that because we don't have that face-to-face part of the organization, people may have the tendency to forget what they're supposed to do or put it on the backend of the burner. That's been a struggle. We've just been trying to work through that by seeing each other face-to-face on Zoom as much as possible and communicating on a daily basis."
What is one favorite article that you've written at The Seahawk and one that you've read?
"That's a tough one! I'm a huge fan of Halloween and I'm very upset that we may not be able to celebrate Halloween as we normally do this year. I put together a Halloween watchlist my freshman year and updated it my sophomore year. That was a really fun piece. It gives an extensive list of media we can consume based on Halloween. I also love doing music albums and TV reviews. I loved writing The Lumineers album review. Something that I consistently love to read would be the opinion articles. It's probably a lot of readers' favorite as well. You get a lot of passion and see a viewpoint you may or may not agree with. You get to see that perspective play out and that other people are thinking the same things as you."
Do you have any advice for new contributing or staff writers?
"My advice is to just get started. Working in journalism and writing in journalistic form takes a lot of practice. You're never gonna have a perfect knowledge of all things news and journalistic writing. You have to throw yourself in and learn along the way. I encourage anybody who is even remotely interested in writing in journalism to just try it. You'll get the best experience you need to see if that's something you want to continue. No class that simply teaches you about journalism is going to give you the same feel of chasing a story or doing research."