Controversial professor Mike S. Adams retires amid celebrity, student and alumni criticism
The end to a nearly 20 year-long controversy at UNC Wilmington may soon be coming to end as UNCW announced last week the retirement of Sociology and Criminology professor Mike S. Adams.
In a statement sent to the student body and various media outlets on June 29, Chancellor Sartarelli wrote:
"Over the past several weeks, many of you have inquired about the status of a UNCW faculty member, Dr. Mike Adams, in light of the public attention generated by comments he made on his personal social media channels. We can now share the update that after a discussion with Chancellor Sartarelli, Dr. Adams has decided to retire from UNCW, effective August 1, 2020. We will have no further comment on this matter at this time, but we plan to share an update later this week regarding how we hope to move forward as a university community."
The announcement of Adams' sudden retirement comes on the heels of several weeks of current students, former UNCW Alumni, and notable celebrities expressing their disappointment with the university for continuing to employ Adams after several of his inflammatory tweets about COVID-19 and Black Lives Matter protests went viral.
In response to Adams' behavior on his various social media accounts, a Facebook group entitled "Justice and Equity for UNCW" (formerly "Justice and Equality for UNCW) has dedicated most of its time and attention to raising awareness this past month about Adams' online behavior. The group created a letter-writing campaign to the Chancellor, members of UNCW's Board of Trustees and influential members of the Wilmington community, calling for Adams' dismissal.
This campaign eventually included the likes of members of the cast of One Tree Hill speaking out against Adams, as well as noted actor Orlando Jones giving an interview on local news station WECT6 condemning the university for its continued employment of Adams despite Adams' controversial and "hateful" statements.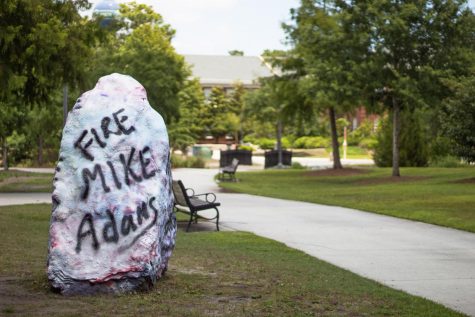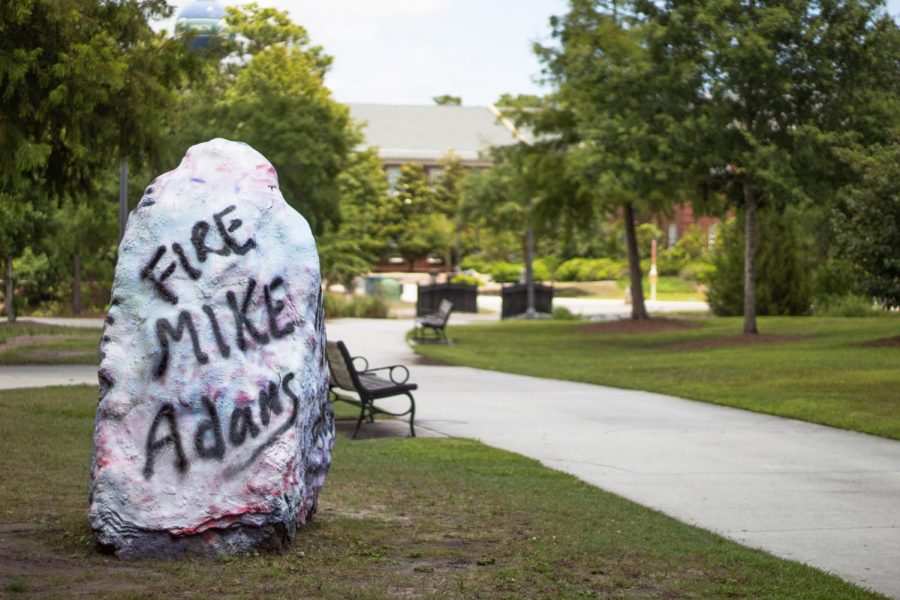 While it may seem that Adams' retirement is a victory, some believe that it's a hollow one. Nada Merghani, the former UNCW student whom Adams published their private contact information and encouraged the online harassment of in 2016, says that while she is glad he's gone from UNCW, "the language behind 'retiring' and 'being fired' are very different. UNCW needs to reckon with the violence Adams has caused against the community under his claims of 'free speech.'"
Merghani, along with many others, state that their main concern is that Adams may still have access to his university email account, meaning that he would have access to the entire registry to UNCW student's contact information and may still be very much a part of the institution even in retirement.
The topic of Adams' retirement has only come under more scrutiny and criticism with another campus-wide message from the Office of the Chancellor yesterday, where Chancellor Sartarelli explains his decision to allow Adams to retire from the university. In this message, the chancellor cites the 2007 lawsuit Adams filed against the university, claiming he was passed over for tenure based on his political and religious beliefs as well as his behavior and statements on online forums. The lawsuit would drag on until 2014 until UNCW settled, costing the university nearly $700,000 and granting Adams tenure.
The current retirement agreement so far as disclosed by the university with Adams is set at a little over $500,000 over the next five years, with the money allegedly coming from a discretionary savings fund and not any state-allocated budgets. So far, the chancellor claims that the retirement in lieu of the potential lawsuit resulting from the firing Adams was "the most fiscally responsible way" to handle the situation, as well as stating that "[t]his resolution is less damaging to UNCW than leaving the situation unresolved."
In the same message, the chancellor mentioned future plans to further bolster the university's commitments to honoring and valuing diversity, but details as to what will be done are still unclear at this time. Similarly, more in-depth details about Mike S. Adams' retirement is expected to be forthcoming.