UNCW needs to stand up to Dr. Mike Adams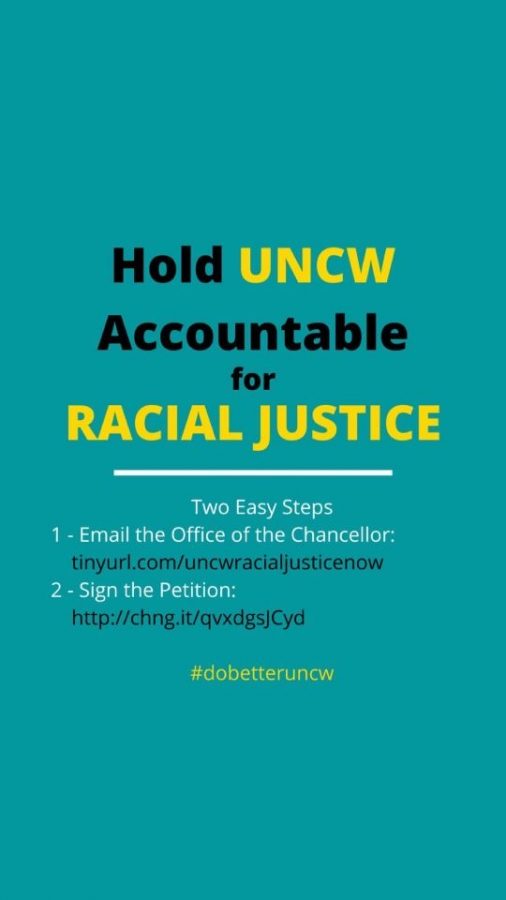 By now, UNC Wilmington's (UNCW) students, staff and the Wilmington community are more than well aware of Dr. Mike Adams, a professor in the sociology and criminology department at UNCW who has taken to social media for many years to spread his hateful rhetoric – The Seahawk has reported on it for years.   
Even CNN has picked up the story—do you get how upset your students and community are now UNCW?
Adams has been a part of several scandals involving his inappropriate and hateful speech since 2003 and most recently in 2016 which involved a former UNCW student Nada Captor. That story was picked up by BuzzFeed.
The university's response to this 2016 situation was that Adam's speech was protected under the First Amendment. UNCW later released the following statement to BuzzFeed.
"We are deeply disappointed by the use of hateful, hurtful language to degrade a fellow human being, even when that language is legally protected speech. However, we have fully investigated this matter and believe we have done all we are able to do to support the student involved, given that the comments were not made in a UNCW living, learning or working environment or otherwise affiliated with the faculty member's role at UNCW."
Per usual this statement seems on par with all of the other statements UNCW has made over the years—vague, meaningless and a disservice to their diverse student body. 
When UNCW and Chancellor Jose V. Sartarelli addressed the recent issues of police brutality towards black Americans they released the following statement. 
"I cannot say I've walked in those shoes, but what I can do is commit to you that our campus will not tolerate acts of violence or discrimination. We will do our best to meet our students and employees in the space where they exist, and offer whatever support we can to fortify their path. As an institution, we have not just the opportunity but the moral obligation to stand up against acts of hatred and violence…empty words will not suffice…I believe we must unite in terms of creating solutions and offering support, protection and a safe place, literally and figuratively, when our fellow human beings are marginalized and attacked for their color, orientation, or beliefs."
"I fully agree with these statements," wrote Jordan Smith, a student at UNCW. "However, in sending that email, UNCW itself seems to be spouting the very empty words that the chancellor warned us about, as behind the scenes they refuse to take action to protect students from professors that hold hateful, divisive beliefs."
Adams' words are discriminatory towards anyone who is different than himself and his beliefs. UNCW says they will stand up to "acts of hatred and violence" but they continue to do nothing when it comes to Adams. 
Glad the university continues to support this wonderful man and practically juxtaposes the statement they made in regard to his post about Captor. 
Adams has since continued to spew his hateful and offensive comments online, on Twitter and Facebook. In light of the recent incidents involving black Americans facing racial injustices and the protest that followed, Adams was quick to continue firing off racist and hateful comments. Once again UNCW students and alumni have taken to social media and emails urging the university to fire Adams for his inappropriate and hateful speech. 
While these comments are obviously racist, homophobic, sexist, among many other things we must take time to examine his speech through the lens of the First Amendment. 
All the comments being made are coming from Adams's personal accounts, are his own personal beliefs, and it does not appear he sees himself or is acting as a spokesperson for the university. It is worth noting that his Twitter bio includes that he is a professor. Some could see this as Adams using his leverage as a professor to get people to listen and believe what he says since typically professors are a respected group of people. 
The American Library Association (ALA) refers to hate speech as "speech that demeans on the basis of race, ethnicity, gender, religion, age, disability, or any other similar ground is hateful; but the proudest boast of our free speech jurisprudence is that we protect the freedom to express 'the thought that we hate."
The ALA also notes that instances of hate speech are protected under the First Amendment unless "it directly incites imminent criminal activity or consists of specific threats of violence targeted against a person or group."
Outside the university system, employees have been fired over racist or other inappropriate comments made online. If lower education systems educators, journalists, bus drivers and the like are being fired for their heinous comments (in this case towards the Black Lives Matter movement) why is Adams exempt from this type of punishment, especially when he has targeted UNCW students (Captor and others) and professors (Dr. Lisa Pollard). 

It is ironic and frankly disturbing that Adams is making these types of comments given that he teaches in the criminology department and is educating the next generation of students that want to get involved in the justice system. It is worth asking if his views are coming into play in his classroom. If they are, then at this point he is only doing our justice system harm and working against those trying to reform the justice system which currently disproportionately affects people of color (POC).
Again, even though his comments are protected under free speech, his words go against the very values UNCW claims they stand for. 
On UNCW's sociology and criminology homepage, they have linked the Academy of Criminal Justice Sciences (ACJS) statement on the recent racial incidents involving black Americans. 
"The Academy of Criminal Justice Sciences promotes criminal justice education, research and policy analysis for educators, students and practitioners. In that light, we join much of the nation in condemning the deplorable actions that led to the deaths of George Floyd, Ahmaud Arbery and Breonna Taylor, among too many others. We oppose injustice against all people in all forms; every person deserves to be treated with dignity and respect…"
"…The current situation represents a systemic failure to address disparities within the criminal justice system and across our country. We believe that large-scale policy reforms, informed by rigorous empirical research, are needed to prevent future injustices. We are also committed to conducting evidence-based research that brings best practices to the foreground and leverages our partnerships with practitioners across the country to help translate that research into real-world change."
When The Seahawk reached out to the chair of the sociology and criminology department, Michael O. Maume, he declined to make a statement in regard to this issue and instead referred us to use the statement the university made.
Meanwhile, Adams took to Twitter to express his own thoughts on these recent events.

On June 7, faculty from the sociology and criminology department posted their own signed statement to the Facebook group Justice And Equality For UNCW, which was started in an effort to fire Adams. 
"As members of the faculty in the Department of Sociology and Criminology at UNCW, we issue this public statement to make clear our position regarding the vitriolic writings of Mike Adams. We view his current and past statements that are steeped in racism, homophobia, Islamophobia and sexism, as repugnant and not in keeping with the values of our department. As educators, we deplore actions taken by any persons that only serve to denigrate and demean members of our communities. As sociologists and criminologists, we are concerned by the disconnect between his most recent language and the empirical research on race, racism and the criminal justice system. It is concerning to us that a person in a position to teach aspects of the criminal justice system, is not exposing systemic racism and inequalities, but rather is sustaining and reinforcing them. This is not what students deserve. This goes against the very fabric of decency, compassion and community. This is not who we are.
We colleagues in the Department of Sociology and Criminology value the learning environment and recognize that forms of harm, whether physical or emotional, have no place here. In keeping with the Seahawk Respect Compact, we affirm the dignity of all persons, promote free and equal exchange of thoughts and opinions within a climate of civility and mutual respect and seek to eliminate prejudice and discrimination. His behavior has not been in keeping with this compact. We do not see this matter as having yet been resolved in a manner consistent with what UNCW students, faculty, staff, as well as the larger community, deserve. We stand solidly with all those who have expressed outrage and disgust at the racist, vile writings of a member of our department.
Signed,
Jean-Anne Sutherland, Jennifer Vanderminden, Ann Rotchford, Jill Waity, Shawn Bingham, Kristen DeVall, Meghan Rogers, Daniel Buffington, Erin Michaels, Christy Lanier, Angie Wadsworth, John Rice, Christopher Shane Elliott, Babette Boyd, Shannon Santana, Tim Gill, Justin Smith, Kristen Godwin"
UNCW could at least warn potential students about his past behavior so they can better decide if they want to continue taking his classes. 
UNCW students, alumni and other concerned citizens know what needs to be done about Adams.
He needs to be removed from UNCW. 
The Facebook group, Justice and Equality for UCNW, created the following graphics informing the community what they can do to help.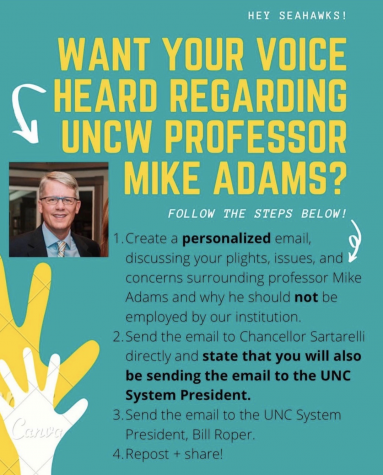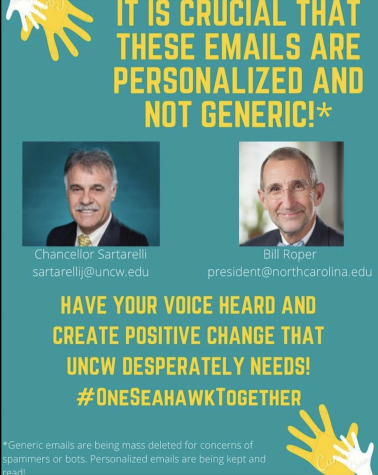 But when will UNCW actually start listening and protect their students? 
At the end of the day, while his speech is protected, the hate that Adams is spreading across his platforms is disgusting. He may be inciting critical thinking and starting discussions among the community, but at what cost? UNCW should be ashamed for continuing to have him employed at their university where he teaches the next generation of students entering the world of the justice system. What will it take for UNCW to understand this and do something about it?
As a journalist, I am thankful for and value free speech, but when someone, especially a university professor, uses their free speech to spread hateful messages it is frustrating and hard to ignore. 
As a country, we also need to reevaluate why we protect those who continue to use hateful rhetoric and harass others and why we grant them the same protections under the First Amendment when their speech does not serve anyone and puts down the very people they do not like or agree with. 
Is spreading hateful rhetoric what our country is really about?
UNCW needs to take a stronger stand against Adams instead of releasing the same statements over the years and taking his side, especially when the wellbeing of their students and faculty are at stake.  
I urge my fellow Seahawks to keep reaching out and expressing your concerns about Adams to the university. If you or someone who know has been targeted, harassed or discriminated against by Adams you can submit a formal complaint via UNCW's Title IX online form.
And hit UNCW where it hurts — money. Let them know you will not continue to financially support a university that supports a person like Adams.
It is also worth noting that since efforts towards firing Adams have picked up again, he has grown more silent on his social media accounts.