Quarantine Book Club Bonus: Interview with Lara Prescott, author of 'The Secrets We Kept'
As part of The Seahawk's ongoing book club, the first book featured was the spy novel "The Secrets We Kept," the first novel from the talented Lara Prescott. The review for the novel came out on April 13, but now we have a bonus interview with Prescott and Lifestyles Editor, Brenna Flanagan. Read below as Prescott talks about her influences as a writer and her inspiration for writing 'The Secrets We Kept."
………………………………………………………………………………………………………………………………………………………
Brenna Flanagan: How does your background in politics and Washington D.C. influence how you portrayed the power dynamic at the Agency and in the city in general?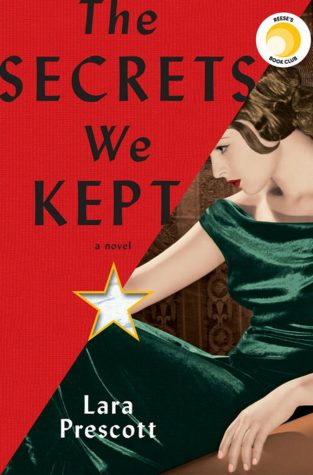 Lara Prescott: I've always been interested in power dynamics—going back to my days living in Washington and working on political campaigns. I'm fascinated with people who are drawn to power, or being close to it, and how that drive influences every aspect of their lives. When I was working on campaigns, I had first-hand experience seeing these dynamics at play.
BF: How important was it to show the gender power dynamic of the 1950s?
LP: It was very important to me to capture what it was like for women working in the early days of the CIA and the inequalities they experienced. Through my research, I discovered stories of women who were never able to advance in their careers (even if they were vastly overqualified) and who were treated unfairly because of their gender.
BF: There are a lot of different perspectives in this book—male, female, Russian, American, etc. You also tend to use the first person for the female characters and third person for the males, excluding Teddy. Can you explain why you chose to include so many perspectives and how you "got in the head" of each character? And why not Zinaida's perspective?
LP: I was interested in exploring a moment in history from many angles in order to attempt to reach a greater truth—or at least what a greater truth might be. As Boris Pasternak once wrote, "It's past; you'll understand it later." I wanted to use history as a tool to understand our present, and I thought the best way to do that was from different perspectives.
I used many methods to get in the head of my characters. Sometimes, I used music that inspired a certain mood or reminded me of a certain place. For instance, when writing from Sally's point of view, I listened to a lot of 1950s R&B music—the kind of music that would have been prevalent in D.C. When I wrote from Olga's view, I listened to Russian classical music. I also used photographs, letters, paintings and archives to feel closer to my characters.
BF: How does writing about real people change your writing approach? I know you did a lot of research into CIA reports and reading Olga's autobiography, but how did you know when you perfectly captured your vision of the characters?
LP: It'd be nice to think I did reach perfection, but I'm not sure that's really ever the case—especially since some of my characters were either real people or inspired by real people. My goal was just to capture the essence of the person I was writing about the best I could. When possible, I used real quotes and descriptions recorded by people themselves in autobiographies or letters. I had the most fun imagining what they might have said or might do, given who they were. That's the beauty of fiction.
BF: Did you know you were going to mirror the love story and tragedy of "Dr. Zhivago" with the characters in your novel (Sally and Irina, Olga and Boris), or did that come to you throughout the writing process?
LP: I didn't really set out to mirror the tragic love story of Doctor Zhivago, per se. While writing the novel, the relationship between Sally and Irina just kind of happened. It was as much a surprise to me as I imagine it was for readers, though it just seemed right for their characters.
BF: A major theme in the novel is loyalty—to one's country, to one's passion, to one's loved ones. Almost every main character has to pick who or what they are loyal to, often with the other person not doing the same for them. How did you approach a balance between showing your characters' selfishness, while also redeeming them for the choices they make?
LP: I believe every person makes such choices at one time in their lives. I also believe that a realistic character is neither solely good or bad—they always fall somewhere in between. I always set out to find that balance with my characters.
BF: In multiple interviews, you discuss how powerful words and books are to make change and influence emotions. "Dr. Zhivago" is a novel with the power to change attitudes and sway readers. In that same vein, what do you hope your novel accomplishes in the minds and hearts of readers?
LP: While I didn't set out to sway readers to one particular way of thinking or another, I do hope they take something positive away from reading my book—whether it's simply to place themselves in someone else's shoes and empathize with someone who is different, or simply to have an escape, which is important in these challenging times.
BF: In a New York Times article with Karen Valby, you talk about leaving a steady career in politics to pursue writing, facing rejection when it came to graduate school and publishers. What advice do you give to budding writers that may be in a similar situation?
LP: To anyone seriously pursuing writing, I would give this bit of advice: all writers face rejection throughout their careers—probably at every stage and every level. Use that rejection to help fuel your writing. The first year I applied to MFA programs, after several years writing on my own, I was rejected by every single one (except for one program I couldn't afford). And I couldn't get a story published anywhere. So many writers just give up, which is a very easy thing to do. Don't. Keep writing, keep submitting, keep applying and eventually, chances are you'll get somewhere. Evolving from a writer to an author is certainly one part talent, but it's probably ten parts perseverance.
BF: Is there something coming next that readers should look forward to, about "The Secrets We Kept" or other projects?
LP: Yes! "The Secrets We Kept" comes out in paperback on June 30 and look for a possible film or TV adaptation in the future!
Make sure to follow along with the book club and The Seahawk on social media to keep up to date with book reviews, interviews and more!