Baking for beginners: Chocolate Chess Pie
Before the pandemic, my baking skills were limited to boxed brownies and transferring cookie dough from the packaging to the pan. But now, during this difficult and confusing time, many people are trying their hand at baking. I came across this recipe for Angus Barn's Famous Chocolate Chess Pie and decided to join in the baking fun! The recipe is simple, with a whopping seven ingredients, and the directions, all four of them, are direct. However, if you are anything like me, you are prone to kitchen accidents. For anyone who needs a little extra help, I will walk you through the ins and outs of baking my first pie, pictures included.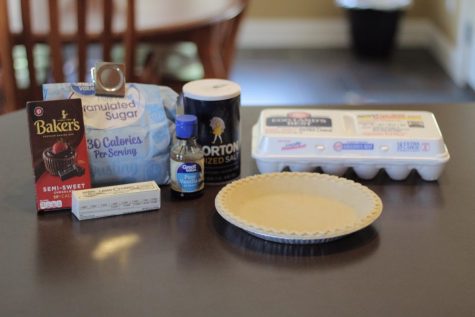 First, take out your ingredients.
1 unbaked pie shell (Yes, mine is store-bought.)
1 stick of butter
3 ounces of semi-sweet chocolate
1 cup of sugar
2 eggs
1 teaspoon vanilla
A dash of salt (Dash = I tsp maybe? Sure!)
If your pie crust was frozen, leave it out to thaw before baking.
Next, microwave (in a microwave-safe bowl!) your stick of butter, about one minute should do the trick.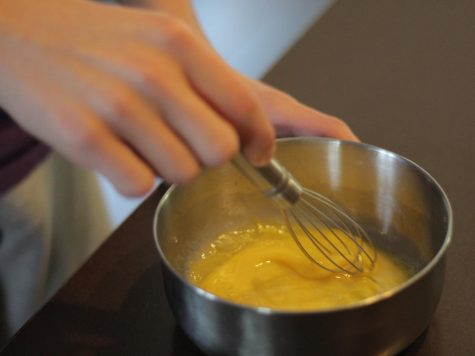 Then microwave your chocolate, stirring occasionally. When both the butter and chocolate are melted, blend the two together.
Crack your two eggs and be careful! Nobody wants to eat eggshells! Whisk the eggs
together in a separate bowl.
Finally, in a large bowl, combine your sugar, eggs, salt and vanilla. Stir in the butter and chocolate mixture.
That is it!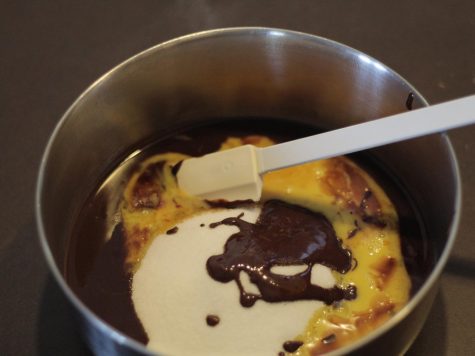 You now have a pie filling. Pour the filling into your pie crust.
To aid in cleanup later, line your baking tray with aluminum foil to catch any extra overflow.
Bake at 350 degrees for 35 minutes. Enjoy!
I made this recipe for my family because my dad RAVES about how good Angus Barn's Chocolate Chess Pie is and let me tell you, it was delicious. The chocolate was not overbearing and the consistency was *chef's kiss* perfect.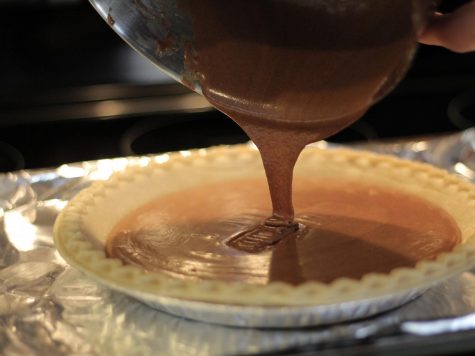 To make it even better, top the pie with vanilla ice cream! I would recommend this recipe for any level cook and if you want to challenge yourself, try making your own pie crust!
If you successfully bake this chocolate chess pie, let us know in the comments! If you want more recipes, feel free to suggest something you would like to bake at home.