'Emma' updates Jane Austin's youthful love story for a new audience
Emily Andsager, Contributing Writer
April 6, 2020
The remake of Jane Austen's "Emma" is the perfect mix of witty, funny and heart clenchingly brilliant.
Emma (Anya Taylor-Joy) is a young girl, who loves being the center of attention and adores matching people up with the most unlikely of matches. When taking innocent orphan Harriet Smith (Mia Goth) under her wing, she manipulates Harriet's love life, breaking not just one heart, but two. Emma thinks she knows better, but little does she know the mess that she has created when playing cupid. She forgets that unlike her, Harriet has no one to fall back on and so Harriet feels the pressure of marriage sitting on her shoulders in ways Emma cannot even begin to understand.
The only one willing to point out Emma's mistakes and call her out on her misdoings is the very handsome Mr. Knightley (Johnny Flynn). We have to watch as Emma's mistakes stack up and up until she realizes what she has done. All the pain she has caused people and the problems that could have been avoided if not for her lack of self-awareness.
I find it ironic that Jane Austen never shows what happens after the wedding of her main characters, but in "Emma," you see the different types of what could occur after marriage. You see the easy happiness of Mrs. Weston (Gemma Whelan), who had been Emma's beloved governess and friend, who marries at the very beginning of the movie. When Emma visits her, you can see how happy Mrs.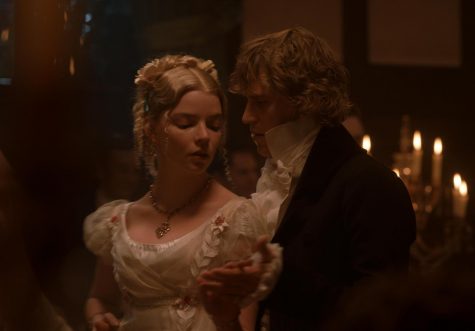 Weston is, compared to Emma's sister Isabella Knightley's (Chloe Pirrie) marriage, which is full of yelling and scolding between Isabella and her husband.
There was not a drop of disappointment when it came to the brilliant acting of each and every character. Not an ounce of emotion ever felt held back and not a moment that did not fit perfectly with the other scenes. The comic relief was never too much and it did not pull away from the seriousness in each situation at hand. It is a balancing act that could go one way or the other.
Emma and Jane Fairfax (Amber Anderson) are like mirror reflections of each other. Emma, who is rich, uses her wealth supposedly to help others and make up for the love that she admits she fears. Jane is poor, already accomplished and loved by all. She welcomes love and yet still fights to be better than Emma simply because they both have something the other wants.
All the costumes were beautiful, eye-popping colors that really brought the film to life. Emma's outrageous outfits with her feathered hats or the men's outfits all make the viewer wish to go back in time and be courted by one of these fine gentlemen. For those who have seen the version of "Emma" with Gwyneth Paltrow, you really see the difference in movies. Not just simply the clothing choice, but the colors that give the newer version life while the 1996 version is made more with elegance with simplicity.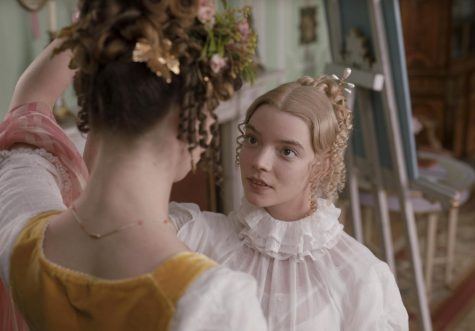 When watching "Emma," most think instantly of the classic "Clueless," which is a modern retelling of the Jane Austin classic. Normally watching two movies with such similar plots, one would grow bored, but director Autumn de Wilde, who is known for her photography, made us fall in love all over again with "Emma." You can see de Wilde's touch through how she captures the characters trying to make sure no moment was lost. Whether it is with simple movements and shifts to show emotions without words, or simply the way the characters hold themselves in society.
"Emma" is about friendship, marriage, social status, restricted women and the consequences of acting on one's fantasies. Jane Austen's writing is revolutionary because she does not base her books around the heroine getting her man. Instead, her books are about lessons like knowing oneself and seeking personal growth submissively and loving with your heart and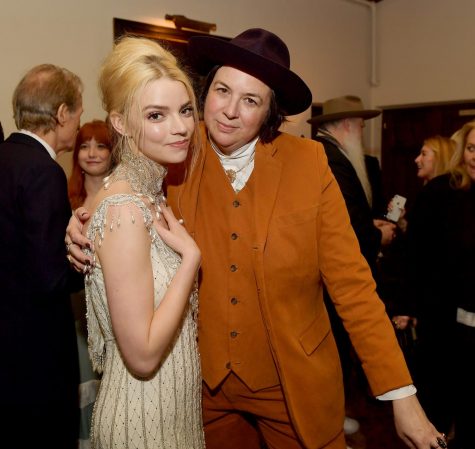 your head. You must look for someone whose soul matches your own because looks and interests fade over time and someone rarely ever changes. These lessons are not just for women. Jane Austen may sound like a girly writer, but she is so much more if only men would get over their pride and simply take a chance. Jane Austen's books are guidelines to love.
"Emma" shows that love is an act of sanity. Emma is always running around with these crazy ideas and
jumping to conclusions that are obviously wrong. Yet when she realizes Mr. Knightley's feelings for her, she sees what was right there under her nose and she finally gives in to love. She stops her scheming and sees how she has been treating her friend Harriet. Jane Austen's writing is relevant from when it was first published to now when the importance of love is forgotten. "Emma" reminds audiences of it.