Michael Bloomberg hosted pre-super tuesday campaign rally in Wilmington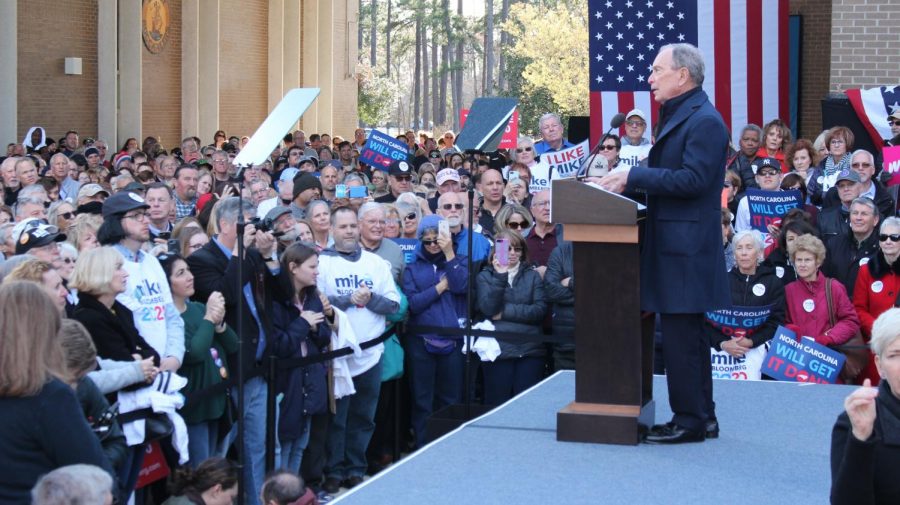 Jack Kessler, Contributing Writer
March 20, 2020
Michael Bloomberg's presidential campaign may be dead and gone, but for a brief moment on the Saturday before Super Tuesday the Democratic candidate held a rally at E. A. Laney High School, drawing a crowd of supporters, naysayers and political neutrals alike.
"I am running a campaign for change, for sanity, for honesty, for inclusion, for compassion, and a campaign for human decency," said Bloomberg on Saturday.
Bloomberg, who spoke in Wilmington alongside the port city's Mayor Bill Saffo, began his presidential campaign in November of last year. Having joined the race too late to participate in the Iowa, New Hampshire, Nevada and South Carolina caucuses and primaries, Bloomberg poured over $500 Million into a campaign focusing on the 15 states which voted on Super Tuesday.
When the results came in, the Bloomberg campaign had won a single U.S. territory: American Samoa. With this result, Bloomberg dropped out of the race on Wednesday, March 4, 2020, and endorsed Joe Biden for president.
Spirits were still high at the Saturday rally, however, and Bloomberg — having come from Washington D.C. — drew a crowd that filled up the E. A. Laney Highschool courtyard.
"It was interesting, I talked to a lot of people. I was interested in the kind of people who support Mike Bloomberg and I was interested in Mike Bloomberg, and I came here and I think it was worth going to and interesting to see him in person," said Sean Condon, a UNC Wilmington student majoring in film and history.
The ultimate goal of his campaign was to defeat President Donald Trump, Bloomberg said, pointing to his track record of helping to put democratic candidates into office across the country.
Bloomberg also noted his experience as mayor of New York City in the aftermath of 9/11, as well as such feats as raising teacher salaries by 43 percent, cutting the cost of health care and raising life expectancy.
A Bloomberg presidency would mean less empty talk, less partisanship, less division and less tweeting, he said.
Concluding his speech, Bloomberg listed his four goals as president: to combat inequality, to support quality public education, to provide opportunity for all — not just a few — and to protect and defend the constitution.
"I lived in the city through 9/11. Giuliani was there for three months and he got the credit but Bloomberg did all the work," said Tony Nestora, a Bloomberg supporter and rally attendee.
"Bloomberg's the only one who really has management experience. I mean Pete whatever was a mayor of … a small city and he only had a few years. This guy's been a manager of major corporations, New York City and he's just experienced, you know, compounded. And people should just say — these other people who get into office and they're gonna learn by doing — this guy's done it already he's the guy that you need," Nestora said.
With Bloomberg having left the race, however, supporters like Nestora have been left out in the political cold. Three options now lie open to them: Joe Biden, Bernie Sanders or Donald Trump, and where this disaffected mass of people goes, votes are sure to follow.