New campus dorms set to open Fall 2020
UNC Wilmington students will have more housing options available to them in the fall of 2020 with the completion of the Pelican and Sandpiper halls.
Pelican and Sandpiper are two of the four halls being built to replace the former University Apartments, which were damaged and subsequently demolished due to the effects of Hurricane Florence. Construction on Pelican and Sandpiper was started a little over a year ago, on Feb. 7, 2019.
The other new halls, Terrapin and Loggerhead halls, are already underway and are expected to be completed by the fall of 2021. Both Pelican and Sandpiper will house 518 students apiece, which will hopefully reduce the strain for housing that Florence caused.
Though there have been times when the weather was less than optimal, such as during Hurricane Florence last year, it is expected that both halls will open in time for the fall term. Peter Groenendyk, Director of Housing and Residence Life, had this to say: "Both Pelican Hall and Sandpiper Hall remain on schedule for opening in August 2020. Fortunately, there have not been any obstacles, such as weather, to cause any unanticipated delays."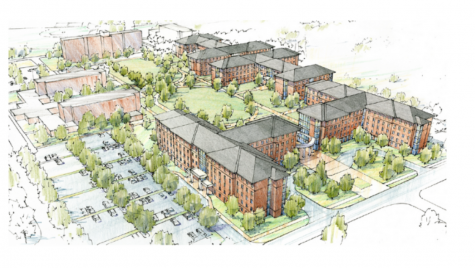 Pelican and Sandpiper are both pod-style halls, similar in layout to Schwartz Hall or University Suites. Collectively, all four new residence halls (Pelican, Sandpiper, Terrapin, Loggerhead), as well as Graham-Hewlett and Galloway Halls, will be part of the 147 million dollar housing project called "The Seahawk Quad." The Quad will boast a large greenspace and walking paths connecting them.
Students not living in Pelican and Sandpiper can still benefit from their completion, as there will be a new convenience store and Port City Java built as well. The "Pelican Market" will reside in Pelican Hall, and the Port City Java will reside in Sandpiper Hall, making them the fifth convenience store and second PCJ on campus, respectively.
"We are very excited to open these new buildings.  The new communities, along with the classrooms, activity space, and retail spaces in them, will be of tremendous benefit to all students living in the buildings that make up the new Seahawk Quad," said Mr. Groenendyk.