The Seahawk staff's picks of 2019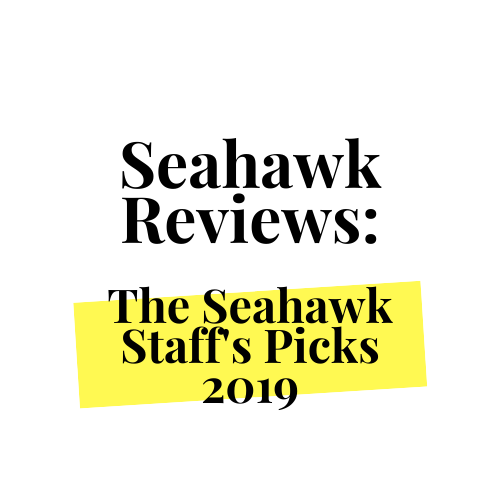 The decade is coming to an end and The Seahawk's staff is here to recount their favorites bits of 2019. We all sat down and came up with our favorite pieces of media and moments from this year, recommended to you so maybe you can catch up with the best of 2019 before the spring semester starts.
Favorite Movie
Brenna Flanagan, Lifestyles Editor: "Jojo Rabbit." Watching Taika Waititi's movies are always a treat, but seeing this different perspective on the World War II movie has to be my favorite. I love movies that push the envelope, and the way this never pushes into offense or insensitivity makes it so entertaining to watch.
Caitlyn Dark, News Editor: It's a solid tie between Jordan Peele's "Us" and Scott Z. Burns' "The Report." They both work with the concept of uncovering evil that lies just below the surface and the repercussions of ignoring it, which is an unarguably compelling topic no matter your social or political leanings. 
Noah Powers, Sports Editor: "Avengers: Endgame." My roommate has been a Marvel fan for years, but I recently got into them. So, we both tried to watch every Marvel Cinematic Universe movie leading up to "Endgame" and it was awesome.
Darius Melton, Opinion Editor: "Avengers: Endgame." It was great seeing the culmination of a storyline that has been going on since the first "Iron Man" film in 2008. The Marvel Cinematic Universe is not over, but so many character arcs were ended in "Endgame" that I feel it could have been. 
Jordan Bell, Humans of the Dub Editor: "Joker." This movie was controversial, to say the least, due to its intense violence. For me, I enjoyed this movie because of the conversations and thoughts that it caused after its release.
Lauren Wessell, Social Media Manager: "Booksmart." "Booksmart" was written, directed and produced completely by women and it really showed. We finally got to watch a coming of age story led by female characters that were smart and funny without being sexist and demeaning. 
Favorite TV Show
BF: "Fleabag." Phoebe Waller-Bridge is *chef's kiss* perfection. She deserves all the hype for this genuinely funny, witty and captivating show in a way that many shows in the "Golden Age of Television" ever fully reach.
CD: "The Good Place" has been my favorite TV show for a few years running now. Its combination of surrealist comedy and hopeful morality in the face of darkness speaks to my optimistically nihilistic soul. 
NP: "American Horror Story: 1984." I've been an AHS fan since the original season, so AHS: 1984 was something I very much anticipated. 1984 was good because the style of filming was a lot different from past seasons.
DM: "BoJack Horseman" season six. "BoJack Horseman" has been my favorite TV show for years, and seeing the title character start to turn his life around in this final season has been amazing. I cannot wait to see how it all shakes out when Part II hits Netflix in January. 
JB: "Euphoria." The duality of "Euphoria" is what really makes the show. On one hand, it's a show intended for parents to see some of the extreme struggles high school students face in today's society. On the other hand, this show is intended for teens to show that their worlds aren't as crazy as they seem. The characters of "Euphoria" give certain teenagers people to look up to for symbols of hope. 
LW: "Big Little Lies." I love any show filled with my favorite female stars living the kind of life I could never dream of affording. The excessive drama and fantastic soundtrack were a great escape from everyday life over the summer. 
Favorite Album
BF: "Cuz I Love You" by Lizzo. I listened to this album when it was first getting attention and immediately fell in love with the women-celebrating bops. Lizzo has come up with the perfect formula for a catchy song without sacrificing lyrical and musical skills. She is here to save pop music and America and I'm here for it.
CD: "Wasteland, Baby!" by Hozier. If you thought I was going to say something else, you're hilarious. "Nina Cried Power" is an absolute ballad where Hozier recognizes the true origin and influences of blues and soul in African American culture, which other white musicians who work in these genres rarely do. 
DM: "Igor" by Tyler, The Creator. It took me multiple listens to "get" "Igor," but once it clicked, I could not stop singing the songs. "I THINK" and "A BOY IS A GUN*" carried me through the fall season, but I have a new favorite every time I relisten to the album. 
JB: "Igor" by Tyler, The Creator. "Igor" is an album that's dark, heartbreaking, rough and unsettling all in one. The way that Tyler, The Creator controls the narrative of the album by using both his own production and the voices of the featured artists makes it my favorite album of the year.
LW: "Father of the Bride" by Vampire Weekend. The band's comeback album is 18 tracks and I love every single one of them. In fact, many songs showed up in my Spotify Top Songs of 2019. The songs are real and take you through every emotion possible with ease. 
Favorite Book
BF: "City of Girls" by Elizabeth Gilbert. This book was such a thrilling and fun romp of a novel. The highs and lows of Vivian Morris and other characters woven into a 1940's New York City theater will keep you reading until you've devoured the whole book.  
CD: "Native Country of the Heart," Cherríe Moraga's latest memoir, makes my favorite book of 2019. Her book is an unerringly beautiful and hauntingly emotional dissertation on the nature of inter-generational memory. Moraga's prose hearkens back to her previous work in "This Bridge Called My Back," a friendly reminder of the powerhouse she is as a writer. 
DM: "The Walking Dead" graphic novels. While "The Walking Dead" TV show is doing its own thing and killing off main characters left and right, the comic books that started it all are still going strong and continuing the story of Rick, Carl, Andrea and most of my other favorites (poor Glen). *
JB: "SprawlBall: A Visual Tour of the New Era of the NBA" by Kirk Goldsberry. 
Favorite Podcast
BF: "Noble Blood" by Dana Schwartz. Created by Aaron Manke of popular "Lore" origin, this podcast tells the true stories of nobility and their often-bloody ends. The first episode about Marie-Antoinette was heartbreaking and made me completely view the controversial queen in a different light. 
CD: "The Cracked Podcast" has been my favorite for the past couple of years. It always provides a great assortment of interesting topics that can satisfy my unending curiosity to keep me awake on long drives. 
NP: "Crime Junkie." I've always loved true crime stuff, so I was hooked on "Crime Junkie" as soon as it was introduced to me.
DM: "The Adventure Zone." As a creative writing major, I got really into cooperative storytelling and world-building this year, and this Dungeons and Dragons podcast really added to it. "The Adventure Zone" finished up its second season and begun its third this year, and I am hyped to see where the McElroy family takes me next. 
JB: "Dissect" by Cole Cuchna. Cole does a beautiful job of allowing his listeners to enter the mind of the artists that he covers. This podcast sheds a different light on musicians and as a listener, I always finish each season with more of an appreciation for the artist than when I started. 
LW: "Schnitt Talk." Admittedly, this is the only podcast I listen to. Ellie Schnitt's podcast is "for chicks by a chick who gets it" and occasionally I like to know other 20-somethings are going through the same struggles I am. 
Favorite Person
BF: Elizabeth Warren. Ever since listening to her interview with Ezra Klein on Vox's podcast "The Weeds," I have admired her intelligence. This woman knows her stuff and knows how to make it digestible for the everyday person. She really does have a plan for everything, and I appreciate her devotedness to making America a better nation for all its people.
CD: Greta Thunberg is absolutely my favorite person in 2019. She's an amazing person and takes no crap from literally anyone. We stan an activist icon. 
DM: Lil Nas X. I feel like I have been disenchanted with pop music since 2015, but watching this rootin' tootin' black kid in cowboy get-up rocket to the top of the charts was an absolute treat. 
JB: Tyler, The Creator. Tyler, The Creator owned 2019 in many ways. He scored his first number one album on the US Billboard 200 with "Igor." All songs on the album were written, produced and arranged by Tyler himself. Tyler was awarded the Music Innovator of the Year award by the Wall Street Journal Innovator Awards, and "Igor" was nominated for Best Rap Album at the 2020 Grammy Awards as well. 
LW: Greta Thunberg. Environmental issues have always been very important to me and this year, Greta's passion was a nice reminder that young people can make a difference. We all need to be doing more (myself included) even if that just means voting in the upcoming election. * 
Favorite Moment
BF: When the Jonas Brothers got back together. This is every 20-something girl's dream come true and such a happy and wholesome moment in the dumpster fire of 2019. 
CD: The Area 51 Raid. In a year full of tough and often distressing news, the memes about the Area 51 raid provided a nice pressure release valve for our culture at large. 
NP: The entire college football season. College football is my favorite sport, and even though UNCW doesn't have a team, it's always a fun experience to delve into college football for four months.
DM: All Elite Wrestling debuting on TNT. Oct. 2, 2019, was the day that wrestling became something resembling a big deal again as AEW Dynamite debuted on TNT. Wrestling is not popular, but I have loved it since I was a kid and seeing a new company other than World Wrestling Entertainment on the scene warms my little anti-monopoly heart. 
JB: Damian Lillard's 40 ft game-winning shot vs the Oklahoma City Thunder in the NBA Playoffs. I mean, come on. 
LW: "Avengers: Endgame." While it was not my favorite movie of the year, the ending of Marvel's third phase was emotional. But I will say Black Widow deserved better… she didn't even get a funeral?