More streaming services more money
With the holiday break right around the corner and an abundance of streaming services available, college students alike will have the ultimate binge party—as long as you can afford all of them. 
The long list of streaming services includes Netflix, Hulu, Disney+, AppleTV+, HBO and Amazon Prime—these are just the most popular ones. Others include CBS All Access, YouTube TV, BritBox, Crunchyroll, Showtime, Starz and ESPN+.
Even Twitter memes have also jumped on the boat about just how expensive all these streaming services can become.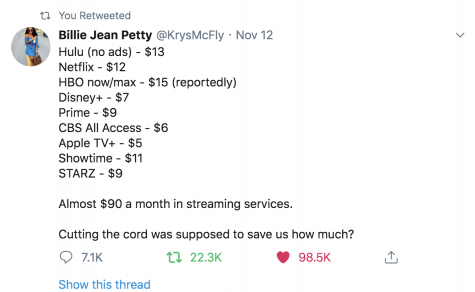 The whole point of all these streaming services is to help you cut cable, but depending on how many of these platforms you have the bill might be the same or even higher.
My family still has cable, so we only have Netflix and Hulu (with advertisements). In addition to our cable bill, we are paying $12.99 a month for streaming services—we signed up for Hulu last year during their "one year of Hulu for .99 every month" black Friday deal.
We also tried Amazon Prime for six months with my student trial, but ultimately decided not to renew since we did not like or watch much of the available content on it.   
And thanks to the recent purchase of my iPhone 11, I will be getting one free year of AppleTV+, which will be nice and worth it, especially given how much I paid for the phone. Though, the content currently available on AppleTV+ is very limited; my interest only lies in Snoopy in Space.
Although, according to Thrillist, there are many shows in development and set to be released in the next couple of years. But at this point, it does not seem worth the $5 a month, and I am sure the more content they add, the more the price tag will increase.
If we had all these streaming services (Hulu without ads $13, Netflix $12, HBO $15, Disney+ $7, Amazon Prime $9, CBS All Access $6, AppleTV+ $5, Showtime $11 and Starz $9) we would be spending roughly $90 a month. 
That is an outrageous amount to be spending on streaming services, especially when the whole point is to be saving money on your would-be cable bill.
Realistically, you do not need every single one of these streaming services, not just because it is a waste of money, but some services overlap with their available content which ultimately falls back on my point of being a waste of money.  
Although, with the overabundance of streaming services, costs and bundles, available users have lots more choices of shows and movies to watch given the platforms they use. Doing a bundle like the Disney+, Hulu and ESPN+ is a great way to save money and watch even more programs. 
If more bundles become available, especially in regard to Disney+, Hulu and Netflix, then more people—myself included—could be more inclined to sign up, save and binge-watch.
If you still think you need all or most of these streaming services, then you can do what most of my friends' families do and have each person in your family pay for one platform, and then share the sign-in information with everyone—the bigger the family the better.