Words can't capture the essence of UNCW's "Darkness"
 UNC Wilmington's 2019-2020 season of mainstage productions was kicked off in early October with "Diana of Dobson's," a play about feminism in the early 1900s that was as captivating as it was quirky. Their second play of the season is a drastically different beast.
"Darkness: The Enemy Inside" feels like watching "The Lion King" after taking some kind of hallucinogenic; and yes, that is a compliment. It was written collectively by five European playwrights (Gianluca Lumiento, Tale Næss, Albert Ostermaier, Kristin Erikisdottir and Sigbjørn Skåden) as a part of the EU Collective Playwright Project, most of whom did not originally write their contributions to the script in English, which might be why the play feels so alien.
It is very difficult to accurately describe the play. It is confusing, not very linear, slightly Avant-Garde, and to be honest, I am not entirely sure what the main focus was supposed to be, but the entire performance felt like being sucked through a strange dreamland of children running away, depressive tendencies and misused firearms. Needless to say, the play is a must-watch for anyone looking for something different.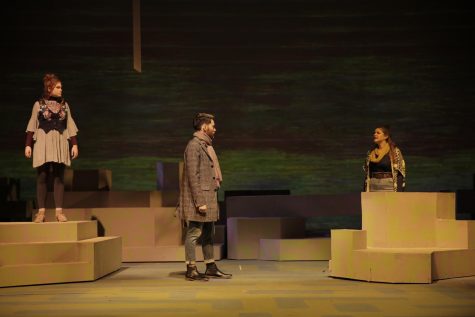 Michael Pipicella, who previously played Sir Jabez Grinley in "Diana of Dobson's," is the star of the show here, playing Julian. Pipicella's role has one of the most excitingly psychotic speeches I have ever seen in theatre. There is a borderline Shakespearean monologue, audience interaction, suicidal ideation and a bit of dry wit sprinkled in it. As always, Pipicella is a joy to watch; however, this should not undersell any of the other actors. Trip Cameron is somewhat of a creepy swamp creature/narrator as The Troll, Erin Sullivan plays the psychologically estranged Kate, while Jack Towner, Renne Hapeman, Kit Bertram and Simran Peiris play a group of kids who have run off into the wilderness of Scandinavia in a way that is reminiscent of "Where The Wild Things Are." For a bunch of people who are at the very least legal adults, they are very convincing as a group of kids.
The set is fluid, projections and colored lighting covering most of the stage. There are no giant set pieces like "Diana Of Dobson's," but something about the minimalistic set makes the viewer get lost in their own senses. The backdrop was fluid, often appearing like a still image at first, but changing to trees blowing in the wind, rivers moving or a massive fire burning. It made the show much more trance-like and almost meditative. All of this is thanks to Projection Designer Sabina Jacobson, who graduated from The Academy of Fine Arts in Trondheim, Norway, and her projections consultant, Gene A. Felice II. These two had an unmistakable impact on the production and made it immensely enjoyable. Pipicella's performance and the projections were worth the price of admission alone.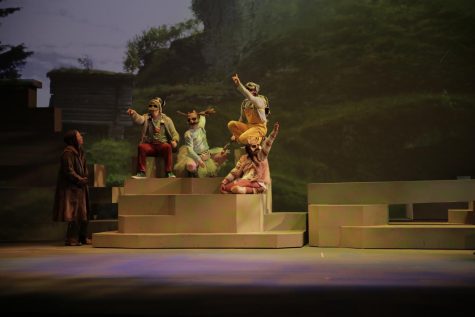 The play does not have a clear cut beginning, middle and end, but instead, it feels ever-changing, like a beautiful song that never reaches the chorus. There is a loose collection of themes that transport the viewer into the play, but unlike most other plays on the mainstage at the Cultural Arts Building, the plot is not the bottom-line here. "Darkness" is about a feeling and an interesting one at that.