20th annual Writers' Week brings writing superstars to UNCW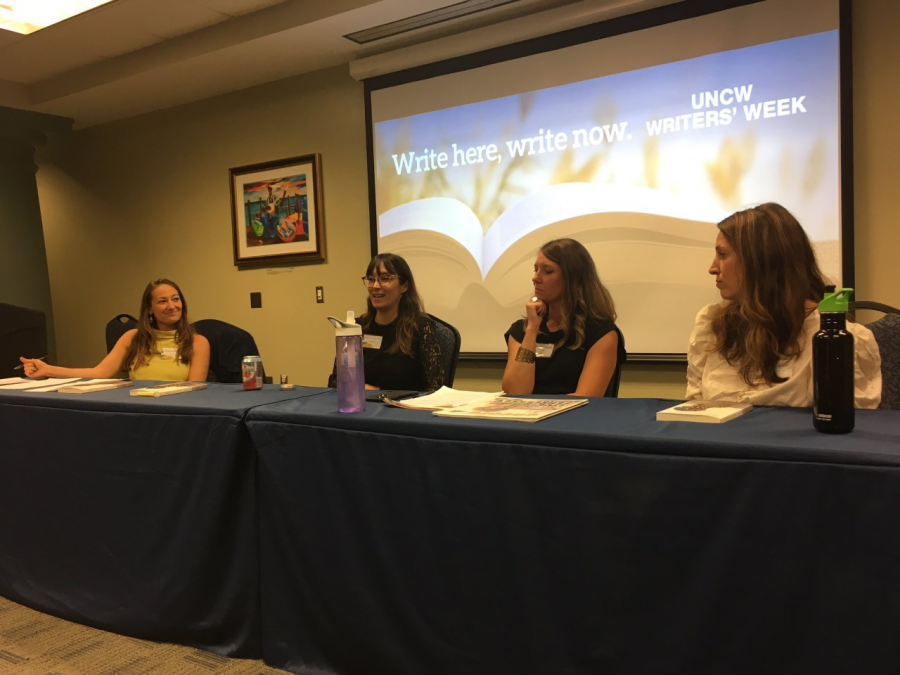 Hayley Swinson, Contributing Writing
November 12, 2019
Last week marked the 20th annual Writers' Week at UNC Wilmington, hosting twenty writers, including ten current faculty and alumni. The keynote speaker was Ayana Mathis, New York Times bestselling author of The Twelve Tribes of Hattie.
Mathis took the stage on Thursday night, drawing in the mostly student audience through her approachable speaking style and a reading from her novel. Afterward, she invited questions from the crowd on topics ranging from her writing process to the deeper meanings within her book.
"This book is enormously about love," she said, referring to her debut novel and Oprah's Book Club 2.0 pick The Twelve Tribes of Hattie. "But it's also about failing to recognize love." She had wanted to explore how people access the best parts of themselves and what they do when they reach the point of the possibility of potential. In other words, how do people respond to an open door?
More than anything, Writers' Week is an open door. "There is a benefit [to attending Writers' Week] for whatever stage of the [writing] process you're in," explained Chris Sturdy, a creative writing MFA student in the class that organized the event. "Newer writers are going to get a lot out of these events, and those who are established in the community are going to compound others' growth by participating in the Q&A sessions."
He referenced the productive discussion on writing race in Shenandoah editor Beth Staples' "Literary Editor Talk" on Thursday explaining that more experienced writers can add a lot to a discussion by chiming in. For Sturdy, Writers' Week was a big part of what attracted him to the MFA program at UNCW. "It brings people together and promotes critical thinking and autonomy and the creation of art and pushes people to think better than they're currently thinking," he said. "You go to another program and you're not going to get that experience."
The event hosted poets, fiction writers, memoirists and publishers and has a special connection to Lookout Books, the literary book imprint of UNCW's Department of Creative Writing. In October of this year, Lookout Books published This is My Body, a memoir by Cameron Dezen Hammon. Hammon gave a craft talk and read from her new book at Writers' Week, later participating in the "Publishing Panel" with editor Beth Staples and publisher Emily Smith. "Lookout uses Writers' Week as a launching point for the big book that they've been working on," explained Chris Sturdy. "This is…the big celebration for Cameron and this book that we believe in."
In addition to Hammon, Mathis and Staples, Writers' Week 2019 hosted poet Tomás Q. Morín, winner of the APR/Honickman Prize; first time novelist and New York Times Bestseller Etaf Rum; award-winning memoirist Inara Verzemnieks; poet and translator Katie Farris; George David Clark, whose book of poetry Reveille won the Miller Williams Prize; literary agent Anna Stein; and printmaker Laurie Corral, as well as numerous faculty and alumni.
But the real hero of the week, said Sturdy, was not only the 2019 organizer but also the founder of Writers' Week: Professor Mark Cox. Every year, the creative writing faculty take turns teaching the Writers' Week class, and coincidentally the 20th anniversary of the event fell to Cox, the founder, to teach.
"Our goal has always been to bring a diverse mix of both celebrated and up-and-coming writers," Cox said via email. "Guests over the years have included multiple Pulitzer Prize and National Book Award winning authors, as well as three U.S. Poet Laureates."
For Chris Sturdy and many others throughout the week, Writers' Week is more than just an open door, it is a window into the thriving writing community at UNCW and the many connections beyond our walls.
Missed Writers' Week 2019? Catch it again next year in Fall 2020!