Kelsey Singer wins ACE's Last Seahawk Standing 2019
Darius Melton, Opinion Editor
November 11, 2019
On Nov. 6, 2019, UNC Wilmington played home to its annual Last Seahawk Standing event, a competition where students show off their stand-up comedy chops for a chance to take home first place and the top prize.
Hosted by North Carolina comedian Matt Coghlan, the event saw four UNCW students step up on stage at the Burney Center to deliver five to seven minutes of material apiece.
The panel of judges included UNCW Assistant Director of Student Media Bill DiNome, improv teacher Myke Holmes, comedian Brooklyn Green, and 2019 Port City top comic Wills Maxwell. The students were judged based on their style, content and overall performance, with first place, second place and the "Committee Favorite" at the end of the night earning $100, $75, and $50 respectively.
The first comic was Ian Zeph, who came out of the gate with a joke about growing up broke and ugly and how it is not too bad. Zeph also discussed trying—"emphasis on 'trying'"—to major in studio art, his future career and J. C. Penney, and the wild practice of interviewing the family members of mass murderers.
While the response to this set from the judges' table was positive, Mike Holmes took a moment to give advice to all of the students tonight regarding the importance of confidence and stage presence.
"You've got to believe that you're worth a million bucks or no one else will," Holmes said.
Next was Rachel Wilcox, whose stories revolved around her recent employment at Smoothie King. Wilcox joked about learning that she was allergic to cinnamon while on shift, collecting bruises on the job thanks to her anemia and her disgust with peanut butter in vegetable smoothies.
Logan Maletta was next, and he immediately applied chapstick on stage in reference to jokes about gingers' sensitive skin. Maletta's set mirrored this, talking about being a "recovering ginger," having his freckles referred to as "angel kisses" as a kid, the superior feeling one gets while wearing a 4ocean bracelet and watching your friend's bout of explosive diarrhea in public.
The final face was a familiar one, as 2018's second-place winner Kelsey Singer approached the stage and opened with a joke about her dad getting mail. Singer quickly transitioned to talking about how one could learn a lot about someone based on their childhood crush, then began to gush over human Shrek's thick gym coach bod. Singer also talked about being referred to as a hot librarian and dating apps for dogs.
Judge Wills Maxwell was especially interested in the jokes about gym coaches not having necks, saying that he had never heard that before but had no problem going along with it.
"You somehow made a new stereotype about gym teachers that we all understood," Maxwell said.
While the judges discussed the winners, Coghlan took to the stage and delivered a set of his own, also talking about the idea of childhood crushes for a moment and joking for a bit about working at a grocery store café. Then, ACE's Activities Chair Emma D'Anjolell gathered the winning votes from the judges' panel and brought them up to the front.
Zeph was the Committee Favorite, with the judges seeing potential in him to grow and nail his more awkward style of comedy going forward.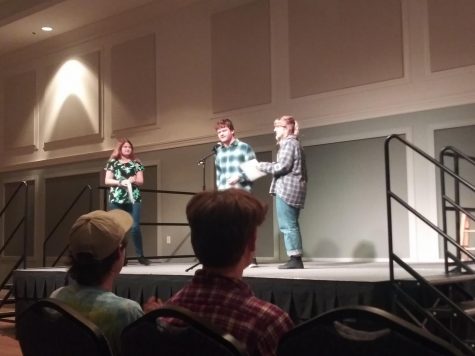 Wilcox took home second, with judge Bill DiNome praising her subtle facial expressions and lines such as "casually coughing up blood." Brooklyn Green also implored for Wilcox to keep her callbacks in her set if she continues to do comedy going forward.
The 2019 Last Seahawk Standing winner was Kelsey Singer, ascending a spot after her second-place win the previous year. Singer was seen as the most comfortable on the stage, with quips such as "Pop Pop's condition is fatal" and referring dogs that have "resting Vietnam War flashback face" really landing with both the audience and the judges.