Florence: one year later, evacuation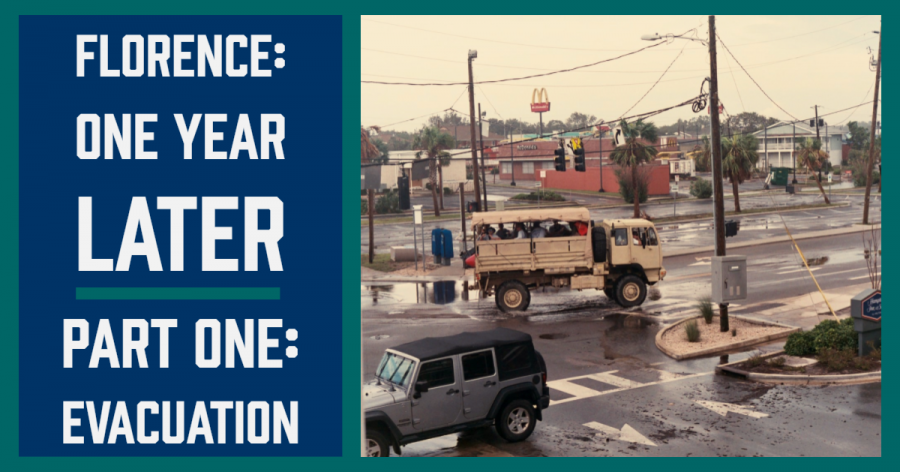 This article is part of a series about Hurricane Florence which hit Wilmington in 2018. This series will look back at how Florence impacted our community and look forward to see how it continues to affect us today.
---
By Sept. 9 of 2018, Hurricane Florence was inching towards the city of Wilmington. UNC Wilmington issued a voluntary evacuation for students, announcing that they had the option to leave campus starting Monday, Sept. 10. That same day, the voluntary evacuation was made mandatory for Tuesday, and chaos ensued.   
"I remember it all happening really fast, one moment we're all in class and the next we're being told that we have twenty four hours or less to pack everything and leave the buildings," recalled Resident Assistant Drew Johnson. "While I was scared for my person, I was more concerned for my residents. I remember feeling this sense of guilt and fear that my residents or myself wouldn't be able to handle being gone or the possibility of not getting to return to our campus." 
 "There was an emergency RA meeting where all of housing residence life meets, and they give us instructions on what to do… And I got information from all my residents, I had 32 residents over in the [University] apartments,"  Resident Assistant Matthew Prickett explains in an interview with the Seahawk, "They all go, the very next day that we have to stay after the evacuation and all of the locks on all of the apartment doors. There are 8 doors per apartment and 13 apartments."
"Mandatory evacuation, everyone had to be out by 2:00 p.m. I was leaving campus at 3:30 p.m.," Prickett recalled, "The sky was like, already on the horizon, you could see the big scary clouds… I sat in traffic for about four and a half hours on the way back to Raleigh, which is normally a two hour drive, because everybody was leaving Wilmington at the same time. It was really like the worst possible time to get out."
At the time, students were told that they would only be evacuated for a week. One week grew into two, two grew into three. As the wait grew, so did the anxiety.
"A lot of my friends and colleagues had only packed enough for about a week in the expectation that we would be back a lot quicker than we were," Johnson says. 
"The three week mark rolls around, where we're like, 'if we stay out any longer than four weeks, they're gonna have to cancel the semester," Pricket says, "so a lot of group chats started just blowing up. Everyone was getting worried. Facebook, instagram, all these people, y'know, basically venting their frustration about the situation."
Almost a month passed before the announcement everyone was waiting for came:  "…We finally get that email, we are going to be back on Saturday." Pricket says. Everyone wanted to know if their rooms had been damaged, but as students started to return to campus, it became apparent that damage wasn't the only problem they had to worry about.  
By November of that year, there had been almost 70 reports of larceny within the residence halls, with students gradually finding out that many of their possessions had been stolen, either by cleanup crews or people taking advantage of the unlocked buildings. Johnathan Wilkins, a resident of Seahawk Village, came home to find belongings missing, as well as finding that his apartment was "lived-in" in his absence. "My bed looked like it had been slept in, which was probably the most disgusting thing," Wilkins said in an interview with Star News Online.
A year has passed, and as of the time of this article, University Police Chief David Donaldson has said in response to an inquiry from the Seahawk that there have been no developments related to the reported larcenies. Classes resumed with some bumps along the way, but it soon became apparent that campus had a long way to go until things were back to normal.
---
Editor's Note: This article has been edited since publication in order to correct the title.