JPEGMAFIA's third album is a glimpse into the future of rap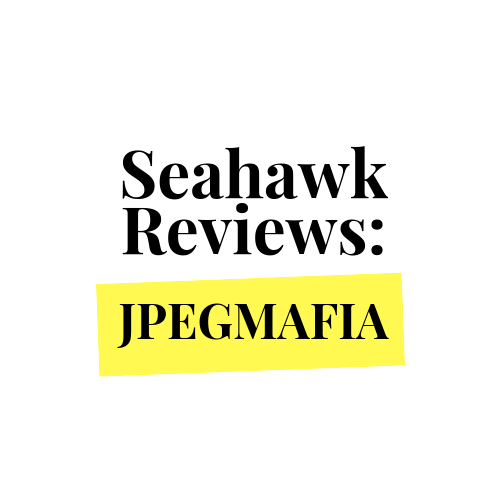 Gabrielle Maynor, Contributing Writer
September 18, 2019
To say that JPEGMAFIA's third album, "All My Heroes Are Cornballs," represents a change in sound would be ridiculous—what was his sound before? On his instantly iconic sophomore project "Veteran," a highlight from a year littered with experimental hip-hop, JPEGMAFIA proved that he could bend any sample and sound to his will. Peggy, as he is referred to in short, makes eclecticism his defining trait. If his songs have a connecting thread, it would be the aggressiveness that he performs them with, but "Cornballs'" hardest-hitting moments come from Peggy's softer side.  
"Cornballs" crams a dense 45 minutes into its 18 tracks, and amid the skits, singing breaks and joke songs, there is hardly a wasted beat. While no less inflammatory than his previous work, he brags that he will "turn Steve Bannon to Steve Hawking" and do "target practice on an Aryan," he reprises his "Left Wing Hades" moniker from "Veteran." This album gets its strength from Peggy's paradoxical new fame. He is not the grimy army dropout with the raggedy hairline anymore; he is a cultural monolith with a raggedy hairline. Peggy knows exactly what his success with the hipster crowd has gotten him: a larger target on his head, and a largely white fanbase who loves to compare him with rapper MC Ride. He tackles both halves of fame with the same sardonic outlook. Whether trolling his fans on the over-the-top "Death Grips" parody "JPEGMAFIA TYPE BEAT" or making fun of racists who resent him shopping at Whole Foods on "Papi I Missed You," there is always ten layers of irony separating him from what he is talking about. Even his irony is ironic. No matter how ridiculous his lyrics can get, the true absurdity is that someone like him has a platform at all, and he knows it. 
The more interesting lyrical thread running through "Cornballs" is Peggy's appeals to his feminine side. The album's lead single and opening track, "Jesus Forgive Me I Am A Thot," finds him rapping from the point of view of a promiscuous woman, who brags about wearing her grandma's hand-me-downs and compares herself to Charlize Theron. The chorus of the similarly named "Thot Tactics" has him saying "I wanna rock your world, / I wanna be your girl" as threateningly as possible. "BasicBitchTearGas" is an out-and-out cover of TLC's classic "No Scrubs," chopped and screwed until it sounds like the Butthole Surfers' take on "Hurdy Gurdy Man." The intense "Post Verified Lifestyle" has a pillowy outro that samples Taylor Swift's "Delicate." Throughout the album, he balances his raw vocal stylings with occasional bursts into song, his throaty tenor wafting above the beat work like smoke. He might be the first rapper to compare himself to women in a way that is unequivocally a compliment; he can call himself a diva and come away only sounding tougher. 
Still, there is a real sense of vulnerability on this record. Despite the title of the single "Beta Male Tactics" using the now-banned Reddit group "r/incels" terminology to make fun of his haters, he admits later on "Free The Frail" that he is not an "alpha male" himself. The fantastic three-song stretch "PTSD," "Rap Grow Old And Die" and the title track "All My Heroes Are Cornballs" address his insecurities head-on. "PTSD" opens and closes with coughs and chants of "don't stop," references to the drugs he maybe used to self-medicate the mental disorder in the title. The track is a call-back to "Veteran's" "Panic Emoji," about a panic attack in the shower; in comparison, "PTSD" is mellower and more resigned. "Rap Grow Old And Die" talks about the lack of respect he receives in the industry, with a chorus referencing the "vicious cycle" of fame that turns Bobby Browns into Michael Jacksons—but the cycle never comes around. "All My Heroes Are Cornballs" speaks to the fear that everyone we look up to is, in fact, a bum. 
The album's production is the obvious focal point. Generally, when an electronic artist switches to organic instruments, it represents a softening in sound, maybe even maturity—not so here. Each track cycles through different phases, hitting a groove and then glitching out and switching to another sound entirely. It is not constant noise mixed to compression like his earlier work; many of the backing soundscapes recall James Ferraro's work with Vaporwave, to a similar effect. Each track is best viewed as a sonic collage of Peggy's mood, and the less intense moments have a lot more impact. A highlight is "PRONE!," a punky banger with a sludgy guitar loop that winds into an almost romantic outro. 
"All My Heroes Are Cornballs" is, no joke, the first great work of the GenZ moment. The split personality and constant energy that propels this album are so of its time that I have worries about how it may age. But here, in 2019, it is a strong contender for Album of the Year and a must-listen for anyone interested in the current state of rap, or how we got here in the first place.