UNCW and surrounding area suffer trace damage after Dorian
UNC Wilmington students were finally back in class Monday after being sent home for the entirety of last week due to fears of damage from Hurricane Dorian. On September 3 everyone was ordered off school grounds as a precautionary measure, but the potential for damage thankfully never came to fruition.
The school's administration recalled how severe damage from Hurricane Florence was last year despite that storm only being a Category 1 hurricane at landfall. As Dorian approached the Carolinas, the National Hurricane Center predicted that the storm would either strike or graze Wilmington as a Category 2 on late Thursday night.
Kevin McAleenan, acting chief for the Department of Homeland Security, cautioned on September 1 that the hurricane was likely to "cause major problems with high winds, a devastating storm surge and heavy rain" even if no landfall occurred. Even the storm's highest winds could have been felt in the absence of a landfall due to the threat of the western eyewall grazing the coast, where the storm's 100-plus mph winds were located.
However, the eyewall ended up tracking just east of the Wilmington area, alleviating a prime worry of the city's 120,000 residents. Despite tornado warnings earlier that morning as well as wind gusts over 50 mph, damage was limited to leaves and pine straw on roads with a few downed trees.
Wilmington resident Najee Wise, 26, described the weather as "just a rainstorm and the power never went out." Wise lectures incoming UNCW freshman on how to succeed at the school.
Other N.C. residents were not so lucky.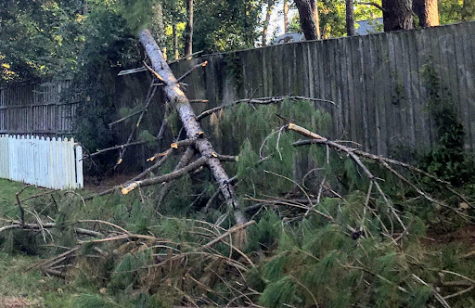 Kelsey Pierce, a junior at UNCW, evacuated to her parents' home in Elizabeth City, a town in
Northeastern N.C. that is situated roughly 30 miles from the shore and 50 miles south of Norfolk, Va. "It was pretty bad where I was. My house got some flooding in the dining room, a limb fell on my RV and we lost some shingles and siding," she said. Elizabeth city is approximately 80 miles north-northwest of Cape Hatteras, where Dorian made landfall as a Category 1 hurricane at 8:35 a.m. EDT Friday.
Ocracoke Island, just southwest of Hatteras, suffered severe flooding that trapped 800 people within its confines at the height of the storm.
Hurricane Dorian formed on August 24, intensified to major hurricane strength rapidly and stalled over parts of the northern Bahamas for over 48 hours as a Category 5 storm over Labor Day weekend, inflicting almost total destruction. It then grazed the coast of Southeast U.S. before racing towards Nova Scotia, causing power outages there on Saturday.
The monster storm finally dissipated Tuesday while being absorbed by another low-pressure system near the coast of Greenland.