UNCW cancels classes and issues student evacuation order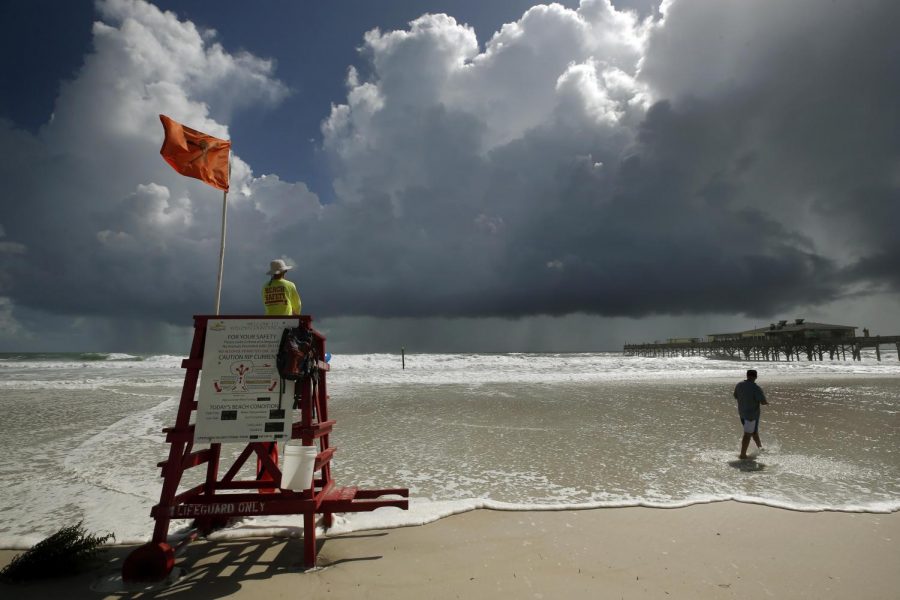 Spencer Boring, Contributing Writer
September 5, 2019
Déjà vu. It is a term that best describes what many on campus are feeling right now. September 14 marks one year since Hurricane Florence pummeled the North Carolina coastline with torrential rain and storm surge. That anniversary has yet to pass, and already UNC Wilmington has another hurricane on its hands. Hurricane Dorian crept up on many, with few even paying attention to its progress until late this past weekend when rumors of evacuation arose.
The university first publicly took notice of Dorian on Wednesday, August 28, and announced that it was too early to say anything definitive. Come Sunday, Dorian continued to strengthen to a category 5 hurricane and devastated the Bahamas. As it moves west, it slows and weakens, downgrading to a category 2 where Dorian is projected to start its path northward along the East Coast.
After much anticipation, at 12:22 p.m. on Monday, the announcement was made: classes are cancelled for the week and a mandatory evacuation order is in effect.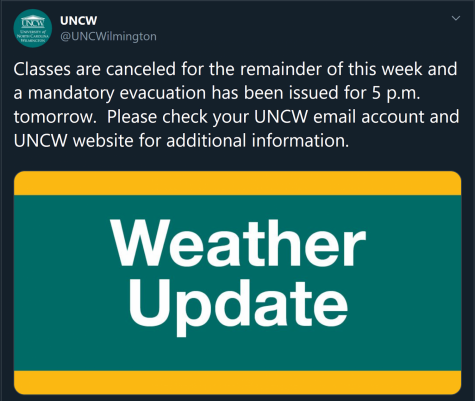 Students were given three options: a) evacuate to a destination of your choosing, b) evacuate with a friend or roommate to their destination or c) be shuttled to one of our sister schools (UNC Greensboro or UNC Charlotte). The majority of students opted to leave of their own accord Monday evening. Those who remained either left Tuesday morning or waited for the University shuttles that would depart at 3 p.m that evening.
It is a surreal experience for those who were still on campus Tuesday morning. Many of the school's regular hot spots were all but deserted. There was not a soul on Chancellor's Walk and there were only half a dozen diners in Wag.
The greatest surprise, however, was a lack of traffic encountered on the way out of campus. UNCW's evacuation is scheduled for Tuesday and Wilmington's is scheduled for Wednesday, thereby preventing the feared mass exodus.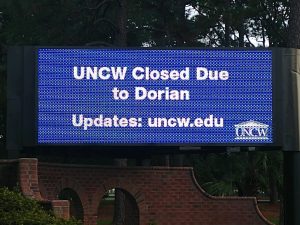 Dorian is evoking many emotions among students. Some are fearing damage while others are excited for time off. Freshmen who have never experienced a hurricane are anxiously awaiting updates while upperclassmen are thinking "here we go again."
There are likely many questions and concerns students have about next steps. Here are some key points to keep in mind:
All academic activities are suspended until classes resume. Your professors should be in contact with your sections about what the next steps will be once classes begin again, however no new work is supposed to be assigned.
Do not go to campus or go to your on-campus housing until instructed to do so. You will not be able to enter campus until the university officially reopens.
Any information regarding the university reopening and classes resuming will be sent through numerous forms of communication. No one will be left out of the loop.
The UNCW homepage will be your fastest source for updates, as the emails and phone calls take time. To visit the homepage, click here. To visit UNCW's page specifically about Hurricane Dorian, click here.
As of the time of this article, nearly all of UNCW's 19,000 students, faculty and staff will be off campus. Hurricane Dorian has restrengthened to a category 3 storm, whose 80+ mph winds will hit Wilmington Wednesday at 8 p.m, followed by landfall Thursday evening. We do not know what the aftermath of Dorian will be on our campus. Will we see flooding and rain damage, reminiscent of Florence, or roaring winds like Arthur in 2014? For now, all we can do is wait and see.