Sponsored Content: Project Closet Cleanout
Allison Miller, Student Media Sales & Marketing Director
April 30, 2019
Reducing landfill is more important now than ever before. According to Chasing Green, the average college student produces 640 pounds of solid waste each year, which mostly stems from items discarded during the move out process. Cape Fear Habitat for Humanity has taken notice of this great opportunity for UNCW's campus and are now accepting "anything that's still usable." for UNCW's recycling initiative Closet Cleanout. Closet Cleanout is a partnership between ReStore, Housing & Resident Life, Catholic Campus Ministries, Center for Leadership & Engagement, Sustainability, PODS & Residence Hall Association.
PODS will be provided at seven different locations on campus and one POD off-campus (See Map). Students are encouraged to drop off gently used items between 11am-4pm. Donated items are transported to one of the three local ReStore locations once students' move-out has been completed.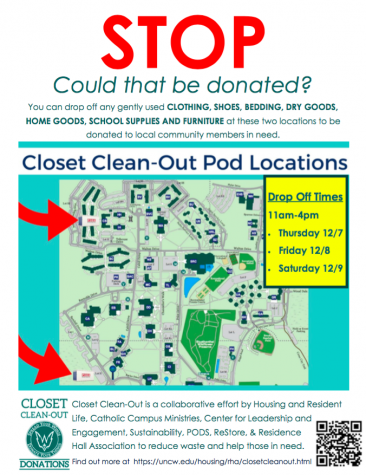 In the past, there was no outlet to rid of unwanted items other than disposing of them in the dumpster. However, within the last four years, and a sponsorship with PODS units within the last year, Habitat for Humanity started collecting unwanted reusable pieces from students at several easy access drop-off points. Not only opening a new avenue for students, but also working towards minimalizing waste inside our community.
Jackie Bates, ReStore operations manager, states that "We like to divert things from landfill; a lot of things that get donated, if there wasn't an outlet for them, they would've just been thrown away"
Jackie mentions how she felt secluded from the community when she was a student herself, but now believes that the new Pod program is providing students with a good opportunity to become more involved. Habitat is looking to bring a different style to the table. Hoping to vary their merchandise and attract a wider crowd, Habitat's ReStore believes they will have what college students are searching for.
To maximize the full potential of intake at the PODS, Habitat has partnered with the Catholic Ministries. This allows the organizations to be able to accept all usable items such as furniture, clothing, and decorations.
"If we're not able to take it, it's great to have a partner organization that we can divvy everything up with and make sure it's all being used the best that we can"
Habitat for Humanity's organization model is unique. Habitat strives to provide affordable housing, but that does not suggest they are handing out homes for free. Their homeowner partners take on a mortgage and those funds go into building more homes in the future. While Habitat builds houses, ReStore is able to provide affordable access to everything that goes into the house.
The Restore plays a key role into the sustainment of Habitat for Humanity. "The Habitat model is self-sustaining". What is meant by this, is that the funds earned from the Restore allow for Habitat's administrative costs to be covered "taking a lot of pressure off the organization".
Solving the affordable living puzzle, Habitat offers all Restore pieces 50-75% lower than retail price. The ReStore has a pricing guideline and also their staff does research on items and prices them accordingly. The guideline is all based on quality, style, and condition of the items received.
While moving out, consider the waste or landfill that could be avoided by utilizing Habitat's Closet Cleanout. This simple yet effective project is an easy way for students to become involved in the community by donating unwanted items to a good cause. Before heading straight to the dumpsters, remember that something you consider to be trash someone else may consider it to be treasure.