UNC Wilmington's Carmen Sidbury named honorary chair of Million Women Mentors for North Carolina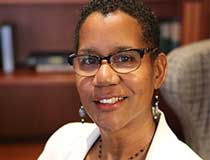 Fairley Lloyd, Assistant News Editor
April 22, 2019
Dr. Carmen Sidbury, director of UNC Wilmington's Center for Education in Science, Technology, Engineering, and Mathematics, was named the honorary chair of Million Women Mentors for North Carolina in February.
Both CESTEM and Million Women Mentors serve as resources for girls and women interested in pursuing STEM fields: CESTEM operates under the Watson College of Education to provide programs for K-12 teachers and students in STEM fields, and Million Women Mentors is a national movement that encourages girls and women to pursue STEM fields through mentoring.
Sidbury's role as co-chair of Million Women Mentors will involve collaborating with partners across the state to help provide more professional development for people "historically underrepresented" in STEM. It also would connect students looking for mentors in a mentor-mentee relationship to help them along the way to their career path.
While program details are still in the works, Sidbury hopes to spend the summer laying out a plan so an official launch of the program will occur by fall of 2019.
A native of Onslow County, Sidbury moved to Wilmington to work at UNCW shortly before Hurricane Florence hit the town in Fall 2018. Sidbury's background in STEM, particularly engineering, was inspired from her experiences in high school; Sidbury's physics teacher directed her and her parents to a STEM summer program, which Sidbury described as "life-changing."
This, along with several other mentors and influential people in Sidbury's life, encouraged her to pursue engineering as a career.
"I think there's a culture, often built by men, in STEM that's not always welcoming for women," Sidbury said. "If you don't have a support system – if you don't see yourself represented in those fields — you'll feel like that field is not for you.
"I was fortunate to have great mentors and a strong support system that encouraged me to pursue my interests in the STEM field. Working for Million Women Mentors is a way for me to give back to the community."
For more information on CESTEM and Million Women Mentors, visit their websites at https://uncw.edu/cestem/ and https://www.millionwomenmentors.com/.