David Sedaris talks diversity, Hurricane Florence, and more at Kenan Auditorium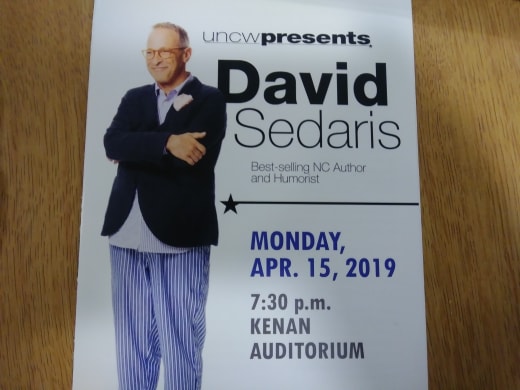 Darius Melton, Opinion Editor
April 17, 2019
Best-selling author and humorist David Sedaris appeared in front of a crowd full of laughing and adoring fans in Kenan Auditorium on Tuesday and brought with him the particular brand of comedic anecdotes that have made him famous for 20-plus years.
Sedaris was introduced the audience by UNC Wilmington instructor Clyde Edgerton as "the funniest man in the world." Having been raised in Raleigh, Sedaris began by replying that he is a connoisseur of North Carolina authors and proved it by praising one of Edgerton's novels, "The Bible Salesmen."
Sedaris then spoke about his job doing commentaries for CBS Sunday Morning, and he gave an example of the kind of topics he would discuss by tackling the issue of diversity in Hollywood. Sedaris specifically considered the ethics of originally casting Scarlett Johannson as a transgender man in the 2018 film "Rub & Tug" "when there are actual transgender actors wondering, 'What roles can we get?'"
Another hot-button issue that Sedaris talked about was the February 2019 scandal in which Virginia governor Ralph Northam was accused of wearing blackface in college. Sedaris did not defend Northam's actions, but he did wonder if people should face the same amount of ridicule for wearing Chinese-themed costumes or dressing in drag back in the day. He also noted that any word that's seen as socially accepted today, like "African American" and "Native American," could eventually go the way of terms like "negro" and "Indian."
The changing of sensibilities over time was a notable theme of Sedaris' presentation, as he discussed the differences between his own childhood and that of two children that he and his boyfriend, Hugo, used to watch. The two boys, Austin and Harrison, were glued to the screen of their Nintendo Switch all day, left the table without being excused, and generally acted in ways that seemed foreign to him.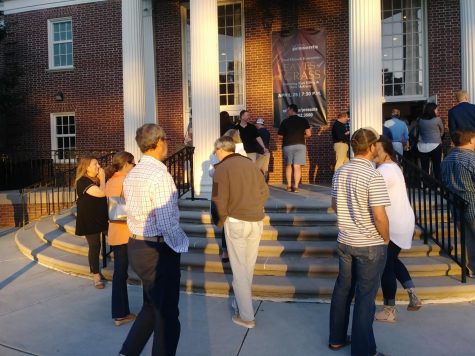 Continuing on with the theme of the next generation, Sedaris spoke about speaking at college graduations. He touched on six different topics in his graduation speech, but the one he feels is the most important is the final one: "Write thank you letters." You might be the only person who does so, and it makes you stand out more both in the hearts of loved ones and the eyes of potential employers.
Sedaris says that he recommends a different book on each of his tours, with this tour's book being "A Life of Adventure and Delight" by Akhil Sharma. He praised the stories for their succinct language and the ability to make him wince at the actions of all of the main characters.
"You don't cringe for people you don't care about," Sedaris said.
As for his future, Sedaris is being officially inducted into the American Academy of Arts and Letters in May, and he has been thinking about publishing a sequel to his 2017 diary-entry collection, "Theft by Finding: Diaries (1977-2002)," this time with entries from years 2003 to 2020.
You can follow Sedaris at his website, davidsedarisbooks.com.