Modern princess: mass communication and monarchy
Professor Jude Davies of American Literature and Culture from the University of Winchester in the United Kingdom and author of "Diana, A Cultural History: Gender, Race, Nation, and the People's Princess" held a campus lecture titled, "Modern Princesses: Celebrity and the Ideal, from Princess Diana to Meghan Markle." The lecture was held on Wednesday, April 10, at McNeill Hall.
Davies' lecture explored how the rise of social media after the death of Princess Diana affects and influences American Meghan Markle in her role as the Duchess of Sussex and centered on what it means to be a modern princess.
Davies drew on how the highly publicized coverage of Princess Diana's life and death directly affected how British media will cover Meghan Markle, the new Duchess of Sussex.
When asked how the view of princesses will change in the next 30 years, Davies answered, "It depends how it pans out on social media. Media dictates our sense of identity." He highlighted how the definition of the term "princess" has changed over the century as well.
"When you google image search 'princess' a wide variety of physical characteristics come up. You see women that look regal, ordinary and somewhere in between," he said during the lecture.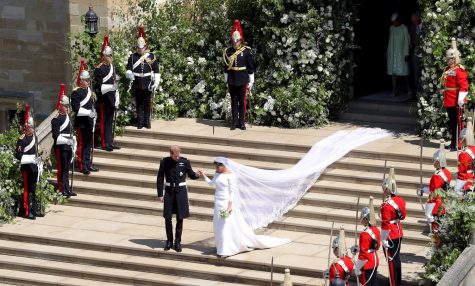 Davies' emphasized that in this day and age to be a princess does not necessarily constitute having ties to a monarch. To be a princess can be more democratic in nature as a means to celebrate outstanding women. This sentiment gives rise to the idea that all women, regardless of background, can be outstanding.
Davies further drew on the idea that mass communication was the driving force behind modernizing British cultural identity. He stressed how the media greatly covered Princess Diana's humanitarian efforts, her infamous dress sale, and funeral. The lecture spoke highly of the princess who was countercultural to the duties expected of her.
Davies explained how Diana's dress sale was a metaphor for a shift in femininity. Diana's goal was to shift how the British people saw her as someone with substance, rather than someone to be objectified. She did not try to shy away from being feminine but rather reconstruct and revise what femininity actually was.
Her humanitarian efforts were highly publicized through her featured documentary "Heart of the Matter: Diary of a Princess." The TV documentary makes a point to highlight that Princess Diana is not a princess at her core but rather a commoner just like the British people. The extensive media coverage of her eventual death and funeral reflected her impact on British society in the documentary as well.