'Serenade for Haiti' screening and panel discussion highlights importance of education programs in the face of tragedy
On Tuesday, Feb. 19, students, faculty and community members gathered for a screening of the 2016 documentary film "Serenade for Haiti" with a Q&A panel discussion. The event was held on campus in Morton Hall and was sponsored by the Department of World Cultures and Languages and the College of Arts and Sciences.
The film, directed by Owsley Brown, follows a music program at Sainte Trinité Music School in Port-au-Prince, Haiti's capital city. The Episcopalian private school was established decades before the music program, which was created in 1956 by Sister Anne-Marie of the Convent of St. Marguerite.
Filming of the program began three years prior to the 2010 earthquake; early footage shows inspired students and teachers gathering for music lessons in the school's music rooms and on-site church. The film documents personal interviews with students, parents and teachers of Sainte Trinité. While the film firsthand is offered in primarily French and Creole, interviewee's expressions, feelings and personalities were not lost in the English subtitles.
Most students interviewed for the film were young boys and men with personality and passion for their craft. When asked what he wanted to be when he grew up, one boy interviewee took a moment, before reporting his response with a smile:
"Me? I want to be an artist."
Students of Sainte Trinité study and practice any instrument you could think of: violin, singing, trumpets and Vodou drumming (a popular and culturally significant practice in Haiti).
Filming of the documentary continued through the 2010 earthquake in Haiti, which was measured as a category 7 and is widely considered as one of the most catastrophic in recorded history. The earthquake left over 300,000 Haitians dead and 1.2 million displaced, according to the film.
The Sainte Trinité lost their beautiful church and most, if not all, of their school buildings during the earthquake. Between five and ten members of the school died as a result. However, "Serenade for Haiti" follows the resilience of community, and the power of music as school leaders and teachers encourage their students to move forward.
"The country is destroyed…music must go on! Life must go on!" said one of the school's music teachers.
Music lessons once taught in their auditorium were newly taught outside, under tents and in between the stacks of rubble.
Despite increased financial strain on the school in the face of rebuilding, families increasingly being unable to pay their children's tuition and moving forward, "In spite of it all, music remains" was a common idea for the school teachers who continued without pay for an extended period of time.
The result of the Sainte Trinité Music School's efforts is an immeasurable spirit of children who hold talent, optimism and honor with their instruments and lessons learned, all of whom create and perform beautiful music for their home nation.
"Serenade for Haiti" garnered critical claim and has won numerous awards from film festivals across the United States.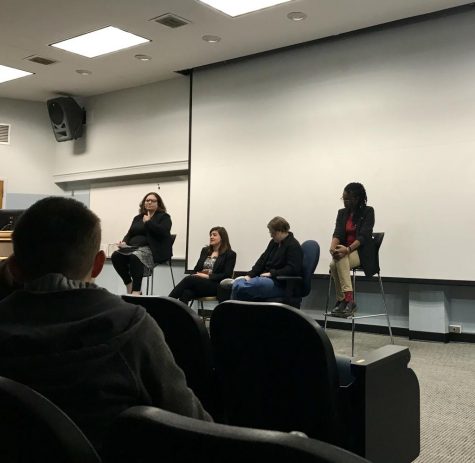 Following the film was a panel discussion question and answer session. Dr. Scott moderated the discussion, and the panel was comprised of four UNC Wilmington and Wilmington community members with ties to and past experiences in Haiti:
Dr. Athena Kolbe of the UNCW Department of Social Work. Kolbe worked in Port-au-Prince, Haiti, as a journalist and researcher.
Dr. Marie Puccio works as a primary investigator for the World Values Survey in Haiti. She has formerly worked as a Creole Language Program Coordinator at the ETS Institute of Social Work and Social Science in Bon Repos, Haiti.
Linda Estep, a violin instructor for the UNCW Community Music Academy and the co-founder of Brooklyn Arts Music Academy, worked as a children's music teacher in Port-au-Prince, Haiti.
Gabrielle Tolliver-Ford is a UNCW student in English Literature and Africana Studies. Toliver-Ford is a retired Gunnery Sergeant of the U.S. Marine Corps who was embarked aboard the USS Kearsarge: Operation Continuing Promise in Latin America and the Caribbean, through which she spent time in Haiti.
Questions from audience members sparked discussions of the Haitian political system, funding for art programs internationally and westernization.