College of Arts and Sciences holds Open Student Forum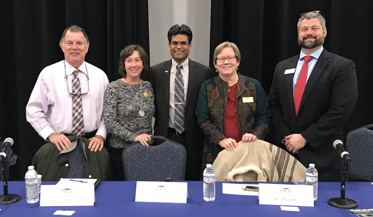 The College of Arts and Science (CAS) is UNC Wilmington's largest academic unit, composed of thousands of students and hundreds of faculty members.
In order to bridge the gap between the college's administration and students, an Open Student Forum was held on Feb. 19 at 10 a.m. in the Warwick Center ballroom.
The forum was headed and facilitated by CAS Dean Aswani Valety, Associate Deans W. David Webster, Michelle Scatton-Tessier, Kemille Moore, Jess Boersma, and the Dean's Leadership Council.
Free shirts and food were offered at the event. The main goal of the Open Student Forum was to better communicate pressing issues between students and the administration in a safe, judge-free environment.
Students at both the undergraduate and graduate level as well as faculty members were welcomed to take part in the discussion to further enrich the College of Arts and Science and the university as a whole.
Concerns of students and faculty included the status of the construction of Veterans Hall and the renovation and reconstruction of Dobo Hall, which will be completed by next July. Other topics brought up included funding for student-run petitions and organizations, as well as internships opportunities.
On top of discussing issues within the university, the CAS Deans gave students tips on how to succeed at UNCW.
"It's never too early to start. Build your relationships and resume now," said Valety.
A second Open Student Forum is scheduled for Wednesday, Feb. 27, from 5-6 p.m. in Warwick Center.