Cengage Offers Unlimited Textbook Service
For most students, it is extremely expensive to pay for textbooks. Bills can be thousands of dollars, and many students find that those bills create an extra burden during their college experience. Students often use websites like Chegg or Amazon to find books that are far less expensive than those offered through the bookstore; however, they still find their book costs to be high overall.
How could it be possible to cut costs on textbooks and lessen the burden on college students? The answer could be a newly emerged unlimited plan through Cengage, a textbook company that has recently released this offer to the public.
The unlimited plan gives students a login, including an access code, which allows students to sign up on the Cengage website. After this, students are able to use any book that is offered by Cengage, even if it is not apart of their scheduled classes at the time of purchase or in their field of study.
Cengage Unlimited is $119.99 for a single semester, and for a whole school year, it is $179.99. According to a press release by Cengage on Aug. 1, 2018, the plan offers over "20,000 digital course materials, including eBooks, online homework and study guides," and "thousands of digital products across 70 subjects and 675 courses."
Cengage also has a way for students to see if the service is a good investment and where to find their books through the company. Their "Unlimited Map" and "Savings Calculator" can tell students whether they would save money using the plan or if they do not offer their books.
According to the New York Times article "Cengage Learning Files For Bankruptcy," after the company filed for bankruptcy in 2013, Michael Hansen, the CEO of Cengage, wanted to learn more about students needs and change the way they viewed distribution of textbooks. The company partnered with Morning Consult, a private polling company, to learn more about how students view textbooks and polled 1,651 students about their textbook experiences.
"We heard loud and clear from students that paying for course materials is a leading source of financial stress," said Hansen in a release by the Public and Media Relations at Cengage. "We could not ignore that any longer. By making the bold move to offer a subscription service, Cengage is giving students both affordable access to their learning materials, and a better learning experience."
According to the Morning Consult data, 85 percent of students believe "paying for textbooks and course materials is financially stressful." Which, in that study, was scored higher than paying for meals, housing, and healthcare.
Now, according to Cengage's website, their mission for students is to be more accessible. Their website states, "We're on a mission to make every student a confident learner. Our flexible tools give you access to content where and when you need it, so that you can learn in sync with your work, school and life. We put students first in the development of educational materials and transform the learning process to help you succeed."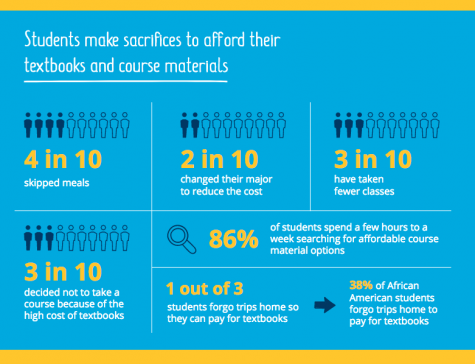 To learn more about Cengage Unlimited, visit: https://www.cengage.com/unlimited/.
Or, to read more about the data, visit: https://news.cengage.com/wp-content/uploads/2018/07/CengageMC-Affordability-Survey-letter.pdf.