Homecoming Week continues with Teal Tuesday
Jonny Berrios, Staff Writer
January 30, 2019
It's Homecoming Week, and UNC Wilmington's weekly Teal Tuesday event was held in Sharkey's and Lumina Theatre in Fisher Student Center with a bit of added Homecoming flair, as it was hosted by ACE.
"ACE is short for the Association of Campus Entertainment," said Skylar Chadwick, a junior and president of the ACE board. "Basically, we make events for the students by the students. Right now we have homecoming going, which is a week long, and a ton of events before the basketball game."
Teal Tuesday is one of the many events that the ACE hosts. On Tuesday, socializing, hot dogs, and a screening of "Madagascar" was offered to students who attended.
"We thought 'Madagascar' would be a good fit because of the worldwide theme," said Homecoming Chair Brianna Ramirez. "This year my theme was 'Paint the World Teal,' which shows the pride and joy we have for UNCW."
Events are still going on the rest of the week leading up to Saturday's game. Wednesday at 7 p.m., Dub Idol is taking place in Kenan Auditorium. Thursday from 8 p.m. to 9 p.m., "ACE Presents: Shamilton!" will be presented and Friday at 8 p.m., Battle of the Bands will take place in Burney Center.
"We put on events for the students to hype them up for Homecoming," said Ramirez. "Since it's Homecoming week we wanted to do something a little special this month, so we do Teal Tuesday after dark, which is usually in the amphitheater. We have the movie, food, and crafts all going on at the same time."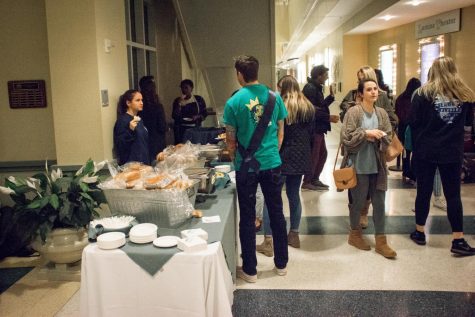 Due to inclement weather, Teal Tuesday after dark had to take place in Fisher Student Center.
"I met my best friends through ACE," said Ethan Jenkins, a sophomore and general member for ACE. "They joined the same year I did, so we have kind of grown into it together. Teal Tuesday is great. It's a great way to get the community together. It really promotes the things that ACE puts on, like our movies, our concerts, all kinds of things like that, and it gives an opportunity for students to have fun and meet new people."
The UNCW men's basketball team will culminate Homecoming Week on Saturday, Feb. 2, at 7 p.m. in Trask Coliseum as the Seahawks take on James Madison.