University announces restricted library parking for students days before final exams begin
The Office of University Relations announced their plans to restrict parking in Lot D, at Randall Library in lieu of construction in Lot G, by Morton and Leutze Hall on the morning of Thursday, Dec. 6.
"We wanted to make you aware that beginning tomorrow, Dec. 7, parking lot G (in front of Morton and Leutze) will be closed due to the construction of modular facilities. In order to cause the least amount of disruption for the faculty and staff who use this lot, lot D (located in front of Randall Library) will be temporarily converted to faculty and staff parking beginning tomorrow," said the email, which was sent to all faculty, staff and students on campus.
The modular facilities being constructed on Lot G will function for classes that would usually take place in Dobo Hall. These facilities will host classes until final renovations to the building are completed.
"Due to the recent impacts on Dobo Hall and the need to add modular facilities to campus, the university will have to make temporary changes to parking zones beginning Friday, December 7," said UNCW Parking's Campus Construction Parking Impacts.
"UNCW plans to conduct repairs and renovations to the building envelope, repair or installation of new electrical, plumbing and heating, ventilating, and air-conditioning systems serving Dobo Hall," according to the Office of Facilities web page.
The current status of this project is listed in as "Request for Design Proposals Solicitation".
While the project's estimated completion date is publically listed as "TBD" or, to be determined, a source told The Seahawk that Dobo Hall is currently expected to be reopened for the Fall of 2019.
The university continues its restorative plans after the damage from Hurricane Florence earlier this year, which WWAY reported totaled around $140 million while being met with limitations in space on campus and funding, as well as criticism from the campus community.
The announcement of the closing of Lot G came days prior to the beginning of final examinations on Monday, Dec. 10, causing many students to feel frustrated and inconvenienced.
Just prior to the announcement, a UNCW sophomore tweeted "PARKING. AT. UNCW. NEEDS. TO. CHANGE."
The student responded to her own tweet just hours later, tweeting, "Love that right after I tweeted this uncw emailed us saying they're closing the LIBRARY PARKING LOT for faculty wow great job," she wrote on Dec. 6.
"Wow what a great idea to make it so you can't park in the library parking lot until 5 pm right during exam week….thanks uncw!!!!" wrote another student on Twitter.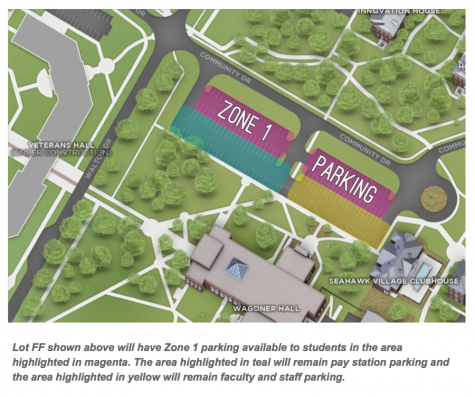 Students who relied on parking in the library lot during the day will be redirected to Lot FF, near Wagoner Hall, which "will be converted to Zone 1 to make up for the loss Lot D parking", according to UNCW's website. The university also offered the remaining available spaces in the parking deck, although those were quickly claimed.
Randall Library is currently open 24-hours per day to UNCW students in need of a place and resources to study. Students with valid UNCW parking passes will continue to be allowed to park in Lot G from 5 p.m. until 7 a.m. until the end of the semester.
Final examinations will conclude on the evening of Friday, Dec. 14, when the semester officially ends. On-campus housing will close Sunday, Dec. 16, following Saturday's commencement ceremonies.
For more updates on on-campus parking, click here.