Q&A: Editor at The Seahawk hired as producer for local news station
The Seahawk sat down with our very own Maddie Driggers, who has worked for our publication as a Contributing and Staff writer, Assistant Lifestyles' Editor, and Lifestyles Editor. She is a senior set to graduate in December with a BA in English with a minor in Journalism. Driggers recently landed her first full-time position post-graduation with WWAY, an ABC/CBS/CW-affiliated television news station located in Leland, NC. As part of the celebration of The Seahawk's 70thanniversary, Driggers shared her prior experience in journalism and how her work with the publication helped her land her "dream job."
Q: Can you tell me a little bit about your experience at UNCW?
A: I came into UNCW without declaring a major, although I think I always knew I wanted to study English. I worked for my school newspaper in High School, but taking my first Journalism class here in Wilmington was really influential for me. Within a couple of months of being in the class, I declared Journalism as a minor.
Q: How did you get involved with The Seahawk?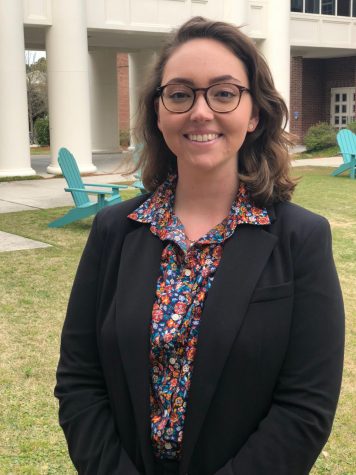 A: For some reason, it didn't really dawn on me to join The Seahawk; I think I was intimidated. I knew about the publication because I had a class with a past Layout Editor, but I didn't work up the courage to join until a former Lifestyles Editor, Erin Heglar, slipped me a note at a poetry reading she was covering. She didn't know who I was or anything about me, but she said in the note that I might be interested in journalism and that I should come join The Seahawk. That note finally prompted me to go, and I've been writing ever since. I think it has been about two and a half years.
Q: What have you been able to do through your work with the publication?
A: I finished my sophomore year as a staff writer, and got promoted to Assistant Lifestyles Editor for the following year. Working as a part of the editorial board taught me first-hand how to improve my writing, refine my editing skills, and become a student leader of such an active student organization here on campus.
Then, at the start of my senior year, I got hired as the head editor of the lifestyles section. Around that same time, I landed an internship with Wrightsville Beach Magazine. Through my internship, I've been able to write and edit articles for the local magazine and learn the process from start to finish in a real-world newsroom.
Q: Do you think your work with The Seahawk helped to land you the internship with Wrightsville Beach Magazine?
A: Definitely. I remember being nervous for my interview with them, but it worked out. The main focus of that interview was my experiences in journalism and working on staff at The Seahawk, which I think helped me stand out as a unique and qualified applicant.
Q: As you approach graduation in December, can you tell me a little bit about your job prospects moving forward?
A: Midway through this semester, I applied for a producing position at WWAY, a local TV news station in Wilmington. They called me in for an interview, and during that as well I spoke mostly about my work with the student-run publication and how my years with The Seahawk prepared me for working full-time in Journalism. Specifically, I talked about what I learned at each level, as a writer, assistant, and head editor.
I also mentioned my experiences in Journalism classes, but I really believe the main reason I was successful during that interview was because of my prior work in publications. Most of the questions they asked me were centered around my experience as a leader, a writer, managing a team at the student-run newspaper.
They offered me the job, and I've started working with them part time until I graduate and transition into my full-time position. In December, I'll be working as a producer for WWAY, which is a salaried job with benefits, which is something I never thought I would have access to here in Wilmington. Having experience in the field definitely set me apart from other applicants and definitely helped me land the job.
Q: Can you tell me a little more about the position?
A: It's an entry-level job that entails anything that the station needs, really. Part of my training is learning how to use their software, so I can be prepared to stack shows, edit clips, and preparing things for broadcast. Eventually, I'll be responsible for filming some things in the field, turning videos into physical articles for the website, and helping to churn out content.
Q: Has this experience led you to think about your long-term career goals?
A: I just want to be involved in the whole process of journalism. I'm not necessarily a layout person, but I still want to know how to do it. I'm not necessarily a video-focused journalist, but I want to know how to edit and create them. I want to be able to have those experiences so that they can help me grow in my future job endeavors.