Seven major milestones in Seahawk journalism history
An earlier version of this article stated that the first online article published at The Seahawk was a story on fire equipment being installed in freshman dorms. It has been corrected to state that the first story published on TheSeahawk.org was an incident that occured during an athletic event.

Over the last 70 years, The Seahawk has had reached many milestones, and some of these milestones reflect major changes within the student body as well as in the newspaper itself. Looking back on these changes, it is important to note them and see how far both journalism and UNCW have come since 1948.
First Print Edition
On September 27, 1948, a year after UNCW had first opened, the first edition of the Seahawk was printed and distributed on campus to students. It contained four pages, written in typewriter print, about the on-campus events that were taking place at UNCW. During that time, the staff covered stories about the drama club and the new basketball team on campus. It featured a high school football team schedule, jokes and satirical cartoons about the dean of students.
First Editor-in-Chief
The first editor-in-chief was R.E. Piner, also known as Gene Piner. He had three assistants, but there was no mention of any staff writers in the proceeding articles. His first editorial offered this challenge to the student body: "We extend to the student body an invitation to criticize our endeavors and to flail our paper as trash if they so desire," and also, "an invitation to contribute something useful or something better."
First Female Editor-in-Chief
The first female editor-in-chief of The Seahawk was Shirley Manning. Her first edition of the newspaper was on October 8, 1965, and she served as "executive editor" until the spring of 1966. Her first editorial was titled, "Welcome is extended as new quarter begins." It explained that 400 new freshmen would be welcomed at the beginning of the fall 1965 semester, and they should come in confident and without fear of the unknown.
First Headline Online
The first online article for The Seahawk was published January 17, 2001. It was a story that covered a "spitting incident" at an ECU versus UNCW sporting event. The article describes a UNCW basketball game where a group of hecklers got out of hand and can still be found on our website today.

First major logo change
Although the original papers had used two main designs between 1948 and 1952, in the November 21, 1957 edition the newspaper settled on a more simplistic design for the logo and it remained the logo until 1964. The logo was originally a box-style and then went to simple print style in 1957. It has remained in simple print style since then and has had a few small changes, such as the addition of the Seahawk mascot.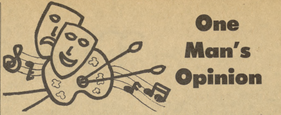 First opinion article 
The first opinion article written for the Seahawk was called "One Man's Opinion." It was written by Sam Greene, and published on November 11, 1963. It overviewed art exhibits by Claude Howell and congratulated the new WILC News Director, Dale Rhodes. The opinion piece ended with a quote by Ralph Waldo Emerson, who said, "Every genuine work of art has as much reason for being as the earth and the sun."

First beats introduced
There were several beats that stood out in the first edition of The Seahawk in 1948. There were repeating stories following the "dramatics" club and athletics on campus. Both were fledgling programs and were starting with limited numbers of people. The dramatics club was putting on its first show and only had 25 members. The basketball season was just confirmed to be occurring for the second year. They played eight games their first year and won six.