2018 Midterms – Democrats take the House, Republicans look to the Senate
Tyler Newman, News Editor
November 8, 2018
The United States midterm elections were held on Nov. 6 across the nation, with many eager voters waiting in long lines and dodging adverse weather conditions to cast their ballot and make their voice heard.
A record 113 million were estimated to have shown up to vote this year, the first midterm election to ever exceed 100 million voters, according to the New York Times. Around 49 percent of the eligible voting population voted in this year's election, compared to just 36.4 percent in 2014, one of the lowest ever.
From Florida to Arizona, heated races came down to the wire in the early hours of Nov. 7 as voters and candidates alike awaited the final results in key battleground regions.
This year's midterm elections were marked by quite a few historic milestones. The first Native American and Muslim women were elected to Congress, Colorado became the first state to elect an openly gay governor and Michigan became the first state in the midwest to legalize recreational marijuana.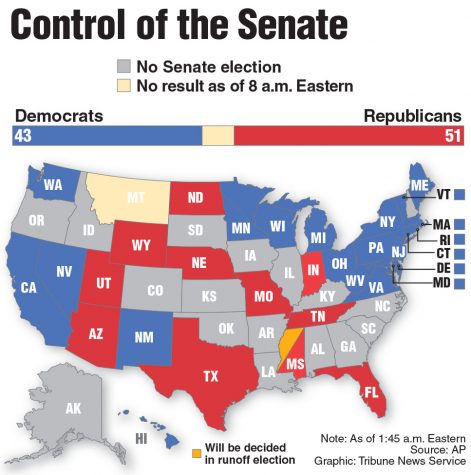 In U.S. Senate races, the Republican Party gained two extra seats as of Nov. 7 at 6:10 p.m., whereas the Democratic Party lost two seats. North Dakota, Indiana and Missouri all saw Democrats lose their prospective races, possibly influenced by President Donald Trump's victory in those states in 2016.
In Arizona, the race has not yet been called between Republican Martha McSally and Democrat Kyrsten Sinema, who are running to fill the seat that is being vacated by Sen. Jeff Flake. However, McSally is running ahead and is anticipated to win, according to the Associated Press.
Notably, Sen. Ted Cruz of Texas pulled out a victory over Democratic challenger Beto O'Rourke in a race that has garnered national attention. O'Rourke campaigned on a progressive platform and raised $69 million in campaign funds, claiming "I don't take a dime of PAC money." Cruz congratulated O'Rourke for the race.
"I also want to take a moment to congratulate Beto O'Rourke," Mr. Cruz said. "He poured his heart into that campaign. He worked tirelessly."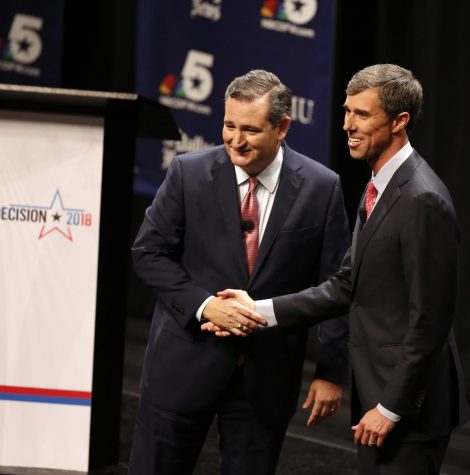 Speaking to a crowd just blocks from the Mexico border in El Paso at around 10 p.m. on the same night, O'Rourke thanked those who supported him and congratulated Mr. Cruz on his victory.
"I'm as inspired, I'm as hopeful as I've ever been in my life, and tonight's loss does nothing to diminish the way I feel about Texas or this country," he said. "I'm so f—ing proud of you guys." Mr. O'Rourke later stepped off the stage as John Lennon's "Imagine" played through the loudspeakers.
In the U.S. House of Representatives, the Democrats claimed victory, winning back the majority and flipping 28 seats as of Nov. 7 at 6:10 p.m. The Democrats now hold 223 seats to the Republicans' 196, with 17 seats that have still not yet been called.
To hold majority in the House of Representatives, one party would need to hold 218 seats.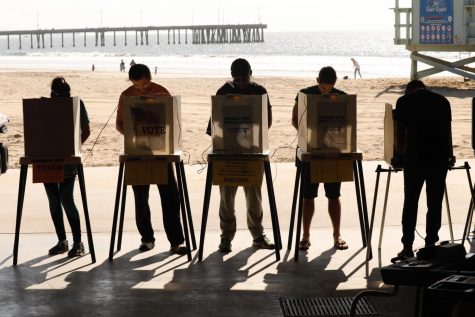 Some notable House victories included in Okla. District 5 – where Democrat Kendra Horn defeated Republican incumbent Steve Russell by around 3,000 votes – N.Y. District 4 – where Democrat Max Rose defeated Republican incumbent Dan Donovan – as well as Ariz. District 2, Va. District 2 and S.C. District 1.
In gubernatorial races, Democrats picked up 7 governors' mansions from Republicans: Illinois, Kansas, Maine, Michigan, Nevada, New Mexico and Wisconsin.
In Florida, a hard-fought race between Republican Ron DeSantis and Democrat Andrew Gillum led to a victory for DeSantis, with barely 50,000 votes separating the two men as of Nov. 7 at 6:10 p.m.
The gubernatorial race for Georgia, between Republican and Georgia Secretary of State Brian Kemp, and Democrat Stacey Abrams, has yet to be called. 63,000 votes separate the two as of Nov. 7 at 6:10 p.m.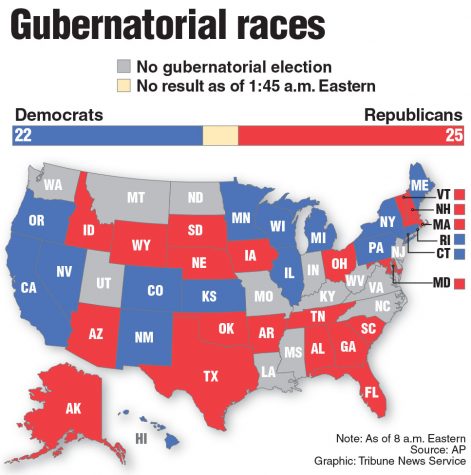 President Trump took to Twitter around 11 p.m. to declare the night a "tremendous success," soon after it was clear that the Republicans were going to lose majority in the House of Representatives.
Trump also tweeted an 'endorsement' for House Minority Leader Nancy Pelosi for the job of Speaker of the House, a position she once formerly had. A few Democrats have already begun putting in their nominations for House leadership positions.
House Democrats have already stated that with a majority, they will request President Trump's tax returns. The President made it clear on Nov. 7 that he's willing to work with Democrats, but will fight back if they begin to investigate his private life and finances.
Full 2018 midterm election results can be found here or here.
News Editor Tyler Newman can be found on Twitter @tnewman39.