Floating into a new wave of all natural therapy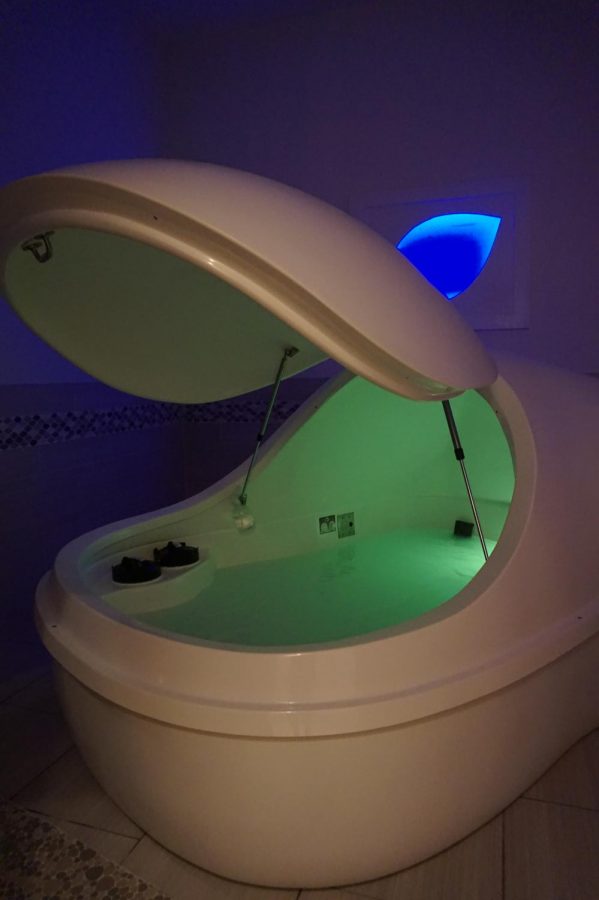 Amanda Hagy, Staff Writer
November 1, 2018
The idea of natural therapy in the last twenty years has seen a drastic increase in popularity compared to the once social norm of just popping a few pills for physical pain, anxiety and daily stresses of life. Mediation, yoga, acupuncture, all natural plant-based diets and, more recently, float therapy have seen an upward trend in alleviating physical and mental stressors.
Flotation therapy began in 1954 and the technique involves the use of a sensory deprivation tank that is soundproof, filled with more Epsom salt then the dead sea, and contains ten inches of lukewarm water. Local Wilmington TrueRest Floatation Therapy Spa reached out to the Seahawk for a complimentary session and opportunity to become more educated on the alternative therapy option.
Opening the door to TrueRest Flotation Spa, I was greeted by Laura Connolly and Justin Worlock. They welcomed me into a calming waiting room. They reiterated that a waiver and pre-spa procedures were necessary before anything further could be proceeded.
Before my visit, Connolly mentioned that you should avoid shaving or allowing your skin any extended sun exposure on the day of anticipated floating. Additionally, for females, it was stated if you were on your menstrual cycle to simply request a new appointment.
After the completion of forms, I began to go over procedures for the next hour. A valuable point to add is that the floating occurs in an enclosed and private space. No swimwear is needed. I had no prior knowledge of the extent of the therapy, so when I asked if I needed my one-piece suit, both Connolly and Worlock made a small chuckle, shook their heads no and with a slightly flushed face, I shoved my suit back in my purse.
Taking in everything around me, I noticed that there was an automatic sense of calm surrounding the aura of the center. I was then advised to grab a pair of flip-flops provided and Worlock escorted me to a low-lighting illuminated room with a tea and oxygen bar.
For the next hour, Worlock told me his story and background with TrueRest Flotation therapy.
He has been with the company for over two years. He initially went to college in Georgia and had been introduced to the therapy, but found no facilities in proximity to him. He returned to his family home in Arizona and began working with TrueRest. From there, he got transferred to the Wilmington location and has resided ever since.
Worlock is an advocate for educating the public on the natural method of therapy and has ritually floated every week for two years since he began his journey.
He continued to explain the benefits Epsom salts have, saying, "they heal whole areas, it boosts immune systems, elevates levels of magnesium in those with deficiencies, increases bone and joint strength, and holds the benefits of massage therapy."
He further explained that float therapy has been around since the 1960s and in recent years there has been an upward trend in floater following. The treatment is all natural and involves the exclusion of popping pills and floating in more salt then the dead sea.
After Worlock and I finished our discussion, I was escorted to a small room, provided tea and watched a short video on what to expect in the next hour of my session. After completion of the video, I entered the room with the flotation chamber. I noticed that there was a shower, water adhesive ointment for any cuts and earplugs. I was instructed by Worlock to prep at my own pace before entering the chamber. I stripped all clothing, showered off and applied ointment to two small open cuts. Lastly, I put the earplugs in and dipped my feet into the chamber.
Getting adjusted inside, I noticed it felt very snug and felt as though you were floating on air. There was a soft mix of changing lights fading in and out, and a soft hidden background of music.
Throughout my hour-long session, I remember having a feeling of release. I felt as though I was floating in what can only be described as a sensation of being within a womb and started to let my thoughts and my surrounding reality drift.
The idea of sensory deprivation was one of the most unique feelings I have ever experienced. We live in a world where every moment our eyes dart from one screen to the next. We focus on what everyone else is doing, without taking time to remember that self-care and self-focus are critical to a sound body and mind.
Over the course of the session, I let my worries and fears drift away. I positioned my hands above my head, which initiated tension and a release within my upper back explained in the preparation video. Halfway through the session, the changing lights went dark. The background music went silent, I could only hear the slowing beats of my heart, and I went in between consciousness.
Towards the end of the session, the music began to fade back in, and the idea of reality came back into focus as the light illuminates the chamber. I promptly showered, dressed and relaxed by the oxygen bar with lavender pouring into my respiratory system. I sipped tea, spoke with Worlock and read a journal entry from a first responder of Hurricane Florence that was sitting in front of me.
"Following eleven straight days of work, I have finally got my body into relaxation. I have never had an experience that was so at peace," the entry said.
Following the aftermath of Hurricane Florence, first responders worked weeks round the clock to rebuild Wilmington and the surrounding community. TrueRest Flotation Spa provided free visits to those working in service to help in relieving stress to these Nobel professionals.
Flotation therapy, while still relatively new, provides a gatekeeper to new forms of therapy. Currently, much research is being done but researchers like Anette Kjellgren and Jessica Westman who study the benefits of sensory deprivation suggest, "By having experienced deep relaxation through flotationREST, it could help a person to find a similar state of relaxation in daily life."
If you have any further interest in understanding or inquiring on further studies regarding float therapy please visit, ufloat.ca, time.com/float, and TrueRest in Wilmington at their website. Exclusive offers for UNCW students start at $40 per one-hour sessions.