Freshmen displaced by Hurricane Florence "reset" as they return to campus
Hannah Bonet and Cate Whiteley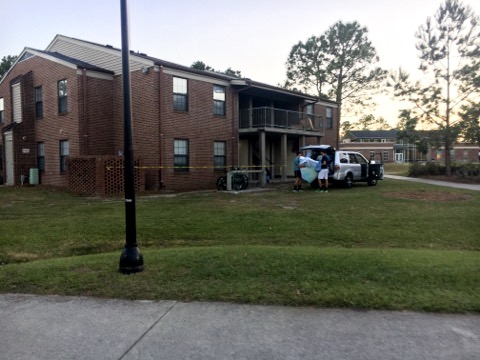 Genna Guenther
No matter how far along a student is in their academic career, missing four weeks of the school year is a huge obstacle to overcome, especially after only three weeks of classes.
However, one specific group of students is affected by this rocky start in a way that the others are able to evade – UNC Wilmington's freshman class.
Just having moved on campus for the first time back in mid-August, this semester's newest attendees were alerted of a mandatory campus evacuation for all students on Monday, Sept. 10, and have since spent more time sheltered outside of UNCW's walls than within.
Though most students were allowed to move back into UNCW on Oct. 6, and classes resumed on Monday, Oct. 8, it has not been an easy transition for the entirety of the student body.
Some students are still being housed temporarily other dorms or in the nearby Golden Sands Hotel as of Friday, Oct. 12, due to damage to the school's dorms, particularly those housing freshmen.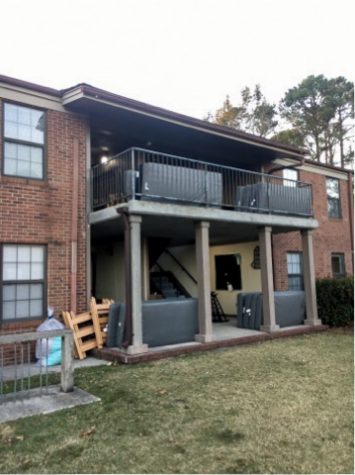 One student who is still feeling the effects of Hurricane Florence's sudden appearance in Wilmington is first-year student Georgia Kibler, who spent the four-week evacuation at her home in Charlotte and is currently housed in a common room in Cornerstone Hall with her roommates.
"It felt weird being uprooted just as we were being settled in," Kibler described.
When asked about the school and whether or not UNCW has been accommodating, she answered, "I'm grateful that they have me in on-campus housing. It's a bit stressful since – and I know they're working hard to get us back – but I still don't know when we're going back. They should be letting us know [Friday]. But the parking has been really chill!"
Kibler then went on to show off video of her room in the University Apartments, pointing the boxes and saying, "It's kind of as if we're moving in again."
Another freshman who expressed concern about her return to campus is Anna Haynes, who explained that it has been "hard but good" coming back to campus.
"It was a bit disorienting since we were just getting settled in," Haynes explained, "but it is what it is." She also mentioned that, while some of her classes had gotten easier due to the reduced schedules, a few of the others had gotten harder, a common complaint among those that were interviewed.
Though the affected dorms on campus were generally assigned to first-year students, one complaint that can be shared by all students is that spending four weeks off campus interrupted the burgeoning of new friendships and relationships that a fresh semester brings. This is especially true for transfer students who, like freshmen, have just arrived on campus for the first time and may now have to scramble to recover the connections they were making.
"It's a bit of a reset," third-year student and recent transfer Trey Gurley told The Seahawk. "It felt like I was just starting to make some friends here, then the hurricane came along, and now it's a few steps back."
The first week of classes post-Florence have officially ended, and while many see interference from Hurricane Michael as the biggest hindrance keeping this week from being a complete return to form, it might be a little while longer before students in the freshman class can get back to their previous routines