Obituary: Senator John McCain
Bo Miller, Contributing Writer
September 6, 2018
The following is an obituary written in memory of Senator John McCain. The author is a veteran of the United States Marines and member of the UNCW Student Veterans Organization.
John Sidney McCain III passed away on Aug. 25 at his home in Sedona, Arizona. He was 81 years old.
Born at the Coco Naval Air Station, Panama, he was both the son and grandson of powerful Navy admirals, and he began his own life of service in Annapolis, Maryland once he was accepted into the United States Naval Academy. It should be noted that from the beginnings of his own naval career, McCain established himself as a maverick, an individual who bucked authority and blazed his own path, regardless whether it be one of success or demise.
McCain died at 4:28 p.m. local time. Prior to his death, a malignant form of brain cancer known as glioblastoma was discovered in 2017 and McCain had endured his last year undergoing periodic treatments of radiation and chemotherapy. The McCain family made the announcement on July 24 that the Senator had made the willful choice to cease and desist his prescribed medical treatment, evidence that the one-two combination of father time and the aggressive progression of cancer had finally taken a stubborn fighter to the ropes of mortality.
The family must have anticipated that once he stopped receiving the treatment, it would only be a matter of time — and, true to form, the news of McCain's passing rang louder than a massive bell, its clang reverberating across the nation and the world alike.
There was a great, bipartisan outpouring of sympathy and respect from fellow Congressional colleagues, the vacuum-like effect of his nearly year-long absence clear amidst what can best be described as a tumultuous presidency helmed by Donald J. Trump, with whom the late senator engaged in verbal judo with on more than a few occasions.
Warrior
In 1967, then-Lieutenant Commander McCain was shot down over Hanoi, Vietnam, and held in captivity as a Prisoner of War (POW) for over five years, two of which were in solitary confinement, and under the most horrid of conditions.
Subjected to extreme torture, he suffered broken arms, a shattered leg and was beaten repeatedly. One form of torture he withstood during his time at the Hoa Loa Prison, nicknamed the Hanoi Hilton, involved the suspension of his emaciated frame, which dropped to a meager 105 pounds, from ropes — pinning his arms forcefully behind his back, an almost "reverse crucifixion," in which each breath the victim attempts causes the ropes to tighten, further restricting air and blood flow.
He attempted suicide on two different occasions. Near the end of his captivity, his captors fully aware of his family pedigree, and more specifically, who his father was and what role he played in the big picture of the Vietnam conflict, offered him early release. He refused. He expressed his desire to keep his honor clean by observing the Code of Conduct, and he felt deeply that to avoid an enemy propaganda coup or risk demoralizing his fellow prisoners, he needed to stay put.
Eventually, the enemy seemed to get the best of him, causing him to crack under pressure and sign a "confession"— one which no reasonable American believed, but, one which McCain long lamented over, feeling the burden in his heart that perhaps he had betrayed his country.
He returned home considered a hero, nonetheless, and underwent several months of physical and mental rehabilitation, during which time he made the fateful decision to seek public office. McCain entered politics in 1976 when he was assigned as the Navy's liaison to the U.S. Senate.
In 1981, he married his second wife, Cindy Hensley, and subsequently retired from the Navy, settling into civilian life in Phoenix, Arizona. He immediately began to network future connections in politics while serving within a public relations capacity under his father-in-law's beer distribution business, which was an Anheuser-Busch affiliate.
Senator
From the outset of his political career, John McCain did not change his operandi from what it had been during his time in the military. His M.O. as someone who marched to the beat of his own drum would only prove to be that much more the case in political life. Frequently and consistently, Senator McCain was known to "reach across the aisle," despite having come into the political fold known as a traditional conservative bred straight from the Reagan era of politics.
In fact, over the span of six elected terms as a senator, and two in the House of Representatives prior to that, his reputation was such that if a piece of legislation were in question, specifically whether it would have the sufficient votes to be ratified, all one needed to do was see which way McCain's office was leaning prior to the vote tally.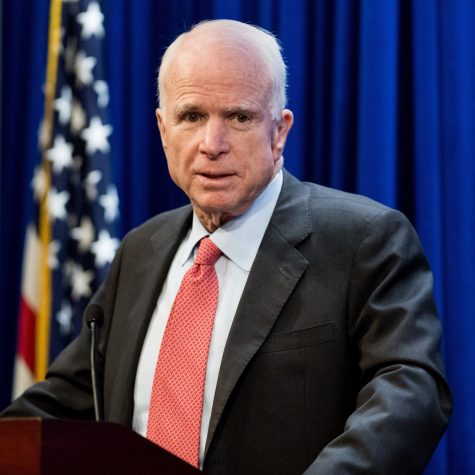 All that power didn't come without a few bumps and scratches, though. He lost two presidential bids; the first for candidacy against G.W. Bush in 2000, the second against Barack Obama in 2008. But despite being a tenacious and persistent critic of both men, he fashioned many different meetings with them once they took office, creatively brokering bipartisan deals with both.
His aggressive compromise-seeking stance led to different ground-breaking, comprehensive reforms made in both immigration policy as well as universal health care. Time and time again, McCain proved to be a daunting adversary, for while he certainly knew how to stand his ground when necessary, he also understood and embodied what it meant to give-and-take, to sometimes sacrifice to gain, with the goal of taking care of country as well as constituency.
Citizen
It should be noted that for as much that McCain served as an advocate for equal rights, the observance of law within the framework of the Constitution, and the reduced and measured role of government in the day-to-day lives of Americans, he was also a harsh and unforgiving critic of his political adversaries.
McCain spoke words into the public realm that pressed directly at America's political state: he felt that the state of the Republic has deteriorated because we as a people have lost the ability to objectively speak truth to power.
Our ability to recognize our differences, yet maintain civility and respect for one another, he argued, has eroded. He needed only to point to the often-cantankerous relationship between President Donald J. Trump, and himself.  This fact would later be used against him by opposition think tanks in support of Donald Trump's presidency (sometimes in vain) to paint a picture which starkly contrasted the man that John McCain truly was – Trump has declared that, in his opinion, John McCain should not be considered a war hero:
"He's not a war hero," Trump said in 2015. "He was a war hero because he was captured. I like people who weren't captured."
To that end, for the President's many ill-spoken misgivings regarding the character of McCain, the senator's family made it clear that the current leader of the free world would not be welcome in and throughout the different memorial ceremonies while his remains toured the country he served "in state," and would not be welcome at his final burial, aboard the grounds of the Naval Academy, which took place on Saturday.
Arguably the most prevalent issue in our country, today, is the treatment and handling of ethnic and cultural differences within its own borders. There is such a vast dichotomy between opposing political views that the term polarizing doesn't seem adequate anymore.
McCain strove to combat that and did so with just as much vigor and zeal as he did as a young man behind enemy lines. One can only hope that his influence and impact last longer than a few tweets.