Silenced Sam: UNC reacts to the fall of the Confederate monument
Students and community members at the University of North Carolina tear down Confederate monument during rally
On Monday, Aug. 20 the 105-year history of the "Silent Sam" Confederate statue on the campus of the University of North Carolina [UNC] Chapel Hill came to an end.
Protestors numbering in the hundreds came out the night before classes started to protest the statue and its place of prominence on campus.
"Silent Sam" was a fixture on UNC's campus from the time it was erected in 1913 to commemorate the lives of UNC students lost during the Civil War. The United Daughters of the Confederacy proposed the statue during a wave of pro-Confederate sentiment, which existed all over the United States between 1900 and 1930.
From inception, "Silent Sam" was controversial with its opponents claimed it represented a long history of hate and oppression against African Americans. Indeed, at its dedication, Confederate veteran Julian Carr spoke to the gathered crowd and said that he "horse-whipped a negro wench because she had publicly insulted and maligned a Southern lady" at the site of the statue, according to online archives at UNC.
The rally of protestors who pulled "Silent Sam" down first gathered on Franklin St Monday with banners, which read "Until They All Fall". When the crowd moved to the statue they surrounded it with tarps, and at roughly 9:20 p.m. the monument was pulled from its base.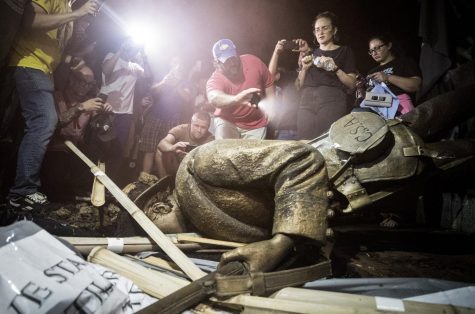 "Overall, I'd say the morale on campus has improved immensely, and many people are relieved the battle is over regardless of their stance on Sam," said UNC Sophomore Kaylee Burrell.
Reaction to the destruction of the monument was swift with government and school officials condemning the action as unlawful.
Gov. Roy Cooper released a statement saying that he "understands that many people are frustrated by the pace of change" but "violent destruction of public property has no place in our communities."
UNC also released a statement, which seemed to condemn the actions of protestors.
"Tonight's actions were dangerous, and we are very fortunate that no one was injured," the statement said. "We are investigating the vandalism and assessing the full extent of the damage."
UNC's Student Government Association took a different stance on the topic and issued a statement where they lauded the protestors for "doing what few were prepared to do" and stated that those involved with the destruction of the monument "corrected a moral and historical wrong that needed to be righted."
In the days following "Silent Sam's" destruction, UNC Chancellor Carol Folt began to work with police to investigate the incident and those involved.
"We do not support lawlessness, and we will use the full breadth of state and University processes to hold those responsible accountable for their actions," Folt said in a joint statement with UNC system President Margaret Spellings.
View Comments(1)