UNCW welcomes Class of 2022 with freshman move-in
Volunteers moved in more than 2,000 first-year students into on-campus housing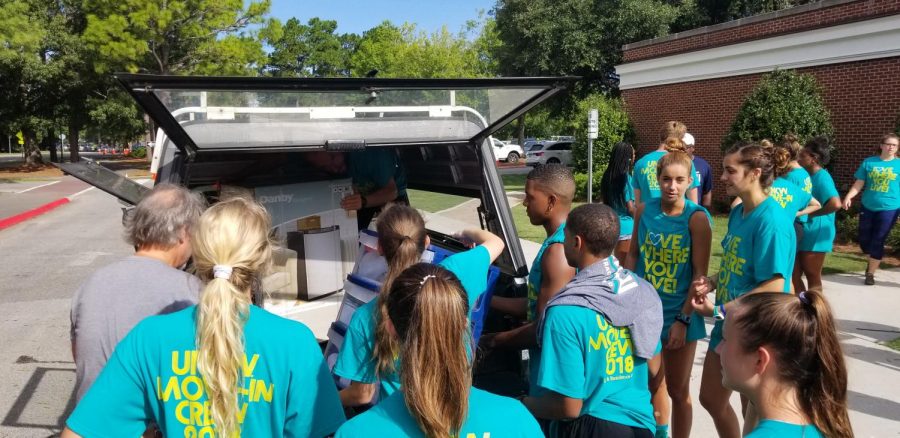 Thousands of upperclassmen clad in teal awoke at the crack of dawn on Saturday, Aug. 18, to volunteer for UNC Wilmington's annual freshman move-in event.
Volunteers representing nearly every student organization on campus rushed to the freshman dorms to welcome first-time college students to their new homes.
When cars containing parents, students and furniture pulled up to the entrance of Graham-Hewlett, they were greeted with cheers, music, and people ready to aid them in their move.
Jessica McClellan, a senior from Greenville, took part in her third move-in on Saturday as a leader of Young Life. She said volunteering as a senior lent both a better grasp of the hectic environment that accompanies move-in and a surreal feeling of it being her final year.
"Coming on for the freshmen is probably really scary," she said. "But I think the fact that everyone surrounds your car and in two minutes all your stuff is out … it's really awesome."
Move-in is not just a busy day for incoming freshmen and volunteers, but administrative staff working for UNCW Housing & Residence Life as well.
Graham-Hewlett Resident Coordinator Mackenzie Sirmans was one of many UNCW RC's to oversee the welcome of more than 2,000 first-year students into housing. Sirmans, who has worked in housing at other universities in Georgia, said her past experiences with move-ins were nothing in comparison to the show put on in Wilmington.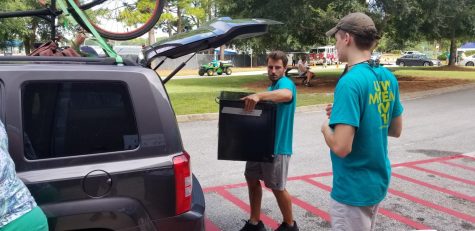 The event's organization and the process of allowing students to access their buildings with ease were highlights for Sirmans.
"This is nothing like I have ever seen before. It's so well organized and well done," she said. "We take a lot of care in making sure our students are able to get into the building and have the best experience.
"We have maintenance on call, cleaning on call, we have all of our housing professional staff and so many volunteers. Everywhere that I've worked, I've never seen a move-in that's this well organized and exciting."
As for the freshmen themselves, the Class of 2022 arrived steadily throughout the day. The students who trickled in and roamed the halls with their parents as they attempted to settle into their new surroundings included student-athletes, who will enjoy the double duty of representing the university on the court, field and in the classroom.
One such student-athlete was Spencer Martin of Jamestown, who will take to the track as a sprinter this year for track & field coach Austin Davis. Martin, who moved into the first floor of Graham Hall, said the welcome from volunteers that greeted him and his family were greatly appreciated.
"Everything's pretty new to me here. The people are really nice, so it hasn't been too hard to get around," he said. "It was pretty far for parking, that's about it, though."