Recent UNCW graduate becomes first Commissioned Officer in school history
Meredith Hoffman, News Editor
August 14, 2018
In the Golden Hawk Room on UNC Wilmington's campus under the watchful eye of friends and family, Jeremy Jones – a recent UNCW graduate – was officially commissioned as a Second Lieutenant in the United States Marine Corps.
On Aug. 13, Jones became the first student in UNCW's 70-year history to be commissioned on campus.
To a standing ovation, Jones told the room of well-wishers about his path to becoming a Second Lieutenant, which began with being contacted by an Officer Selection Officer (OSO) based out of Raleigh.
"It wasn't easy," said Jones, as he outlined the months of preparation he went through in order to be commissioned directly after graduation. While still attending UNCW, Jones entered the Platoon Leadership Course (PLC).
As part of the PLC class of 225, Jones described his platoon as "some of the best and brightest in the U.S."
Jones was not without help at home, however, and he credits much of his success to The Office of Military Affairs on UNCW's campus. In his speech following his commission, Jones specifically thanked Bill Kawczynski for his support.
In addition to thanking The Office of Military Affairs, Jones thanked UNCW as a whole and described the university as "very military friendly." Jones went on to thank his professors as well saying, "if you are willing to put in the work, they are willing to help."
As a Jacksonville native Jones described himself as very close to his family and stated that much of his interest in joining the United States Marine Corps came from his grandfather, who enlisted in the Marines in 1960.
Following his official commission ceremony, Jones's grandmother presented him with a sword, which had belonged to his grandfather during his time in the Marine Corps.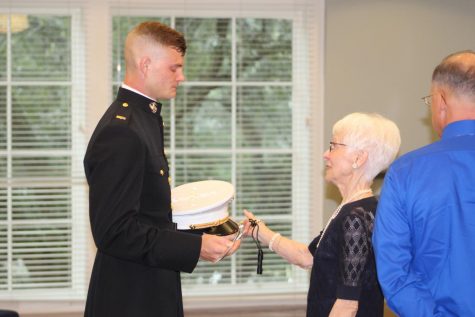 Though Jones is officially a Second Lieutenant in the U.S. Marine Corps, he will now leave Wilmington for Virginia to enter a six-month-long training program to better prepare him for his new position.