Keep Summer Fun: A Bucket List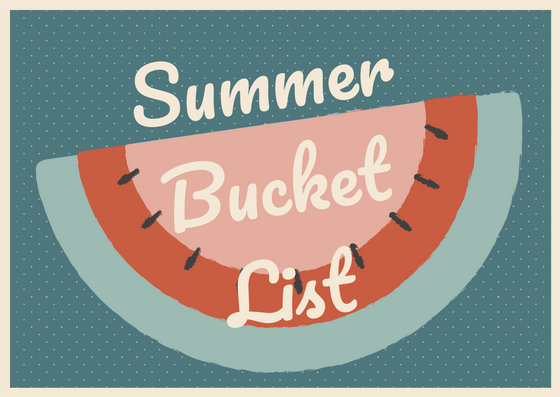 Students don't like to admit it, but sometimes summer can get a little boring. A couple weeks after school is over, there is no shortage of ideas for most students to do for fun, but after two months, the ideas have run dry and regular hangouts have grown stale. Below is a list of 10 things, most of which are fairly inexpensive, that students can cross off their bucket list before summer is over and school is back in session that will keep the season exciting:
Make a DIY project.
Look up do-it-yourself projects over the summer and create them to use in a dorm or apartment bedroom. It will be fun to complete and will then be a great way to brighten up a living space with a touch of personal quality.
Go to a park or an arboretum.
Going to a park or an arboretum is a great way for students to stay in touch with nature while they are away from the beach. It is often very cheap or totally free and can be very fun. The park is a great place to start a pick-up game or read a book while also being surrounded by great scenery.
Learn a fun, new skill.
Because of platforms like YouTube, learning a new skill doesn't have to be daunting. From looking up videos, students can learn anything from new languages to drawing to playing the guitar or piano. This makes for a great conversation starter when school comes back around and maybe a cool way to start a new club on campus.
Go to a new restaurant.
Depending on the restaurant this can be expensive or not, but a new restaurant will definitely get students to try food they have never had before. These places can become new hangouts if students take their friends along with them, or they can be great places to introduce families to as well.
Read a book.
Reading a book is a great way to not only be transported to a new place when boredom takes over in summer, but also to remain sharp on skills that are needed for college. Reading is great because the reader controls what they want to focus on and if there is a library close by, it is completely free. Keep up with the Seahawk's summer book club series for recommendations and reviews!
See a concert.
Depending on the seats that are chosen when seeing a band or singer live, concerts don't have to be that expensive. Sometimes lawn seats for venues like Walnut Creek Ampatheater are 20 to 30 dollars and can be more fun when a larger group tags along. It is like having a picnic and a great music experience as well.
Learn to cook some new dishes.
Eating ramen and Poptarts can get super boring during the semester and the perfect time to step up the cooking game is over the summer. There are plenty of cooking channels on YouTube, such as Sortedfood, Home Cooking Adventure, Tasty and even Gordon Ramsey that can be good starting places for a lifelong cooking experience.
Take a LOT of pictures (and get them printed).
Pictures are a great and inexpensive way to capture memories and take them anywhere. During the school year, it will be nice to be reminded of the fun that was had over summer. Most students go on fun vacations or stay at home and have fun with friends, and because summer is so fleeting, the pictures can bring back happy memories when students are studying for those mid-semester tests.
Work on Fitness.
This one may not seem like something super fun to do over the summer or it may not even seem possible, but there are also really easy ways to work on fitness before going back to school. Running, watching yoga videos on YouTube and doing a pushup or sit-up challenge can be fun and inexpensive while also keeping students healthy before going into a school year.
Complete one Netflix/Hulu TV Show or Movie.
Watching a TV show or movie on Netflix or Hulu can be a fun way to spend time alone or with a group of friends. Pop some popcorn, grab a blanket and just sit on the couch. During the school year, there is not a lot of time between studying, working, and volunteering to really enjoy this type of media, so dig in over the summer!